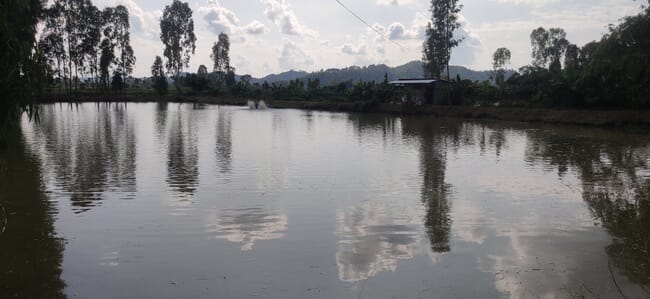 Sapam Pramabati Devi has been farming fish for 15 years in Wabagai village, around 40 km from Imphal, Manipur's state capital.

The 41-year-old currently has four ponds spread across two hectares, where she produces juvenile Indian major carp, and she has recently started to ramp up production.
"A loan from the state government last year allowed me to repair the original ponds and construct one more and production has increased from 3,000 kg to 4,000 kg of juveniles," she reflects.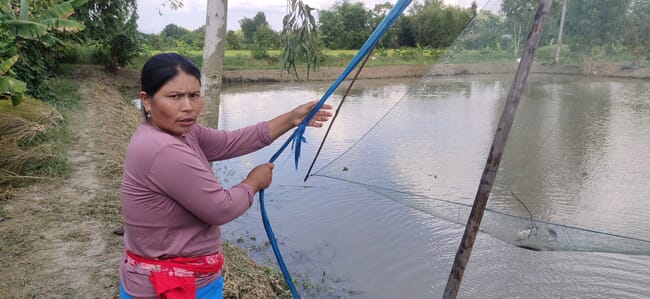 "I also got a loan of $16,930 (Rs 14 lakh) from a cooperative bank last year that helped me to build a fourth pond in my village and the rate of interest has been slashed from 15 percent to 12 percent annually by the state government, to help small farmers. I have also invested money in buying good quality formulated market feed that ensures good growth," she adds,
"Besides, we are being trained regularly by the government officials on keeping the ponds clean and the prevention of diseases," she continues.
Devi is not alone – several hundred farmers across the landlocked state have increased fish production and helped the state government reduce fish imports by $1 billion (Rs 100 crore) over the past five years.
High demand for fish
The north-eastern state has a huge demand for fish, with 95 percent of its population depending on it as a source of protein. The state, which has a population of around 3 million, requires 56,000 tonnes of fish annually, while production stands at 36,000 tonnes. The rest is imported from neighbouring states, like West Bengal and Assam, as well as Bangladesh.
Despite the increase in the state's production, Manipur is still spending Rs 300 crore ($3.62 billion) on fish imports.

The total waterbodies area is 56,461 hectares and out of which just 18,600 hectares is used for fish farming in Manipur which is just 32.94 of the total potential area for fish farming. The annual per capita demand for fish is 14 kg, while the production is around 9 kg.
Over the past few years, the state government has been showing considerable interest in increasing fish production, especially carps and indigenous species like sareng (a fresh water catfish) and pengba, the state fish.
Manipur's chief minister, N Biren Singh launched a sareng project last year to revive the fish that is most sought after in Manipur homes but has almost become extinct in the wild. Under the project, several thousand sareng fingerlings were procured from various parts of India and Myanmar and distributed among farmers.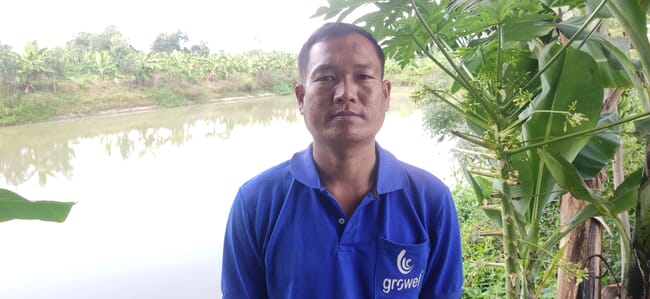 Demand for indigenous species
L Dinamani Singh, 38, who lives in Tentha village at Thoubal district, is one of the pioneers of sareng production and also (Anabas testudineus).
He says that sareng is in much demand during the festivals and religious rituals as people prefer to buy big fish in the market. They are sold at starting 2 kg.
"We had enough wild-caught sareng in the state until the construction of the Ithai barrage led to the destruction of a unique wetland ecosystem in 1983. The barrage meant the fish couldn't swim upstream from Bangladesh to breed. As a result, the catch started dwindling and the fish population began to fall sharply till it became almost extinct," he explains.
"But the recent efforts by the government to promote indigenous species have been leading to a revival of sorts. I purchased around 4,000 sareng fingerlings from Kolkata last year and harvested around 2,000 kg in one year. The fish were sold during our major festival, Ningol Chakouba, in October and have made good profits. We are planning to breed the fish locally, as this would increase our income and also increase the state's production capacity," he says.
Efforts to boost fish production
Senior government officials say that several measures – such as subsidising the construction of ponds, offering loans at lower interest rates and providing seeds and formulated market feeds –have been helping farmers boost production.
"The government is offering $585.73 (Rs 40,000-Rs 48,000) to farmers, which has included a subsidy of 40-60 percent of the construction of new ponds since 2017. Besides, they are also being offered with seeds and feeds. The farmer can avail the same benefit every three years. It helps them to become self-sustainable in farming. The total beneficiaries under the scheme stood at 1,563 in 2020-21. The usual stocking density is around 10,000 fry per hectare and the average mortality rate is 10 percent," says H Balkrisna Singh, Manipur's director of fisheries.
"Besides, the government has also asked the banks to offer loans to farmers at a lower rate of interest . We are also sending the farmers to other states, like Andhra Pradesh, to learn new techniques of fish farming. The government has also recently started cage fish culture in Loktak Lake to boost production," he adds.
According to government records, total fish production stood at 18,000 tonnes in 2019-20 and rose to 32,873 tonnes in 2020-21. During this period, the production of major carps was 20,350 tonnes in 2019-20 and increased to 20,676 tonnes in 2020-21. The production of exotic carps increased to 44,916 tonnes in 2020-21, from 44,660 tonnes in the previous year.
Meanwhile fish seed production from the state's 30 hatcheries increased from 219 million fry in 2015-16 to 287 million fry in 2021-22.
Looking ahead
However, some scientists feel that the measures by the state government are not adequate, and they are still a long way to go to achieve self-sufficiency in fish production.
"Loktak Lake is one of the largest freshwater lakes in South Asia, but it is plagued by weeds, exotic fish and siltation – such factors reduce its aquaculture potential, especially indigenous fishes like pengba," pointed out Dr BK Das, director of ICAR-CIFRI, who is working closely with the Manipur government in the fisheries sector.
"The productivity of Loktak Lake and other associated wetlands can be increased to 1,000 kg in per hectare annually with scientific intervention. Net pen culture can also reduce the fishing pressure in capture fisheries in the wetlands. Despite having a suitable environment and huge potential as a reservoir with an area of 2,142 hectares for fisheries development, the present productivity from the reservoir of Manipur is just 50 kg per hectare annually against the potential of 500 kg per hectare," he argues.
Self-sufficient fish production in the state may only be achieved when the high-potential reservoirs are exploited in a sustainable manner. We started net pen culture in 2012, but it needs further expansion in other areas," he adds.
"The shortage of trained manpower puts a strain on the growth of the sector. There is also a dearth of hatcheries and the state is totally dependent on other states for fish feed, which makes the farmer's capital cost higher. The government has decreased loan interest and offered incentives, but conservation of aquaculture hub is required along with community involvement at a bigger level to make the state self-sufficient," he concludes.