The Strengur conservation programme aims to seed around one million eggs from native fish each year in the higher reaches of rivers that the salmon have been unable to reach in the past. The programme, which has been supervised by Iceland's Marine and Freshwater Research Institute (MFRI), has seen the eggs being planted from late October until early November. Its goal is to open up new habitat and food resources to improve growth and survival rates in the critical early stages of the salmon life cycle.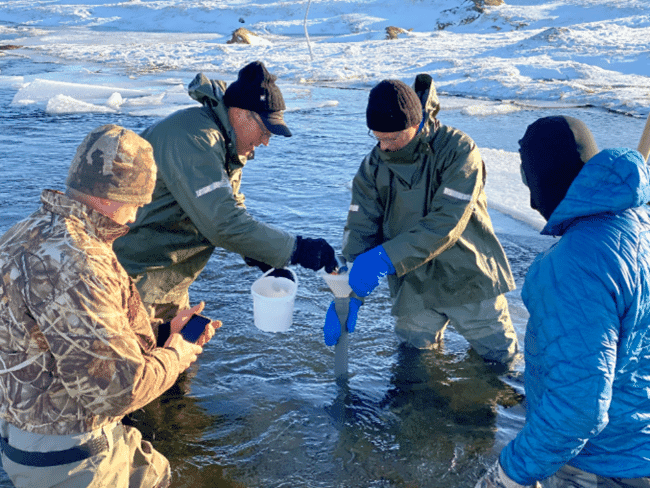 Extending the spawning areas and nursery grounds through the construction of new salmon ladders is also progressing as an important part of long-term plans to help Iceland's salmon thrive. These are moving forward with the help of investment from Ineos CEO, Sir Jim Ratcliffe, and Strengur Angling Club. The Miðfjarðará ladder was completed and opened last year and the salmon have already colonised the newly extended upper parts of the river, which adds 4.5 km of new habitat for the young fish.

Gisli Ásgeirsson, CEO of Strengur Angling Club, says: "Teams from Hafrannsóknarstofnun and Sela have shown real dedication to salmon conservation. Working in -10 degrees centigrade to start the programme that will build to seed around 1 million eggs each year. This work is so important to help extend the spawning grounds of North Atlantic salmon in north east Iceland, which is part of our wider conservation programme across the region. Working closely with the farmers and the local communities, we can build something sustainable and environmentally sound, that is a benefit to the local ecology and community, as well as maintaining this area as a world class fishing destination."
In this round, eggs were planted in Kverká, Hvammsá, Miðfjarðará, Vesturdalsá and Selá. In addition, genetic and scale samples were gathered from the parent fish, that were then released. These areas will be revisited next summer after the eggs have hatched and the results measured.
In addition to direct contribution from Sir Jim Ratcliffe, all profits from Strengur are now being re-invested back into salmon conservation in north east Iceland. These conservation projects will continue to protect these pristine rivers, extending the spawning grounds, working with the farmers and communities to protect the local habitat.