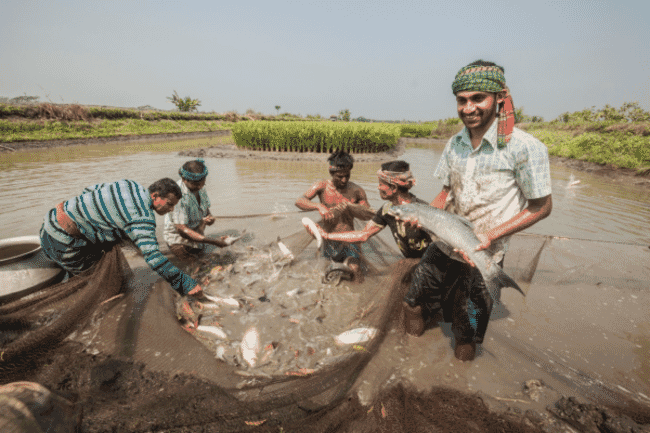 So argued Jim Leape, co-director of Stanfod's Centre for Ocean Solutions, summing up a thought-provoking webinar this week, titled 'Is Aquaculture Breaking Into the Global Food System?', which was and was co-hosted Stirling's Institute of Aquaculture and the Center on Food Security and the Environment (FSE).
Background
Twenty years ago, a highly influential review was published in Nature, under the title Effect of Aquaculture on World Fish Supplies. The review outlined aquaculture as a possible solution, and a contributing factor, to the decline in fisheries stocks worldwide. The webinar looked back at 20 years of aquaculture, reviewed how things have changed since the release of the review and ventured a number of points on how it was likely to evolve.
Fittingly it was opened by Dr Roz Naylor, from the Center on Food Security and the Environment at Stanford University – the lead author of the original paper on fish supplies, and the lead author of A 20-year retrospective review of global aquaculture, which was published in Nature last week.
Progress, but more must be done
As Leape observed: "20 years ago the paper that Roz [Naylor] led in Nature, highlighted the daunting sustainability challenges facing the aquaculture sector – you see from the comments from Jose [Villalon, corporate sustainability director at Nutreco] and Ling [Cao, from Shanghai Jiao Tong University], in particular, that huge progress has been made in the last 20 years to tackle those fundamental sustainability challenges.
"But what strikes me now are the comments that Pip [Cohen, of WorldFish] made – what are the central challenges going forward and how do we build an aquaculture sector that is serous about SDGs 1 and 2? About cracking hunger and about cracking poverty. And what are the innovations needed to meet those challenges? And how do we create the investment vehicles that allow us to do that because the market won't do it on its own? How do we create the governance structures that foster the kind of production that is good for livelihoods, that's good for nutrition, that's good for equity?" Leape pondered.
"I think that's a really interesting set of problems for us to be focused on now, as we think about what have we learned and how do we apply that energy and creativity to building the aquaculture sector that we need?" he added.
One project Leape flagged up, that is currently looking to address the questions is the Blue Food Assessment, convened by Stanford and the Stockholm Resilience Centre, and is currently looking at the challenges and opportunities offered by aquaculture and "to provide the scientific foundation for bringing aquaculture fully into discussions about the future of food".
He urged participants to keep an eye out for the project's findings, which are due to be published in Nature this summer.