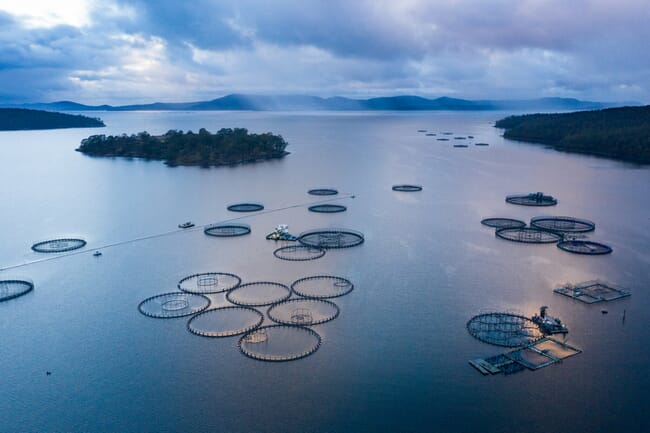 The tenth sustainability report from Global Salmon Initiative (GSI) provides a unique insight into global salmon farming operations. Documenting over 2000 independently audited data points, GSI members showcase how they stand up against 15 consistent environmental and social indicators.
"Global Salmon Initiative's annual sustainability report demonstrates how a sector can work together to identify its biggest impacts, share global sustainability performance information in a common database, and identify what practices work best under what conditions to reduce those impacts," stated Jason Clay, WWF's SVP markets, in a press release.
He added: "When sustainability is precompetitive, companies can work together to measurably reduce their biggest impacts. The companies in GSI use a best-in-class database where they use the same methods and metrics to address and accurately track performance individually as well as collectively, and then report on their progress as a sector."
In its tenth edition, the GSI report highlights where GSI's pre-competitive collaboration platform has supported the salmon farming sector in achieving measurable progress in its environmental footprint, and strengthened farmed salmon's role within a responsible and sustainable food system:
Certification
Over half (55%) of GSI members' production was Aquaculture Stewardship Council (ASC) certified in 2022 (as average of total production), resulting in greater access to salmon farmed to the most stringent environmental and social standards.
Holistic disease management
GSI members drove a 67 percent decrease in the average use of antibiotics across operations since GSI's founding in 2013. This is due to a commitment to the highest levels of antibiotic stewardship for optimal fish health and sharing best practices on holistic approaches to fish welfare.
Continuing their focus on diversifying approaches to fish health management, GSI members have demonstrated a 56 percent reduction in combined average in-bath and in-feed medicinal treatments for sea lice since 2013.
Improvements in the sustainable sourcing of feed
GSI members continued to improve the eco-efficiency of feed ingredients, including continuing to use only certified marine ingredients, utilising sustainable by-products and assessing the role of novel ingredients – this has resulted in an average 20 percent reduction in marine ingredients since 2013.
Community engagement
GSI members employ over 24,000 people, as such providing employment, investment, training and support to often remote communities where they operate.
In addition to their employees, GSI members support local communities through educational infrastructure, funding research and development, promoting good health within the community, and protecting nature and supporting environmental sustainability in surrounding areas.
"Where the GSI has been successful is in uniting a significant proportion of the industry under a shared vision to improve the sector's sustainability performance. But beyond that, they have held true to their commitments – transparency, collaboration, innovation and measurable sustainable progress. They have set the goal posts for the sector and continued their march forwards," concluded Dag Sletmo, SVP at DNB Bank.
As GSI approaches its 10th anniversary later this year, members are continuing to look to the future and where they can use GSI's model to drive further industry advancements in sustainability. Using the progress highlighted in the latest sustainability report, members can take the data to develop frameworks for continued efforts, and seek advancements for a more sustainable future for salmon farming.