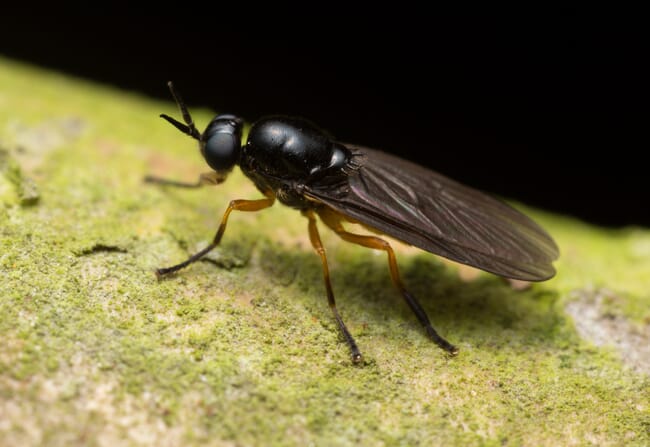 The strategic partnership between Yorkshire based waste management and recycling specialist MYGroup and the research institution Fera Science is focused on using black soldier fly larvae to break down food and other organic waste through a process called insect bioconversion.
Black soldier fly bioconversion is a circular, sustainable recycling process, with the potential to divert organic waste material from landfill, reduce the associated greenhouse gas emissions and mitigate the carbon burden of waste disposal, while also moving such waste up the hierarchy to resource recovery for use in products such as protein rich aquafeeds for the fish farming industry.
MYGroup has separately experimented with the use of black soldier fly larvae over a number of years and has already brought a black soldier fly meal product to the aquatic feeds market. However, the new partnership represents a significant scaling up of the company's waste management capabilities, reinforced by Fera's expertise in insect bioconversion.
"We are honoured to be working with Fera and calling on their renowned expertise in insect bioconversion to propel our combined expertise to the forefront of insect-based waste management. The process is inherently scalable and circular – just another example of MYGroup's unwavering commitment to shifting the dial from waste as a disposable burden to a renewable resource," said Steve Carrie, group director at MYGroup.
The two companies will collaborate on future research and development, including breeding, rearing, and quality and safety testing. Fera will also support MYGroup in harnessing two byproducts produced by the BSF larvae during the insect bioconversion process. These byproducts come in the form of extracted proteins, which can be used for animal and aqua feeds, and 'frass', a nutrient-rich substance containing the excreta from the larvae that can be used as a natural, organic fertiliser, as well as a substrate for anaerobic digestion.
Dr Maureen Wakefield, principal scientist and project lead for Fera's Insect Services, said: "The work being undertaken here between MYGroup and Fera is vitally important in highlighting the benefits of insect bioconversion to a wider audience. Fera is committed to helping companies understand the organic waste streams within their supply chains, providing them with the research and support to achieve their Net Zero and sustainability goals."
The two companies have already completed trials for processing a number of waste types using black soldier flies, and a new breeding and processing facility is currently under construction at MYGroup's food waste recycling facility in South Milford, North Yorkshire.