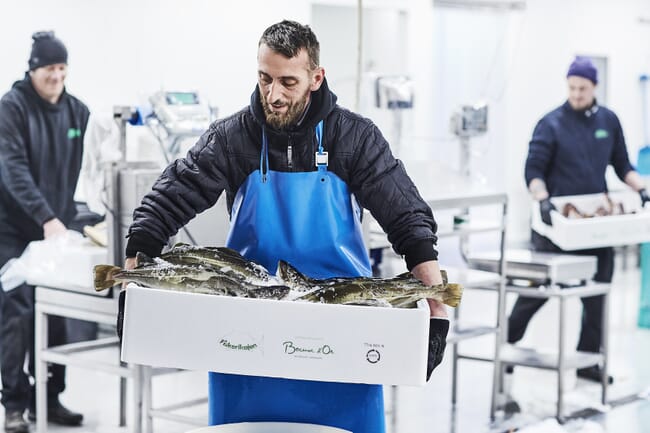 "Fish performance has been excellent and optimal welfare is a top priority. Due to high survival rates, calm fish behaviour, well distributed biomass and good appetite, the fish have grown very well, and we have been able take out cod of 2.5 kg after only 11 months of production," says Rune Eriksen, COO of Norcod.
The planned sampling initiative forms part of the run-up to Norcod's first projected commercial sales in summer 2021.
"Sending real samples from the production is a big step for us and an exciting part of our route to achieving our business goals and delivering value for our shareholders. We have come a long way and I was very excited to hear our customers' comments on what we believe is a fantastic product with a great future. As well as being great tasting, our cod is responsibly produced and we hope it will become a new healthy source of protein for consumers not only in Europe but around the world," says Norcod CEO Christian Riber.
"We are very grateful to the restaurants and chefs who have taken time to test the product in spite of the very difficult situation for the hospitality industry due to Covid-19 lockdowns," he added.
Samples were distributed to recipients in Norway, Denmark, Sweden, Lithuania, Poland, Germany, the Netherlands, France, Spain, Portugal, Switzerland, England, Ireland, Wales, Scotland and the US. The sampling was carried out by leading seafood company Sirena Group, which is also handling sales and marketing for Norcod. And feedback has been very positive.
"I was delighted to have a sample of Norcod's new, farmed cod. A good and healthy-looking fish with thick and firm fillets. With excellent texture and aroma and white transparent fresh-looking meat. Exactly what I am looking for in cod," says Jesper Redecker Hansen from Fiskerikajen in Denmark. The chefs in Denmark were all excited to test the product.
Positive feedback
The sampling follows a series of milestones racked up by the company in recent months. Its NOK 250 million share issue, in October. was three times oversubscribed and it listed on the Oslo Stock Exchange's Merkur market shortly afterwards. Its market value was pegged at approximately NOK 850m but had risen to NOK 1.19 billion by 16 December.
By the end of September, Norcod and its partner Namdal Settefisk had 1.7 million cod in production, split between two locations. New batches of fry are slated to go into the growth phase in the next few months in preparation for new sea transfers in 2021 and harvest volumes of 10,000 are forecast for 2022.