Flower power: the plant that's shown boost shrimp immunity
Including low levels of lupin seed meal in the diets of shrimp can stimulate their immune systems.
Trials undertaken by researchers from Germany's Alfred Wegener Institute investigated the impact of supplementing the fishmeal content of conventional vannamei shrimp diets with formulations that included four different levels of meal from lupin (Lupinus angustifolius) seeds.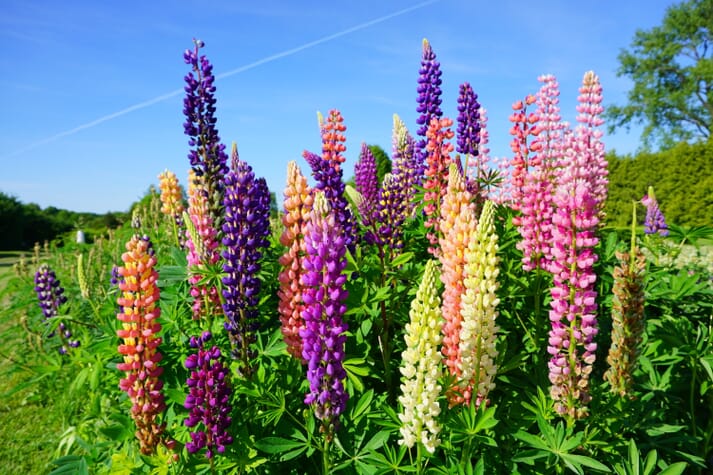 The trials took place in a recirculating aquaculture system (RAS) for eight weeks in which juvenile shrimp were provided formulated diets containing various levels of lupin meal (0, 100, 200 and 300 g kg−1) supplementing the fishmeal component, and a commercial feed as general reference.
Their results showed that survival rates did not differ significantly between groups, although diets containing more than 300 g of lupin meal per kg of feed led to "significantly impaired" growth levels as well as led to reduced and nutritional status, as expressed by a reduction in haemolymph glucose and acylglyceride content.
On a more positive note, the researchers observed that "phenoloxidase activity was highest in shrimp fed 100 g kg−1 lupin meal diet, indicating improved immune status."
As a result, the authors conclude: "The results demonstrate that dehulled lupin seed meal is a suitable, regional alternative protein source for aquaculture feeds that can supply good quality protein to whiteleg shrimp and can replace significant amounts of diet fishmeal."
They also suggest that "higher substitution rates might be achieved by supplementing a mix of lupin meal and other regional plants, such as faba bean. This might provide a more balanced nutritional supply and make use of the immuno‐stimulating effect of moderate lupin inclusion rates."
They go on to say that further research to assess methods for lupin pretreatment to enhance digestibility would also be worthwhile.
The full article, published in the latest issue of Aquaculture Nutrition under the title, "Lupin kernel meal as fishmeal replacement in formulated feeds for the Whiteleg Shrimp (Litopenaeus vannamei)", can be accessed here.