Nick King, Operations Director at Fish Vet Group Inc, offers some insights into the burgeoning RAS sector, prospects for aquaculture growth in the US, as well as the logic behind teaming up with Pentair.
What inspired the collaboration?
It's a fragmented aquaculture market in the US, so it's worth forging a partnership with a major company. We fit perfectly with Pentair – they design the farms and provide the equipment, while we help ensure good fish health and biosecurity.
What does the collaboration involve?
We were invited to contribute to the course Pentair delivers on Recirculating Aquaculture Technology held at their PAES demonstration facility in Apopka, Florida. The course curriculum is covered by their resident specialists Dennis DeLong and Dr Tom Losordo, but this year Fish Vet Group provided a lecture on "Health and Biosecurity in RAS". It was very much a non-clinical 'what you need to know' lecture on Establishing a Farm Health Management Plan, Biosecurity, VCPR, Recognising Signs of Disease, Mitigation Treatment Options and lessons learned from past experience. The goal was to provide the students with sufficient understanding of health, operational management and system design so that they can engage with their veterinarian or fish health provider to establish a farm that promotes good fish health and welfare.
It was the first time in a long history of workshops that Pentair had invited an outside speaker on to the course and we hope it will become a regular thing, up to four times a year. The next one will be taking place in Guadalajara in Mexico, speaking for FVG with be the Technical Director for Americas, Hernan Pizarro. The course is expected to continue to Brazil and Singapore where other Fish Vet Group companies are invited to participate.
How widespread are RASs in the US?
Most of the RASs in the US that we see involve finfish species (trout, salmon, tilapia, barramundi, hybrid striped bass) being produced in monoculture, or as part of an aquaponics system. The market is the same – high value live or fresh product going to regional seafood and produce markets around the country. There has also been a long history of the US research community investigating the production of new varieties of species in these systems, as they search for suitable candidates to develop for commercial production.
More recently there has been a trend towards larger units – while systems capable of producing <1000 tonnes are currently standard, ones with capacity to produce 1,500 tonnes, and over, are now being designed for salmonids. Of particular note for the scale of its ambition is Atlantic Sapphire's Norwegian-backed plan to build a system outside Miami that would have the capacity to grow 10,000 tonnes of market-sized Atlantic salmon a year.
The timing is great for our company to get involved with these closed systems which can become a nightmare if primary or secondary pathogens infiltrate the production unit. Most farms will integrate a quarantine unit for receiving and holding new materials that will enter the farm. This is where we work closely with the farm to understand the risks involved in graduating those fish to the farm unit. It is very important to have a strict health management programme in place and a strong biosecurity firewall. It's vital to have these protocols in place in the design phase of any RAS project and it's important to involve fish health specialists well in advance of the water being turned on, let alone the fish being stocked.
What are the major challenges relating to providing fish health services to the US aquaculture industry?
It's not so much about providing fish health services. We are ready at Fish Vet Group (Portland, Maine) to provide health diagnostics and veterinarian services to the aquaculture industry in the US. The challenge is the expansion of the industry. Aquaculture in the US is still a fledgling sector. Regulation is one of the major obstacles to its growth both on land and sea. There are a multitude of Federal and State agencies that need to approve farming on a particular site, and any one of them independently can kill the project. Back 10 years ago, there were government backed demonstration projects in offshore systems, such as Sea Grant's regional offshore aquaculture programmes in New Hampshire, Hawaii, and Puerto Rico. These projects helped to demonstrate the technology platform for working in the offshore environment, and spun out two companies, such as Open Blue Seafarms and Kona Kampachi, but these have involved huge investments and have been stifled by the regional and regulatory minefield in marine areas. Both projects have since moved their operations south of the border.
The diversity and fragmented nature of the industry is a challenge for providing health services – there are are a lot of different species produced in the US, with the bulk of production in the South being dominated by freshwater ponds, salmon being grown in marine sites in Maine and Washington State, trout production in raceways systems through the middle States, and public hatcheries producing over 20 species of fish for restocking rivers and recreational fishing. Dealing with such a multitude of species and systems and companies, with few major industrial players, means that, as a small team, we have to be skilled in a lot of different areas.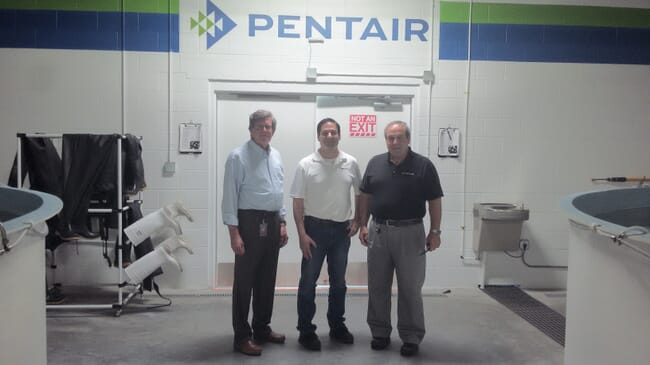 What do you see as FVG's key role in helping the industry develop?
I've been involved in aquaculture over 20 years, 10 of which were spent in hatcheries and 10 in feed before moving to fish health and we have lots of experience to draw on from within the group both here in Portland, and internationally from our Fish Vet Groups (Norway, UK, Chile, Brazil, Thailand, and Ireland). In-house we can provide all the diagnostics services; histopathology, bacteriology, virology, parasitology and molecular assays. This allows our veterinarian staff to investigate cases thoroughly and timely. Too many start-up companies in aquaculture have failed to make it beyond the first years of production due to losses from infectious and non-infectious disease. It doesn't have to be catastrophic events, but even subclinical infections which will slow down growth performance or result in small yet regular mortality, which ultimately effects the business model. Our role is to help companies to build health management from the start, collect history about the pathogen landscape on the farm and bring them to a program based on early detection, evidence-based decisions, and preventative mitigation steps.
How do you see the aquaculture industry developing in the US?
We'll probably never see widespread marine cage finfish farming emerging in the US as it has done in other countries, unless it's done in the offshore environment. The only near-shore aquaculture being shellfish and seaweeds, and cage based salmon production in Washington State and Maine, but expansion of those sectors is limited. Our core growth is probably going to take place between our coasts, in areas where water and land are more freely available and there's a tradition of growing food, combined with the political will to increase this. RASs are likely to be an important part of this growth.