A selection of the most appealing and scientifically interesting images published in the EAFP Bulletin between 2011 and 2015 (from Volume 31 Issue 1, to V-35 I-6) was presented through the EAFP website. Six images were proposed every week over six weeks, collecting total 1161 votes during the first round, followed by a final stage ended on Sunday 4 February. The photo contest was primarily promoted through the EAFP official Facebook webpage, attracting a large audience to watch and vote for the preferred images. Despite a tough battle Dr Lopez's trematode image won the contest's final stage with 25 votes.
The authors of the paper it featured in have been awarded a free ticket to the 19th EAFP International Conference on Diseases of Fish and Shellfish, which takes place in Porto in September 2019.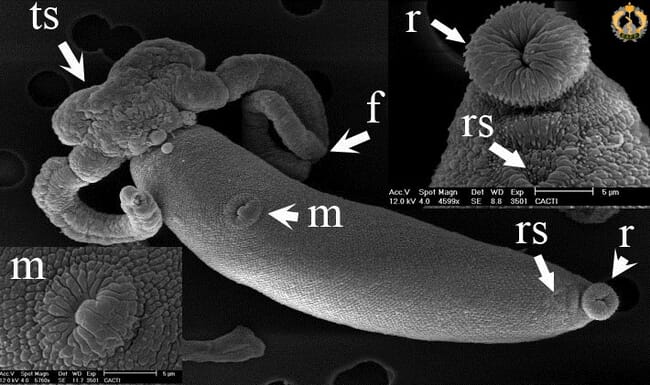 The winning image was originally published in the EAFP Bulletin in February 2012, in a paper by M Ruiz, D Iglesias, S Darriba, R Rodríguez and C López entitled: "Epidemiological survey of digenean trematodes affecting razor clams, Ensis arcuatus, from Galicia (NW Spain)". Dr López and colleagues made an epidemiological survey on parasites of wild razor clam. This bivalve mollusc is currently under study for their strong potential for commercial aquaculture in Galicia's Rías. The Scanning Electron Microscopy image illustrates the typical morphology of Gasterostomata mature cercariae, including their rudimentary suckers (labelled as "rs"), rhynchus "r", and their body surface covered with spines and armed with alternating rows of scales. Razor clam commonly act as a second intermediate host for trematodes, generally having very little impact on their host. During heavy infections, sporocysts can induce the castration of the bivalve, interfere with their circulation system and cause mortality. Although the low prevalence levels assessed during that 2012 epidemiological study suggested this bucephalid trematode doesn't represent a threat for E. arcuatus populations in the region.
Dr Carmen López Gómez and co-authors from the Centro de Investigación Mariñas in Vilanova de Arousa in Galicia, Spain get one free admission for the upcoming 19th EAFP International Conference. Following a very successful previous meeting in Belfast, attended by more than 500 scientists from 43 countries, the next meeting will be held in Porto, Portugal in September 2019.
The second-placed image, with 22 votes, was a histopathological photo published in October 2011 by Dr Muhammad N Yousaf and colleagues from the Faculty of Biosciences and Aquaculture of the University of Nordland in Bodø, Norway. It shows the features of a peculiar tumoral lesion described for the first time in salmonids; a papillary fibroelastoma with melanin deposition in the heart of an Atlantic salmon (Bull. Eur. Ass. Fish Pathol., 31(5) pp 193-198).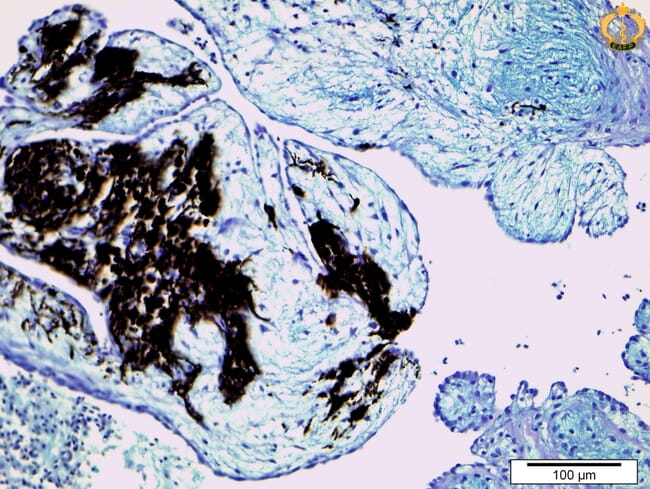 Third position, with 16 votes, was a histopathological image showing infection with Gyrodactylus corti in the gills of a wolf eel Anarrhichthys ocellatus); it was published in April 2015 by Dr Simon Jones and colleagues from British Columbia in Canada. (Bull. Eur. Ass. Fish Pathol., 35(2) pp 64-72).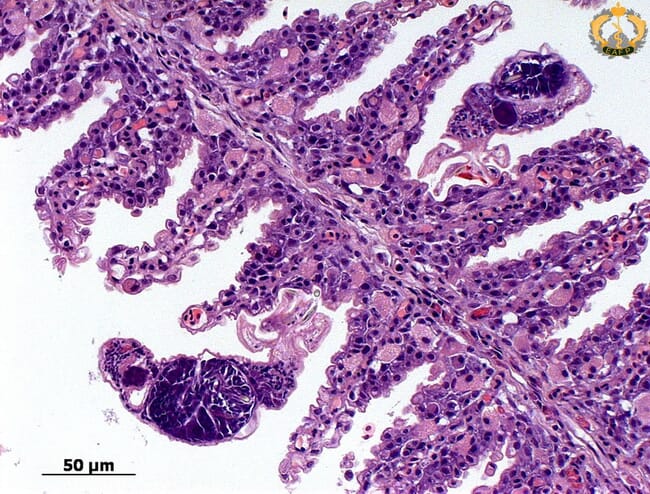 This first edition of the photo contest offered a good opportunity to illustrate the excellent quality of scientific images provided in the EAFP Bulletin papers, which has been published in full colour since 2011. The photo contest was designed in collaboration between the EAFP Publication Office, Dr Sean Monaghan, and the EAFP webmaster, fully supported by the EAFP Council.
The aims were to enhance the interest for the EAFP, promote the Bulletin's readership, and even increasing the number of article submissions. Now approaching its 40th anniversary, the EAFP Bulletin has become a reference peer review journal for the international community of fish and shellfish pathologists, to allow a quick communication of novel scientific findings.
Following this first edition, the next EAFP Bulletin picture contest will include a selection of images published in manuscripts from 2016 onwards. The editorial and website system is currently being further improved, to include an on-line submission and review process, and from 2018 the EAFP Bulletin will be distributed either in printed and electronic version, according to the subscribers' preference.