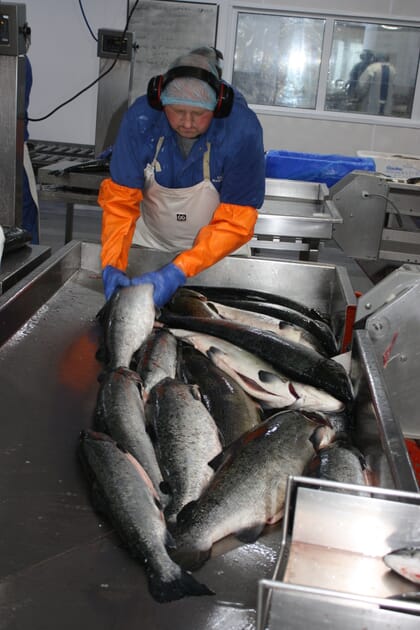 With little or no traffic expected to cross the Channel today there is almost no chance of Scottish salmon consignments which are stuck in Kent reaching customers in Europe before Christmas. But the post-Christmas market is very important too and Scotland's salmon farmers are now pushing for an urgent re-opening of the Channel to freight traffic.
The fish farmers are increasingly frustrated and concerned that access to France is still blocked on Tuesday morning, despite calls for urgent action since Sunday. They are continuing to press UK and Scottish Government Ministers for swift action in the face of huge losses in the busiest week of the year.
Tavish Scott, chief executive of the Scottish Salmon Producers Organisation (SSPO), said: "Since Sunday night there has been no movement of trucks, no announcement of protocols, no decision on driver testing. This slow pace is having serious consequences for salmon farmers trying to get their premium product to market.
"The situation has been extremely disruptive for Scottish salmon exports to Europe, particularly at such an important trading time of the year. We are hearing reports of trucks stuck in the queue at Kent and of trucks turning around and coming back to Scotland with their loads.
"As a result, companies are trying to find alternative routes to market, alternative buyers for the fish or even work with customers who might be able to find their own transport solutions. Time is precious when dealing with a high quality, fresh product.
"If negotiations can open the Channel for freight tonight then salmon may still reach markets on Boxing Day for distribution to customers, which would be helpful to meet pre-New Year demand.
"It is also imperative that Government plans to prioritise consignments of perishable seafood for cross-Channel transport are put into place as soon as possible. That could help to alleviate some of the disruption.
"The sector is looking for urgent reassurance of smooth transit to maintain a continuity of supply to valued customers in Europe."
Scott urged for an extension to the Brexit transition period.
"Meanwhile, it is evident that UK Government must seek an agreement to extend the Brexit transition period. This is the only pragmatic step to take during this unprecedented turn of events with Covid-19," he said.