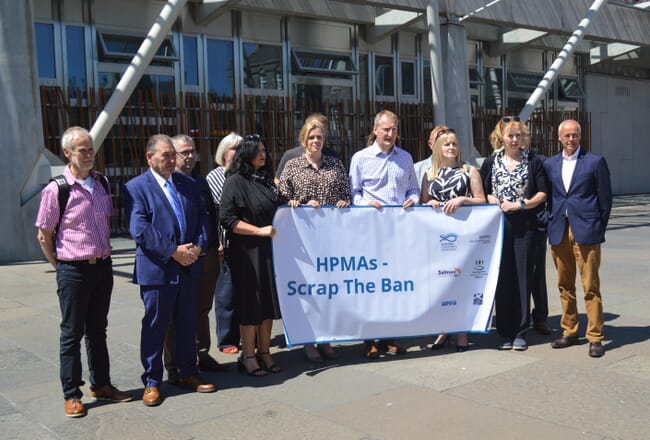 Trade body Salmon Scotland, together with six other major seafood organisations, representing hundreds of vessels and processors, has launched a petition at Holyrood. This seafood coalition calls for ministers to "follow the science" and develop an evidence-based approach that considers all pressures on the marine environment in a balanced manner and urges the Scottish Government to drop its current plans for Highly Protected Marine Areas (HPMAs).

The coalition includes the Scottish Fishermen's Federation, Seafood Scotland, Scottish Association of Fish Producers' Organisations, Community Fisheries Inshore Alliance and Scottish Seafood Association.

The move comes amid a growing backlash over proposals, which set out that at least 10 per cent of Scotland's seas should become HPMAs by 2026, including restrictions on human activities like aquaculture and fishing.

Tavish Scott, chief executive of Salmon Scotland, joined other coalition members at the Scottish Parliament, highlighting the crucial role of coastal communities in signing the petition to ensure their voices are heard.

The petition also asks for a review of the results from the current marine protected areas (MPAs) that already cover 37 per cent of Scottish waters. It also suggests learning from the pilot programs of Highly Protected Marine Areas (HPMAs) in other UK waters.

Salmon Scotland has warned HPMAs could put jobs in fragile coastal communities at risk and undermine the government's vision of a blue economy.

One in three salmon farms already operates responsibly in MPAs, with many of these areas being established after the farms were already in operation.

Tavish Scott, chief executive of Salmon Scotland, said in a press release: "Scottish salmon and Scottish seafood are the best in the world, but HPMAs put this global success story at risk. We must stand united to ensure our collective voice is heard loud and clear. There is scant scientific justification for the proposed HPMAs, and an outright ban on responsible sea activities is not the solution.
"These proposals present a significant threat to our rural way of life, and opposition is growing both inside and outside of Holyrood. That's why we have joined forces with other seafood organisations to launch this petition, urging ministers to adopt an evidence-based approach that protects both the environment and the livelihoods of hardworking Scots.

"We encourage everyone to sign the petition and show their support for sustainable and fair policies that benefit our marine environment and coastal communities.

"The Scottish Government must base its decisions on evidence, science, and facts, rather than pandering to political pressures and appeasing campaign groups funded to undermine our sector."