Main Shrimp Importing Markets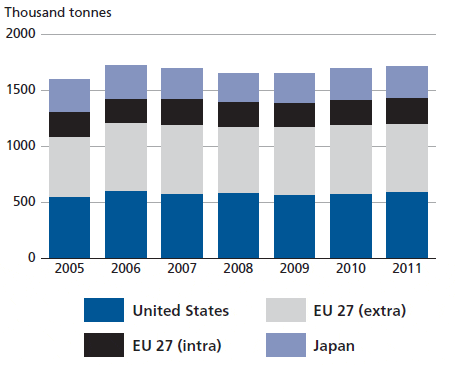 World production of farmed shrimp fell to 2.5 million tonnes in 2011, nearly 20 percent less than 2010, because of supply shortfalls in Asia. With the new Asian 2012 season starting in April and May, supply is forecast to recover and prices to soften somewhat.

The market for shrimp however, should stay firm. In the United States, improved retail demand contributed to a marginal rise in imports. The, cold weather and the weak economy in early 2012 had a negative impact on European shrimp consumption although prices remained stable during the first quarter of 2012. EU imports dipped 1.2 percent to 610 000 tonnes, although Spain, Italy and the UK increased imports.

Asian markets were mixed with strong growth in the Republic of Korea and Malaysia and with Thailand and Viet Nam importing more for the processing industry. On the other hand, imports of frozen shrimp declined in China and Hong Kong. Domestic demand for fresh shrimp increased in some of the producing countries, including India. Supported by the strong yen and high demand for prepared shrimp products, Japans shrimp imports rose 1.6 percent last year to 285 300 tonnes, while in China, 2011 shrimp imports of 53 000 tonnes represented a 7.8 percent decrease from 2010.

In the coming months, more farmed vannamei is expected from Thailand, India and Viet Nam. Thai production in 2012 is forecast to increase to 700 000 tonnes whereas Indian production of black tiger may decline 4050 percent to 60 00070 000 tonnes. Indian vannamei producers, on the contrary, could reach 100 000 tonnes, a more than 30 percent increase from 2011. Supplies of vannamei are also expected to increase from Viet Nam, and the anticipated higher production will certainly put pressure on prices, particularly of medium-size product.

Shrimp Imports by Product (Japan)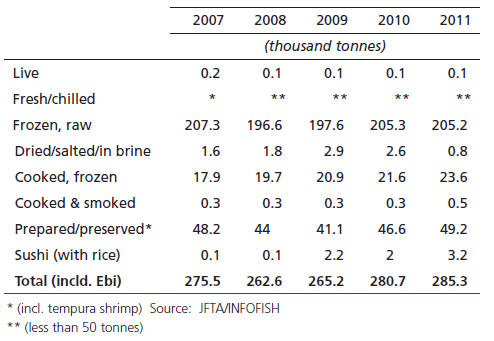 SHELLFISH AND CANNED MOLLUSCS
Companies exporting molluscs to the EU experienced a successful year in 2011, as many consumers opted for frozen products, which cost less.

Mussels. Mussel imports to the EU increased by 9.6 percent to 208 000 tonnes in 2011, the highest in six years. Imports were particularly strong in Italy, Netherlands and Spain, which accounted for 58 300 tonnes, 46 700 tonnes and 34 200 tonnes, respectively. Spanish import volumes of Chilean mussels rose by 70 percent in 2011, reaching 18 200 tonnes. Spain now buys a third of all Chilean mussel exports.

Oysters. Oysters are still desired in most countries despite high prices. As oyster production in Europe has declined, prices have risen significantly. France, the main producer, saw its 2011 exports fall by 18 percent to 8 000 tonnes, the lowest level since 2008. New producers have now entered the market, including Mexico and Morocco.

Scallops. European scallop imports continued to grow in 2011, reaching 59 000 tonnes in 2011, valued at USD 770 million, with Peru and Argentina the biggest suppliers. Imports are dominated by France, the biggest market in Europe, followed by Spain, Belgium and Germany.

May 2012