Farmed salmon. The supply of farmed salmon is projected to grow around 12 percent in 2012, with exporters looking to new markets such as Brazil, Russia, China and India. Shipments to these markets increased by 20 percent in 2011, reaching more than 210 000 tonnes.

Long-term growth in the EU and US markets is also positive, as are recent developments in the Japanese market. Consumption of 2011 farmed salmon increased 7 percent in the EU, 10 percent in the US and 30 percent in Japan. The long-term prospects for fish consumption in Japan remain negative because of an ageing and stagnating population.

In Norway, production has risen 33 percent since 2008, with new growth projected for 2012. Chile saw the strong production growth of 2011 continue during early 2012. Its 2011 salmon exports totalled almost 260 000 tonnes, up more than 50 percent. In value terms, the increase was even higher 63 percent, totalling USD 1.9 billion. South American countries now account for 32 percent of Chiles exports, reaching 47 000 tonnes in 2011, with Brazil as the main market in the region.

Prices of Salmon in Europe, Origin Norway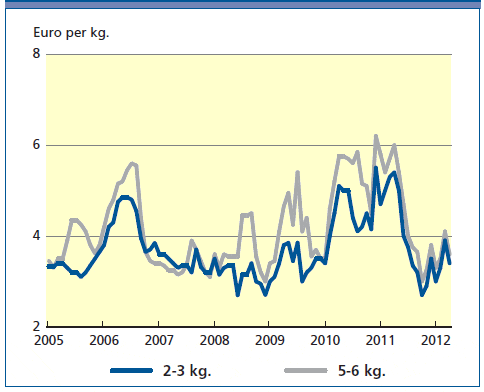 Wild salmon. Wild Pacific salmon remains important in overall supply, representing about 30 percent of the total market. In recent years, wild salmon harvests have been around 1 million tonnes annually, but there can be large annual swings. A large portion of wild salmon is shipped to China for processing and re-export.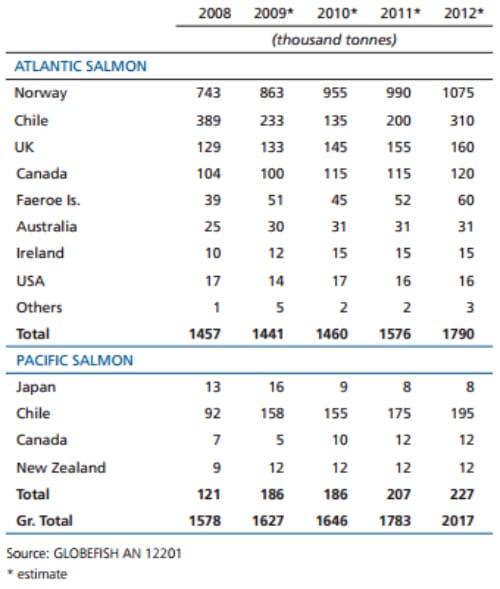 Global Farmed Salmon Production
SMALL PELAGICS MACKEREL, HERRING, SARDINES
Mackerel. New fish migration patterns are causing headaches for mackerel fishing nations in Northern Europe. Despite negotiations among the EU, Norway, Iceland and the Faroe Islands during early 2012, there is still no agreement on a total mackerel quota. As a result, the unilateral quotas are too high, with parties in the conflict accusing each other of acting irresponsibly.

Meanwhile, Norwegian mackerel exports declined 11 percent in volume last year, but prices were up significantly. Japan was the main market, importing 75 200 tonnes in 2011, a 5 percent increase, followed by China with 57 700 tonnes, up 13 percent, and Turkey, which had a 26 percent decrease. Thanks to improved catches, Norways mackerel export volumes recovered during the first quarter of 2012 by 21 percent, to 58 000 tonnes. China is now importing more mackerel from Norway, but most of this is re-exported to Japan.

With higher mackerel catches anticipated in the short run, the high prices experienced lately may come down during the next quarter.

Herring. Herring has had a bonanza, due to lower catches that pushed prices sky high during 2011 and early 2012, with prices now 60 percent higher than a year ago. Norwegian catches and export volumes continued to decline during early 2012.

Canned sardines. The canned sardine market in Europe continues to decline. Shipments of sardines to the three most important European markets France, UK and Germany fell a further 18 percent last year, with the largest reduction registered in France where imports fell from 16 700 tonnes in 2010 to 12 300 tonnes in 2011. The main supplier to all three markets was Morocco, followed by Portugal.

June 2012