Tilapia. Global tilapia supply is on the increase in 2012 with demand mainly coming from domestic and regional consumers in Asia, Africa and South America. During 2012, China is likely to export more to Africa and focus less on the US market.

Despite harsh weather conditions, Chinese export volumes of tilapia grew 2.3 percent with an increased value of 10 percent in 2011. Frozen fillet exports decreased 15 percent in volume, but this was somewhat compensated for by higher shipments of the cheaper whole frozen tilapia to African markets such as Cameroon, Ivory Coast, Angola, Democratic Republic of Congo, Ghana, Namibia, Nigeria and Benin. Average export prices strengthened to USD 1.88 per kg in 2011, up 13 percent.

United States imports of tilapia in 2011 declined for the first time in a decade, decreasing 10 percent to 192 900 tonnes, while the import value declined a marginal 0.5 percent, to USD 838 million, as tilapia suffers in the competition with the cheaper pangasius.

EU imports in 2011 saw a 1 percent increase, reaching 20 700 tonnes. China, EUs main supplier, saw shipments decline slightly, but imports were higher from other Asian sources such as Viet Nam, Taiwan PC and Indonesia, which increased by 160 percent, 13 percent and 9 percent, respectively.

Large private sector investments into the sector are boosting production in a number of countries in the region, including Brazil, Guatemala, Honduras and Mexico. Production is targeting both domestic consumption as well as export markets.

Catfish supply expected to increase during 2012 but with a stronger focus on quality and safety
Catfish. After a difficult 2011 characterized by disease problems, weak markets and tight access to finance, the catfish supply situation is expected to improve in 2012, with Viet Nam focusing on quality of exports through massive efforts to apply international standards such as SQF 1 000, Global GAP or those of the Aquaculture Stewardship Council (ASC).

The EU import of freshwater fish totalled 209 000 tonnes, 12 percent less than 2011. Nearly 90 percent of this consisted of pangasius from Viet Nam. Demand for pangasius from Viet Nam is also on the increase in Asia, with Singapore, the Philippines and Thailand importing 39 percent, 86 percent and 37 percent more last year, respectively. Viet Nam is continuing its diversification strategy and has also increased exports to Mexico, Brazil and Saudi Arabia.

US frozen catfish imports grew 59 percent to 92 000 tonnes in 2011. Despite higher prices during the year, imported catfish remains an attractive product for consumers and the restaurant sector, and import value increased 78 percent, to USD 350 million in 2011.

Nile perch in trouble
Nile perch. Nile perch exports to the EU from Kenya, Tanzania and Uganda, declined further in 2011 as catches kept falling. Sustainability continues to be an issue and enforcement remains a challenge.
Bass and bream supply tight
Bass and bream. Total supply of bass and bream was down almost 4 percent in 2011 and production is likely to fall again in 2012. Lower volume has caused prices to firm, but may scare off consumers in the long run. Prices remained relatively high during the first four months of 2012, especially for bass, and are expected to firm further over the next few months before the new supply reaches market size during summer. Bass and bream continue to perform well in newer markets such as the United Kingdom, Germany, United States and the Russian Federation. Increased domestic consumption in Turkey, the second largest producer, has had a positive impact on the market.
Prices of Seabass and Seabream in Italy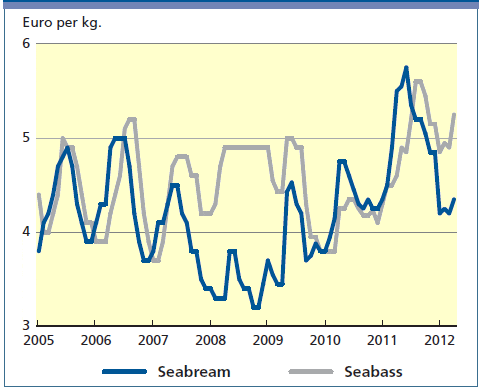 June 2012