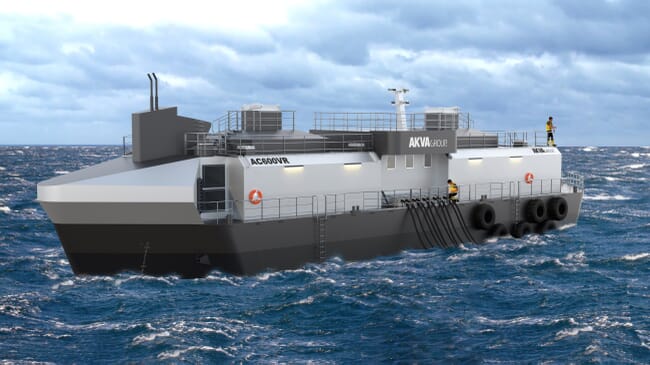 The system, which was developed by Akva and deployed at a salmon farm operated by SinkabergHansen, showed a 70-90 per cent reduction in the energy requirements needed to deliver the feeds using water rrather than air. The system is also quieter and reduces microplastic wear inside the feed hoses.
"Waterborne feeding also provides good conditions for deep feeding. In addition to lower lice pressure at depth, there are several types of solutions we continue to work on to facilitate good fish welfare and good growth during deep operation, including light conditions and feed distribution. Testing and combining the technologies properly at full-scale provides good conditions for developing such solutions - at the same time as we see that there are still issues that should be better elucidated when it comes to adapting operations and technology to optimize good operation and environmental benefits," said Svein-Gustav Sinkaberg, CEO of SinkabergHansen, in a press release.
"If you also add a battery hybrid package, the feeding system in this feed barge provides significant environmental effects and cost savings in the aquaculture industry. Only a monthly cost saving of around NOK 200,000 in generator operation for feeding ten pens provides a good reason to take a closer look at this feeding technology," added Hans-Øyvind Sagen, sales director at AKVA group Nordic.
SinkabegHansen initially leased the feed barge and feeding system, in order to test the new technology, but have now purchased them, having been satisfied with the results to date. Akva hope it will become more popular now that it's been validated.
"The largest bottleneck for introducing this new environmentally-friendly and cost-saving technology in the market is to show that the waterborne feeding system is stable in operation and provides at least the same growth rate as airborne feeding. In this context, this feed barge sale to SinkabergHansen, and the collaboration with them, is very important for further market development," said Sagen, who also sees opportunities for existing feed barges.
"In the short term, existing feed barges can be rebuilt from airborne feeding to waterborne feeding, as the energy and environmental effect will be the same as waterborne feeding for new feed barges. In Norway alone, there are several hundred feed barges of steel and concrete that may be relevant for such a rebuild, and it will provide enormous energy savings and environmental effects," he added.