Environmental impact is a key concern for Marine Harvest and subject to continual attention to improve the sustainability of supplying excellent seafood derived from farmed fish and the wild catch.

In Qmarine, environmental responsibility is divided into four sections: Sustainability, Biodiversity, Chemical input and Energy and waste.
Sustainability
Sourcing of fish from wild catch is a central sustainability concern. This is important to Marine Harvest in two ways. The value added processing (VAP) activities obtain a portion of their raw material fish directly from the commercial fisheries. The fish farming activities of Marine Harvest indirectly consume fish from the commercial reduction fisheries as the fishmeal and fish oil in fish feed are made from wild caught fish.
Progress in 2008
Value added products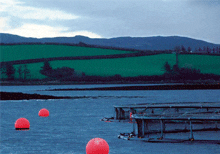 In cooperation with the Belgian fisheries institute Marine Harvest VAP Europe monitors its seafood range on sustainability criteria such as fish stock situation, management of fish stock and fishery methods. This auditing method is based on the methodology of the WWF and also validated by the WWF. At the outset of 2008, Marine Harvest VAP Europe, specifically Marine Harvest Pieters NV (Bruges) was already operating with Marine Stewardship Council (MSC) chain of custody certification for its purchasing, processing and sales of Alaska pollock (origin USA), Hoki (origin New Zealand) and Hastings Dover sole (origin UK). Other VAP activities, Marine Harvest Sterk in the Netherlands and Marine Harvest Belgium (the fish smoking activity in Ostend), respectively hold certification for Alaska pollock (origin USA) and wild Coho salmon (origin Alaska).

Holding certification means the relevant further processed products of Marine Harvest can carry the MSC white/blue tick logo on the packaging.

Marine Harvest VAP Europe has a suppliers' manual that includes its commitments toward sustainability. The opening paragraph contains the following statement: "Procurement of aquaculture and wild caught fish and seafood compliant with the FAO Code of Conduct for Responsible Fisheries will be a priority for Marine Harvest."

The MSC is an independent, non-profit organisation that inspects and issues certificates to those fisheries it finds to be sustainably managed.

Holding certification means the relevant further processed products of Marine Harvest can carry the MSC white/blue tick logo on the packaging.

Marine Harvest VAP Europe has a suppliers' manual that includes its commitments toward sustainability. The opening paragraph contains the following statement: "Procurement of aquaculture and wild caught fish and seafood compliant with the FAO Code of Conduct for Responsible Fisheries will be a priority for Marine Harvest."

Underlining this commitment, Marine Harvest VAP Europe is fully financing the PangaProgress®Program, which is developing sustainable farming of pangasius. Pangasius is a freshwater fish mainly farmed in Vietnam and increasingly popular in Europe and the US.

The young aquaculture business in Vietnam is growing rapidly. The PangaProgress®Program is an initiative of Marine Harvest VAP Europe, the University of Ghent (Belgium), the Research Institute for Aquaculture No2 of Vietnam and pangasius producer Vihn Hoan in Vietnam. The key areas of attention are natural selection of broodstock, a rich and healthy diet, and clear water farming ponds. In parallel with this project, Vihn Hoan is investing in AquaGAP certification of its farming activities. The Aqua- GAP standard focuses on sustainable farming practices.

Marine Harvest VAP Europe sources its fresh yellow fin tuna from specific suppliers in Sri Lanka. This decision is based on the long line fishing methods used and the initiation of sustainable fishing management by the government of Sri Lanka. Sri Lanka has incorporated the sustainability practices of the Indian Ocean Tuna Commission (IOTC), an intergovernmental organisation mandated to manage tuna and tuna-like species in the Indian Ocean and adjacent seas. All landed fish are registered to allow for monitoring of the biomass of yellow fin tuna by IOTC and National Aquatic Resources Agency of Sri Lanka. Marine Harvest VAP Europe has selected two suppliers that meet the above requirements and have EcoLabel or Friends of the Sea certification. Additional purchasing practices to support sustainability include the requirement for farmed salmon to be GlobalGAP certified and fish sourced from Iceland, a major source of supply of wild caught fish, to conform to the Iceland Concept of sustainably caught top quality fish.
Aquaculture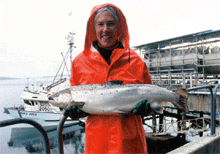 The sustainability of fish feed used in Marine Harvest aquaculture is discussed in the article "Efficient utilisation of scarce resources" on page 26, which also includes a description of Marine Harvest's participation in the WWF Salmon Aquaculture Dialogue.

In addition to these activities, in 2008 Marine Harvest provided salmon farming data to an international study to prepare a full life cycle assessment (LCA) of salmon farming in Canada, Chile, Scotland and Norway. The project was organised by and will be reported by SIK (Swedish Institute for Food and Biotechnologies), Dalhousie University in Canada and Ecotrust from Portland, Oregon. The results of the study will be submitted for publication in a scientific journal during 2009. It is the first worldwide LCA of a single food product and will expand on conventional environmental impact assessment to include impacts on nearby ecosystems and will bring in social welfare aspects such as fair wages and worker safety.

While feed is an important aspect in the above mentioned LCA study and the Salmon Aquaculture Dialogue, both of these initiatives are examining the full spectrum of sustainability factors in salmon farming and Marine Harvest is pleased to be part of them.

In April 2008 Marine Harvest entered into a historical partnership with WWF-Norway in which the two organisations are working together to reduce the environmental impacts and ecological footprint of aquaculture.

In October 2008, Marine Harvest was able to report an important advance in feed sustainability coming from results of a farm-scale trial conducted at the Centre for Aquaculture Competence (CAC) in Norway. CAC is a largescale research station jointly owned by Marine Harvest with the AKVA Group and Skretting, one of Marine Harvest's main feed suppliers. The trial used experimental feed with low fishmeal content and produced farmed salmon that yielded more fish protein than was present in the marine raw materials they consumed in their feed. This is a significant step toward making salmon aquaculture a net positive fish protein producer.
Biodiversity
The negative biodiversity impact of salmon aquaculture comes mainly from the presence of faeces and uneaten feed in the aquatic environment, the interchange of parasites with wild species and the impact of escaped fish on the wild fish.

The efforts of Marine Harvest to control the main parasite, sea lice, are discussed in other sections of this report.
Feed and faeces
Marine Harvest is aware that, because of the scale of fish farming activities in some regions, aquaculture is a contributor to marine organic discharge.

Marine Harvest continuously works with feed suppliers and the suppliers of feeding equipment to increase further the efficiency of feeds and feeding. Each improvement reduces the discharges relating to net pen salmon aquaculture.

The number and location of fish farms are closely controlled by national or local authorities in all the countries in which Marine Harvest has aquaculture activities. One of the reasons is to ensure that the farms are adequately spaced, are sited in places where there is a good flow of water to carry away the waste feed and faeces, dispersing it for natural biodegradation.

The size of a permitted farm is dictated by the carrying capacity of the site. Elaborate mathematical models are developed to calculate the carrying capacity of sites before licences are granted and Marine Harvest actively participates in gathering the required data, and in monitoring the state of the environment around its farms while they are active.
Progress in 2008
In 2008 all six salmon farming businesses of Marine Harvest had environmental monitoring programmes and all apart from Marine Harvest Scotland were actively involved in special biodiversity or environmental protection projects. Marine Harvest Scotland will embark in this area during 2009.

The Environment Department of Marine Harvest Chile used an environment predictive model for application to existing and new farm sites in 2008. The model analyses data from the sediment below the farm site to assess the impact of solids from the farm on the sea bed. This helps in evaluating the carrying capacity of a site and in reducing the impact of farming on the sea beds. Factors taken for input include depth, current speed and direction (the slowest flow is the most important) and feeding. The model contributes to finding places that are less susceptible to the build up of pollution, assessing optimum fallow periods (when the site is empty between farming cycles) and finding the real production potential of sites. Marine Harvest strongly believes this will contribute to more productive and more sustainable salmon farming.

Marine Harvest Ireland became the first company to qualify for the Irish Sea Fisheries Board accredited eco-standard for salmon aquaculture, the Irish Quality Eco-Salmon Standard. The award was announced at the Boston Seafood Show in February 2008. Accreditation to the standard guarantees that the salmon has been produced with care for the environment that is above and beyond all existing requirements.
Fallowing
Fallowing, leaving a site empty between production cycles, is an essential measure to allow the flora and fauna on the seabed to return to normal. The required fallowing period depends on the individual sites and on local regulations. All Marine Harvest farming businesses have set themselves target minimum fallowing periods. These are shown in the table together with an indication of how well each business managed to meet its targets.
Fallowing periods reported in 2008
Business
Activity
Fallow target minimum weeks
Average fallow
% of sites below target
Canada
Freshwater
4
22
0
Seawater
8
12
2
Chile
Freshwater
9
9
0
Seawater
12
12
0
Faroes
Freshwater
_
_
Seawater
8
14
0
Ireland
Freshwater
_
_
Seawater
6
7
43*
Norway
Freshwater
_
_
Seawater
8
16
6
Scotland
Freshwater
6
6
0
Seawater
6
13
0
The following businesses only use tanks for freshwater
production and therefore do not use lake-based freshwater sites: Norway, Faroes and Ireland.*In 2008, Marine Harvest Ireland invested significantly to obtain access to a greater number of sites, by acquiring another salmon farming company. This has improved Marine Harvest Ireland's ability to meet its fallowing target.
Escapes
The continuing objective of Marine Harvest is to achieve a record of zero escapes. Progress is made through training and by improvements to the farming installations. Escapes may occur as a result of storms or predators damaging the pens, but also due to failure in operational routines.

Escapes recorded in 2008 are listed in the table on page 22.
Escape incidents reported in 2008
Business
Activity
Number of incidents 2008
Number of fish escaped
Approx weight of escaped fish
Number of incidents 2007
Number of fish escaped
Canada
Freshwater
1
~20
juveniles
1
20
Sea water
3
108,589*
2 kg
7
<100
Chile
Freshwater
0
Sea water
0
1
1,300
Faroes
Freshwater
0
Sea water
1
2,000
3 kg
Ireland
Freshwater
0
Sea water
0
Norway
Freshwater
2
500
0.1 kg
2
36,200
Sea water
2
45
0.8 kg
1
6
Scotland
Freshwater
0
1
15,000
Sea water
2
7,444
5 kg
2
63,708
Total
11
118,598
15
116,334
*Marine Harvest Canada's loss of a single net of fish at three locations in 2008 reversed a recent trend of few escapes. Internal and regulatory investigation of these events has resulted in improved containment procedures as well as the adoption of the Norwegian
Standard for cage mooring.
Chemical input
The main chemical input from aquaculture is from medicines and the treatment of pen nets with antifoulants. The use of medicines in Marine Harvest is always in strict compliance with the relevant regulations prescribed by certified veterinarians. See page 16 for more detailed information. Antifoulants prevent the growth of algae (seaweed) on the nets. A covering of algae on the net will hinder water circulation through the cages and cause oxygen depletion. The extent to which treatment is needed varies between locations. The table on page 24 shows the proportion of nets treated by each salmon farming business in 2008, and the proportion treated in 2007.
Energy and waste

Energy efficiency is important for efficient production and processing, provided it does not compromise food safety or the health and safety of employees. The efficient use of energy is a focus for all Marine Harvest businesses. Salmon farming is energy efficient compared to farming of land-based animals. Nonetheless Marine Harvest works diligently to minimise the use of energy, both to reduce costs and to secure a limited ecological footprint from the company's operations.

The table below shows energy consumption for production activities, from broodstock to primary processing. The reported numbers are not fully comparable between business units as the degree of processing varies between the units. There are also differences in the use of contractors between the units, impacting the accuracy of reported numbers and the comparability between units. In some cases energy used by contractors has been estimated.
Treatment of nets
Business
% nets treated 2008
% nets treated 2007
Canada
92
100
Chile
100 in summer
60 in winter
100
Faroes
65
100
Ireland
0
20
Norway
67
80
Scotland
23
40
Only copper oxide containing products were used.
Energy consumption in fish farming and primary processing in 2008
Business
kWhfrom supp ly grid
kWh/t produced
Propane, litres
Litres/t produced
Diesel/gasoline,litres
Litres/t produced
Canada
13,033,000
302
1,518,000
35
2,151,000
60
Chile
1,167,000
19
179,000
3
229,000
4
Faroes
2,909,000
368
0
0
511,000
65
Ireland
2,513,000
300
0
0
701,000
84
Norway
41,432,000
194
710
0.003
3,726,000
17
Scotland
1,673,000
41
119,000
3
1,320,000
32
Coldwater species
8,011,000**
_
0
_
57,000
_
Total
70,737,000
_
1,816,000
_
8,694,000
_

In addition 32,863 litres of fuel oil was used in Norway.Two countries obtain a significant proportion of their electricity from renewable resources: Norway 98%* (hydroelectric) and the Faroe Islands 45% (40% hydroelectric and 5% wind generated* Source: Norwegian Water Resources and Energy Directorate (2007)
** The majority of the production in the business unit Coldwater species takes place in landbased seawater tanks. This explains the high use of energy in this part of the production. A major part of the activity involves juvenile production for external sale and thus energy consumption per tonne produced is not applicable.
The following table gives the equivalent data for the value adding processing activities of Marine Harvest in the Americas and in Europe.
Energy consumption in value adding processing operations in 2008
Region
kWh fromsupply grid
Natural gas
Propane,litres
Diesel,litres
Americas
26,625,000
0
200,000
192,000
Europe
31,563,000
2,186,000
693,000
10,000
Total
58,188,000
2,186,000
893,000
202,000
The following table gives the total energy consumption of Marine Harvest in 2008. This was used in the supply of 114,250,000 salmonid eggs and 9,303,755 salmonid juveniles that were sold externally, 327,000 tonnes of salmonids, 798 tonnes of Sterling halibut, 1,969,879 cod juveniles and 56,256 tonnes of value added seafood products.
Total energy consumption of Marine Harvest operations in 2008
Business
kWh from supply grid
Natural gas
Propane,litres
Diesel,litres
Farming
70,737,000
0
1,816,000
8,694,000
VAP
58,188,000
2,186,000
893,000
202,000
Total
128,925,000
2,186,000
2,709,000
8,896,000
Full data on energy consumption was not available from all sites in 2007.
Energy efficiency in Chile
The new headquarters building of Marine Harvest Chile is heated using geothermal energy and avoids the production of greenhouse gases. Marine Harvest Chile subscribed in 2003 to a Clean Production agreement proposed by the Chilean government. Clean production focuses on providing energy effectively with lower levels of pollution and waste. In line with this objective, management chose geothermal energy to heat the new building. The system came into operation in 2008. The building of 906 square metres now uses 75% less energy than if heated by conventional methods. Heating by oil would require 55,000 litres a year.

Therefore, the geothermal system is avoiding the annual production of 22 tonnes of carbon dioxide in the atmosphere and depletion of finite resources.
Waste management
Comprehensive tracking of waste by type and the treatment of waste as specified in Qmarine is not yet in place. The table above indicates how waste is treated in the production activities, from hatchery to primary processing, in three of the six production countries.
Waste treatment in 2008
% of waste
Recycled by Marine Harvest
Recycled by third parties
Composted
Incinerated
Landfill
Faroes
0
60
2
38
0
Ireland
0
16
53
26
5
Norway
0
80
5
10
5
July 2009