EMS is a bacterial disease of shrimp, characterised by an empty stomach, pale hepatopancreas and an empty midgut, which rapidly results in mass mortalities.
The mass mortality caused by the disease has also led to a decline in global shrimp production. Production fell in 2013 to 15 per cent below 2011 levels. As the industry was actually expecting a five per cent growth, it is more like 23 per cent below market expectations, with analysts believing there has been a $5 billion loss at farmgate.
The disease was first seen in China in 2009, before it spread to Viet Nam in 2010, Malaysia and Northern Borneo in 2011 and Thailand in 2012. In 2013, EMS was reported for the first time outside Asia, showing up in Mexico - due to imports of infected live shrimps from Asia, and towards the end of 2013, a possible case of EMS also turned up in India, but sampling so far has only shown the presence of white spot syndrome virus.
Initial research into EMS identified various possible causes, including an infectious agent, toxic algae and toxicants, but studies of all of these failed to induce EMS.
However, in the summer of 2012, the World Bank and the Responsible Aquaculture Foundation launched an investigation into the disease outbreaks, with George Chamberlin, Donald Lightner, Le Van Khoa, Nguyen Van Hao, Hoang Tung and Tran Huu Loc setting to work on identifying any common themes.
With initial studies proving inconclusive, It was only when Dr Loc studied the infection in fresh tissue that the bacteria causing EMS was found to be infectious and caused by a bacterial agent in the stomach.
Further work by Dr Lightner then identified the bacterial agent as a strain of Vibrio parahaemolitycus (VP). Once the bacterial agent was known, Dr Lightner's team developed a PCR diagnostic test which is expected to become commercially available very soon.
Moving on to find a trigger for the disease, the practical experiences of Agrobest farms in Malaysia were taken into account.
Studies showed that an infected batch of post-larvae was found to have introduced EMS to the farm and that the outbreak was also associated with high pH in the water, caused by an algal bloom. The pathogen causing EMS grows normally between pH 7-9.5.
By good farm practice and water treatment management, production did recover slightly at the site. However, it became clear that there is no simple answer or one clear way to prevent EMS.
Understanding the Triggers
As there is no simple trigger or answer to preventing EMS, the experiences of many farms have highlighted multiple possible causes, as well as just pH levels.
Changes in temperature can be a trigger, as the EMS causing bacteria thrive when temperatures rise.
Nutrients are also an important factor; many pond fertilisers stimulate the growth of the EMS pathogen.
Ponds with salinity below 5ppt are not likely to experience EMS, but, as salinity rises EMS presence becomes more likely.
Charoen Pokphand Foods (CPF) group has also carried out plenty of work into understanding EMS. The company's observations found that:
• the VP pathogen grows very fast
• it is a coloniser (and often collects at the bottom of ponds)
• it produces a potent toxin
Robins McIntosh, CPF, described EMS as a perfect killer as the agent waits until there is a density of 106 in the stomach before they all release their toxins together as a unit, delivering a lethal dose of toxin.
Best Practice to Avoid EMS
As well as addressing the EMS triggers through good pond management, there are also other practices which can help prevent EMS.
Agrobest's experience found that black tiger shrimp (p. monodon) did not become infected with EMS, despite sharing the same pond. A move to producing black tiger shrimp could, therefore, be an answer, said Dr Chamberlin, but black tiger shrimp fry that are from pathogen-free sources are not readily available. More reliable pathogen-free sources are therefore needed.
Using cages in the pond for shrimp can also help, as it prevents them from having contact with the pond bottom where the risk of EMS is highest due to the pathogen collecting at the bottom of the pond and inside Bryozoans.
Similarly, stocking post larvae in cages and then only releasing them into the pond when they are three weeks old can help to reduce the chance of them contracting the disease. This is due to the different feeding behaviour of larger shrimp which makes them less susceptible.
In terms of adjusting the whole farming system to be more resistant, the use of polyculture, bioflocs and intensive systems have all proved successful for many farmers.
Similar to its use to avoid whitespot, the farming of tilapia in the same pond as shrimp helps to stimulate certain algae, creating less favourable conditions for EMS.
Bioflocs, on the other hand, aid the diversification of the microbial community in a pond, helping to protect against EMS through competition. However, it is not known what level of protection is required.
Small intensive ponds in China have also proved effective as sludge from the pond bottom is easy to remove and salinity can be easily managed. This system demonstrated high yields, even through EMS, said Mr Chamberlin.
In the long term, breeding for EMS tolerance could help farmers avoid the disease, whereby families that show the biggest resistance to the disease are selected.
Looking at controlling EMS on a bigger scale, the disease is most commonly found in the brackish water zone between the ocean and freshwater areas. Therefore, good overall zone management is required to prevent the disease from being spread from pond to pond where water is shared.
EMS in the Future
Overall, it is clear that multiple management solutions are needed that involve breeding, hatchery, feeds and pond management. In order to prevent the spread, care should be taken when importing live shrimp from affected countries. Indonesia is a good example of this as, although it is located close to infected countries, it is thought to have avoided the disease thanks to very strict management on the importation of live animals.
While the investigation into EMS is on-going, Dr Lightner said that current studies are investigating what the toxin is and that it is likely that a cure will be found.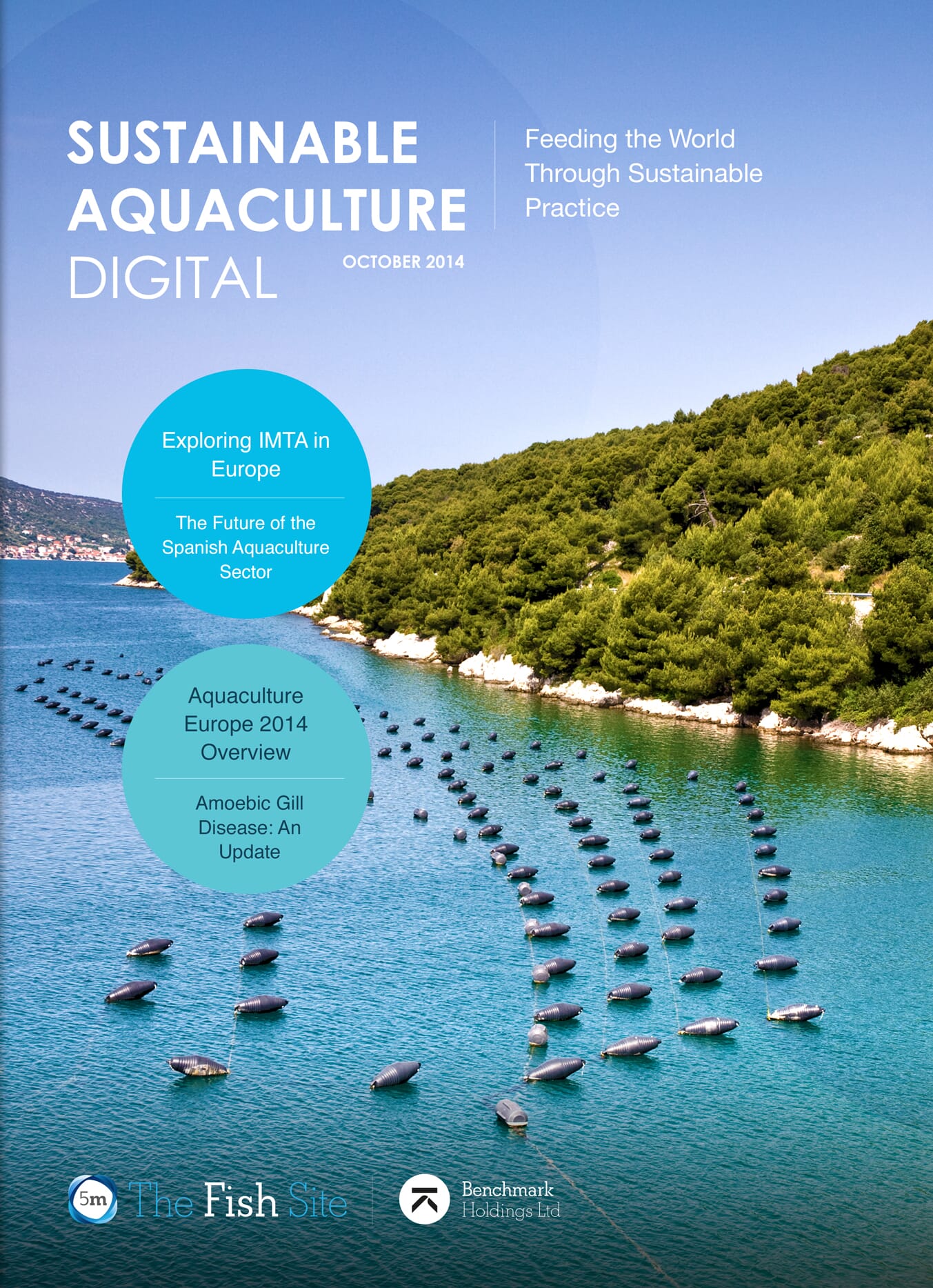 This article is taken from the January 2014 Sustainable Aquaculture Digital.
To read the latest edition of the Sustainable Aquaculture Digital, please click here.