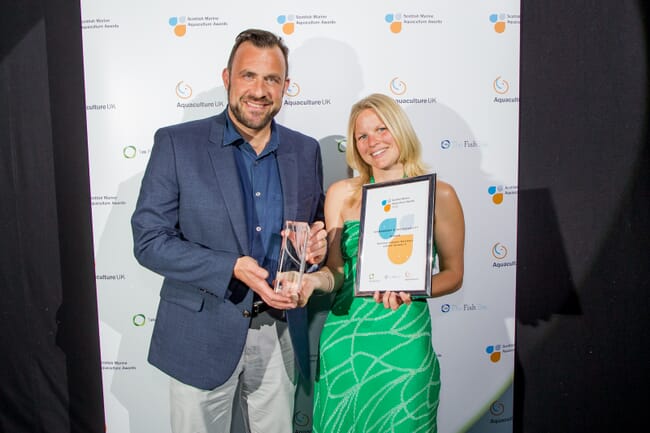 The awards, to be announced at a gala dinner on 4 May 2022 during the Aquaculture UK tradeshow in Aviemore, are presented to individuals and businesses who have gone the extra mile, whether in their day-to-day work, or by their enterprise and forward-thinking initiatives.
With 14 categories - including finfish and shellfish farmers of the year, rising star and outstanding contribution – the awards recognise commitment to excellence across the global aquaculture sector.
This year, in particular, the awards will offer a showcase for the extraordinary efforts the aquaculture sector has made to meet the challenges of the pandemic.
"The Aquaculture Awards make a welcome return to Aviemore this spring, reuniting the aquaculture community post-Covid," said Cheri Arvonio, event director at show organiser Diversified Communications, in a press release.
"We want to hear about projects, companies and people making an exceptional contribution to global aquaculture, whether it be businesses championing environmental sustainability, or those embracing the highest standards of animal health and welfare. We want to share and acknowledge the incredible dedication of the people driving the industry forward."
The awards night takes place on May 4 at the Macdonald Resort in Aviemore, the venue for the UK's most important aquaculture exhibition, which runs from May 3-5. Over 200 exhibitors have booked stands at the Aviemore event which takes place for the first time after a four-year, Covid-induced break.
Along with advances in cage infrastructure, netting, feeding systems and humane stunning, visitors will be able to see first-hand the progress being made towards smarter fish farming, combining traditional husbandry with digitalisation, artificial intelligence and machine learning.
Innovation and sustainability are the themes of the new conference on the first day of the show. Featuring a series of presentations from the industry's new wave of pioneers, these sessions will provide valuable insights into how organisations are offering sustainable solutions for the industry.
For more information about the awards, which are free to enter and open to the entire industry, visit www.aquacultureawards.com. The submission deadline for entries (https://aquacultureawards.com/entry-form) is Monday, 28 February 2022.