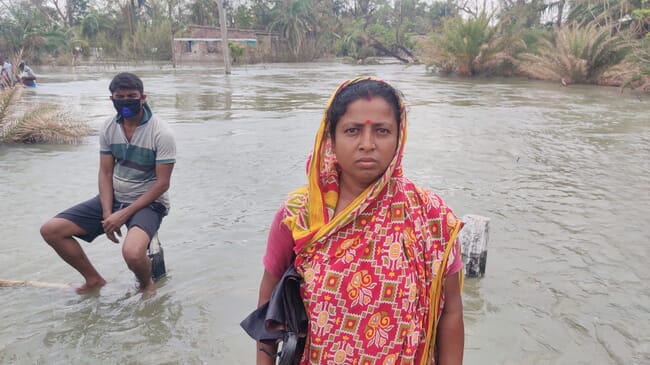 "It was not a cyclone but a monster that had come to devour our lives and livelihood. Our mud houses are submerged underwater and floating polythene sheets and household items are the only remains of the devastation. We managed to survive nature's fury, but our source of income is gone forever. We have lost our shrimp farming for a very long time. We have to literally beg for survival," rued Jaba Mondal, 39, who broke down twice while recounting her ordeal.
More than three weeks have passed since Cyclone Amphan, considered the most destructive storm storm to hit the Bay of Bengal in almost three centuries, devastated the eastern states of West Bengal and Odisha in India on 20 May, but the woes of the people are not yet over. In West Bengal 98 people lost their lives, and the livelihoods of many others were severely impacted due to salty water flooding many fields.
Severe losses for shrimp farmers
Jaba, who lives in Tiapara village (part of the Hasnabad Community Development Block in Sundarbans, West Bengal), has been a shrimp farmer for over a decade. She had stocked shrimp worth around ₹500,000 (US$6,615) in her pond but the cyclone led an embankment to collapse, which resulted in an ingress of salty water from the nearby Ichamati River.
"We were jolted out of our sleep by the noise of the water gushing inside our houses. We panicked on seeing the rising water level. We left everything and ran for safety. We survived but have lost thousands of shrimp, which were our livelihood," added Jaba.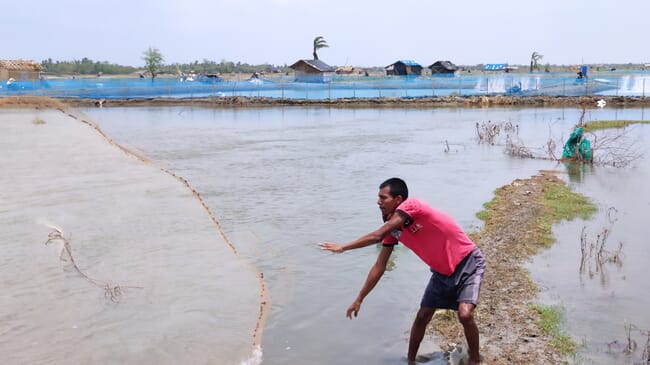 She might derive some solace from the fact that she is not alone in her plight. Nearly 8,000 shrimp farmers in Tiapara and its neighbouring 10 to 12 villages have lost their incomes to the cyclone. Because of the devastation in brought, they commonly refer to as the "monster".

Several shrimp farmers living in the Sundarbans area – known for its mangrove cover and ecological fragility – said that they are used to natural disasters but had never witnessed or heard anything like Cyclone Amphan.
"We had released post-larvae worth around ₹1.2 million [almost $16,000] recently, as the season began. We were aware of the approaching cyclone, but it's a common phenomenon here and people are used to them. But we were shocked. The speed of the winds almost pierced our ears. The salty water entered into our fields due to the collapse of the embankment. We lost all our shrimps. We had borrowed the money from a private money lender at higher interest for shrimp cultivation thinking of better returns but everything is gone," said Biswajit Das, 31, who runs a family shrimp farming business.
Similar to the practice of farmers in other parts of the state, the majority of farmers in Sundarbans have converted their agricultural lands into shrimp farming. The conversion to aquaculture has been a profitable venture for farmers here, as traditional farming is seasonal and relies on the monsoon.
"Unlike other parts of the state, we do not have multiple cropping, as the ground water is saline. We depend on the monsoon for crops and rice is grown here. But switching over to shrimp has brought profits, as the margin is several times more than paddy," said Narendra Nath Mondal, 52, a shrimp farmer in the neighbouring Khapukur village, who also lost his shrimps in the cyclone.
Feed suppliers and exporters also face difficulty
The cyclone has not only devastated farmers' businesses but also those of feed and shrimp suppliers and exporters. Across the region's shrimp sector, these heavy setbacks have been compounded by the coronavirus pandemic and the lockdown measures that have been put in place in response. Farmers say that March and April would usually be the season for releasing shrimp into their ponds but both the lockdown and cyclone have made normal business operations impossible.
"We have nothing left as our investments have been lost in the cyclone," said Balram Mondal, a shrimp farmer in Mondal Para village. "It would be virtually impossible to take on shrimp farming next year due to financial constrains and failure to repay the existing loans."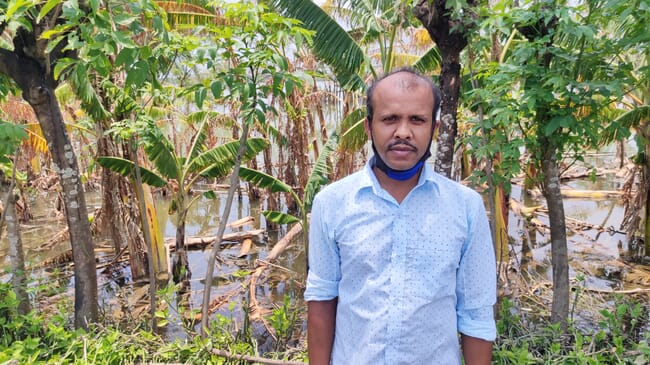 Feed suppliers are also running up losses. "The abrupt lockdown brought severe losses to the feed suppliers as majority of the farmers had stopped cultivation," said Gautam Patra, one of the major feed suppliers in the Hasnabad block. "Still, some were doing it. But the cyclone wiped out everything. The post-larvae traders in our area had done a roaring business in the last fiscal year, but the situation is grim this year. It's feared that the production of shrimp could drop to around 800 tonnes, from around 5,000 tonnes last year."
West Bengal is one of the largest shrimp-producing regions in the country. In 2017-18 the state had produced around 76,534 tonnes of shrimp with 55,211 hectares of land under cultivation, according to the Marine Products Export Development Authority (MPEDA). But those connected to the trade feel that both production and acreage are going to take a big hit due to the combined effects of the lockdown and the cyclone.
"The lockdown had already caused enough damage," pointed out Nemai Das, 55, another feed trader in Hasnabad. "The cyclone and the breach in embankment have led to the entry of salty water in the fields. The situation will not improve unless the salty water is removed from the fields. It seems unlikely till the embankment is repaired and the farmers have money to resume farming. At present, the salinity of the water is 35-40 parts per thousand (ppt) which is much higher than the 12-20 ppt required for shrimp farming. The land and production – both would be drastically hit."
Shrimp cultivation is mostly done in three districts of West Bengal: North and South 24 Parganas (covering Sundarbans) and East Midnapore. Farmers in other parts of Bengal have suffered damage, mainly due to trees falling into ponds. "The leaves from the trees that fell on the ponds have severely affected the water quality, which is affecting the shrimp," said Pradip Chatterjee, president of Dakshinbanga Matsya jibi Forum (the South Bengal Fishermen Forum). "We have urged the state government, asking for the immediate compensation to the fishing community so that they can resume their livelihood."
Shrimp exporters have expressed their concerns, saying that the market faces a double blow from the lockdown and cyclone. "As the Indian government has relaxed the lockdown measures recently, the export market has started to recover," said Ronit Guha, director of NDM Seafood Processors and Exporters, which is based in Bengal. "People are now becoming attracted to frozen food because it is fully tested for safe consumption and hygiene, while fresh food doesn't undergo several tests. The cyclone has added to the woes of the exporters but, thankfully, the scenario is not the same in the entire state. But the cyclone has led to an increase in the prices of shrimp of ₹100- ₹150 (approximately $2) per kilo. Our biggest concern is to keep our labourers safe from Covid-19 to ensure the smooth and risk-free running of the business."