Cooke to appeal steelhead decision
Cooke Aquaculture has not abandoned plans establish a steelhead site in Washington State, despite a court ruling against them last week.
The aquaculture firm had had plans to establish the site in Port Angeles Harbor in partnership with the Jamestown S'Klallam Tribe turned down last week, but they have since challenged the ruling – filing an appeal on 3 March.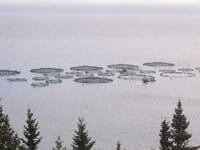 It marks a turbulent week for Cooke's aquaculture operations in North America, as the company are also under investigation for the death of 77,000 salmon at its Manual Arm site in southern Newfoundland.

The cause of the mortalities, which took place in two of the eight cages at the site, has not yet been confirmed.
However, the province's Fisheries Minister, Gerry Byrne, said: "We are concerned. I'm personally very concerned and the department is concerned as to what the cause was. There is some evidence that there was some physical trauma on the fish."
Storm conditions in the area in the run up to the die-off are thought to have been responsible.
"It may be a possibility that two of the cages may have come loose and with that rolling motion from the storm action, may have caused some of that physical trauma," he added.