Sponsor message
Are you trying to break into aquaculture industry or already working in the field and looking to gain additional expertise for career development?
Colder Water Makes Salmon Happier
Previous studies have shown that higher sea temperatures tend to reduce both appetite and growth rates in farmed salmon. A recent NIFES study has demonstrated that salmon grow better at lower temperatures than was previously believed.
Over a period of 45 days, the growth rates of large salmon were measured at temperatures of 13, 15, 17 and 19 oC. At 19 oC, the rate of growth fell by more than 20 per cent compared to fish at 13 °C. Salmon raised at a temperature of 13 oC produced the highest rates of feed consumption and growth.

"This study shows that 13 oC was the best temperature for the salmon, although the optimal temperature may well be even lower. We will need to carry out more tests to find out whether that is the case," says NIFES scientist Ernst M. Hevrøy.

At temperatures of 15 - 17 degrees the salmon grew well for a couple of weeks, but the effects of 45 days at these temperatures took the form of reduced feed consumption and growth.
Global Warming will Affect Salmon
This is the first time that growth data on large salmon kept at such high temperatures have been published.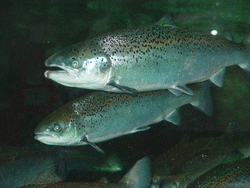 "Global warming and higher average temperatures will have consequences for salmon, which are particularly widely distributed around the northern hemisphere, and will be affected by climate change. Our results show that their growth is temperature-sensitive," says Hevrøy.

A previous NIFES study had shown that warmer seas reduced appetite in salmon, reducing feed intake by as much as half at 19 °C compared to fish at 14 °C.

The results of the more recent study show that the pattern of growth of salmon is held back at higher temperatures. The hormone that signals cells that they should grow insulin-like growth factor (IGF-1) is affected by IGF-binding hormones, with the result that the growth of vital organs is prioritised at the expense of muscle growth.

"This can help us to better understand the biological processes that take place in salmon, in particular the importance of temperature for how feed is utilised and for growth during periods when the water is relatively warm," says Hevrøy.
Part of a Major Climate Project
The study was carried out in collaboration with the Institute of Marine Research, Nofima, Hokkaido University, the fish farming company Marine Harvest and feed manufacturer Skretting, as part of a major climate project. Financed by a top young investigators project in aquaculture research from the Research Council of Norway, Hevrøy will continue to work on problems related to farming salmon at elevated sea temperatures.

The study is published in the Journal of Comparative Physiology B.
February 2013
Sponsor message
UMass Sustainable Aquaculture Online Courses Aquaculture is an increasingly important source of safe, nutritious, and sustainable seafood for people worldwide. Globally, aquaculture production must double by 2030 to keep pace with demand. These increases in demand for aquaculture products, food security considerations, and job creation have generated an increased need for skilled workers.
Discover how you can be part of this rapidly expanding industry.