Salmon farming is very popular in the coastal waters of southern Chile. However, the local sector is plagued by such issues as the increased proliferation of sea lice and algal blooms, compromising its performance severely. Aside from warming waters, a main cause of the problems faced by most Chilean salmon farms is the fact that they are culturing non-native Atlantic salmon.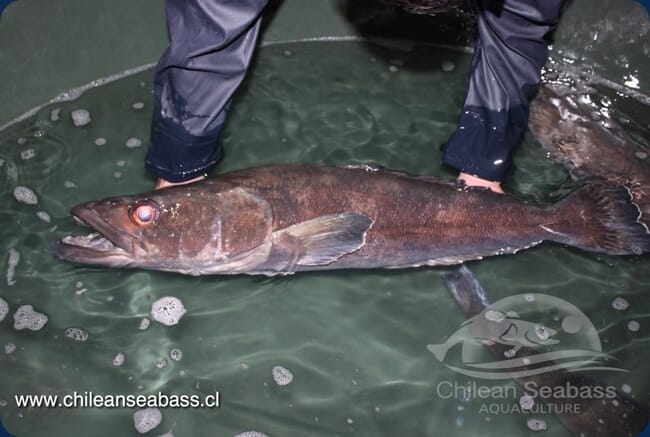 As discussed in our last article on the culture of native species, non-native fish are often not as well-adapted to local climates and pathogens, as opposed to durable and entrenched native species. However, Chile's salmon farmers have not had a suitable native alternative to farm in commercial quantities – until now.
A breakthrough resulting from over 10 years of research has allowed a private company, Seabass Chile SpA, to finally commence commercial production to commence. Alberto Reyes, who has headed Seabass Chile from its inception, has the objective to expand both the hatchery activities and construct a recirculating aquaculture system (RAS) grow-out which aims to produce an annual output of 2,800 tonnes of the species within nine years.
The Chilean seabass (Dissostichus elenginoides) is locally referred to by fishermen as "white gold" and is sold to high-end markets and upscale restaurants for around $30 per kilogramme. In most of South America, these fish are known as merluza negra, while in Chile, they are called bacalao de profundidad. In markets across America, Europe and Asia Chilean seabass are appreciated for their strong flavour and high-quality meat. Like salmon, the fish has a very high percentage of fatty acids, the main reason for its rich flavour.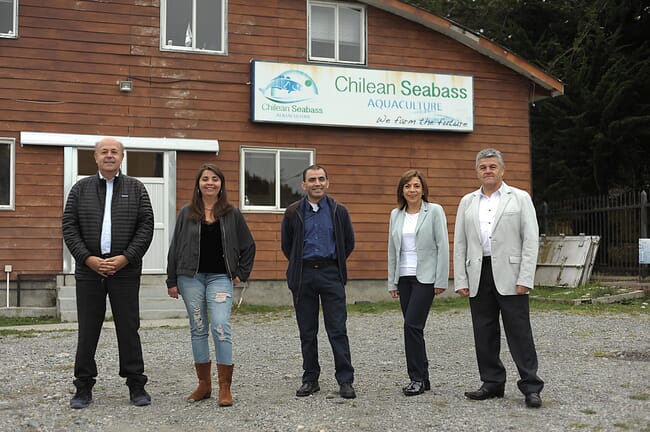 The species was previously known as the Patagonian toothfish and it is not actually a real seabass. It is a large predatory fish which occurs around most sub-Antarctic islands along the southern Atlantic Ocean, plus the Pacific and Southern Oceans. Due to its popularity, it was previously heavily overfished, almost to the point of local extinction. In recent years, stricter fishery management has resulted in limited recovery.

Very few people had observed the eggs, larvae and juveniles of this fish before the project got under way. Scientific publications on the biology of Chilean seabass are scant, as is information from a previous attempt to farm the species in the Falkland Islands.
As such, the team of Seabass Chile was in a unique position to make one discovery after another and to see and record the previously unknown life stages of this fish. To meet these challenges, Reyes had the vision and foresight to include project researchers and veterinarians to complement his team's technical efforts. There was also ongoing participation from Dr Gidon Minkoff of Teleostei Fish Hatchery Consulting, who coordinated the process of developing a larval-rearing protocol for the species.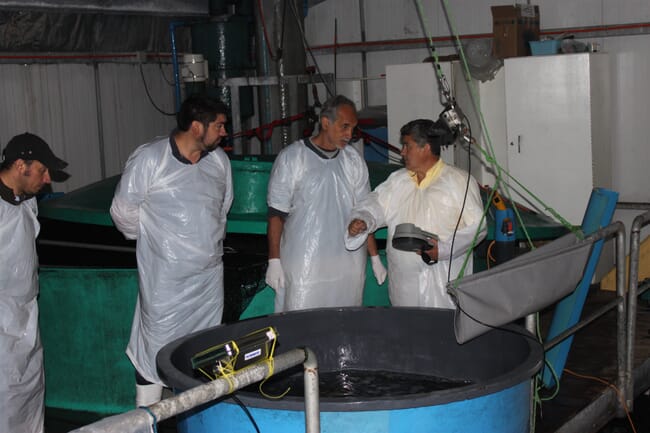 Dr Gidon is a leading hatchery expert and has developed larval-rearing protocols for a variety of novel species including black cod (sablefish), Atlantic cod, various types of tuna, plus other deep and cold-water marine fish species.

Dr Gidon gained recognition by becoming one of the few people to successfully produce large numbers of Atlantic bluefin tuna fingerlings in captivity. As he enthusiastically explains: "Developing a new species is my favourite kind of project, as it is a journey of discovery. For this and our previous projects, it was very exciting to see biological material, eggs and larvae which no one had ever see before."
Dr Gidon explains that an essential cornerstone to establish a new fish farming sector is the stable availability of juveniles. Sustainability primarily relies on the domestication of broodstock which provides quality fertilised eggs at predetermined times of the year. For this purpose, a number of fishing methods for capturing and bringing live fish to shore-based facilities were developed. These were not pleasure cruises, bearing in mind that the fish are caught in rough waters, hundreds of metres deep, far from the shores of southern Chile. The technicians not only had to learn how to keep the fish alive, they also had to learn to work through extreme weather conditions and heaving seas on the exposed decks of chartered fishing vessels.
Back on shore, the acclimation of wild Chilean seabass to hatchery conditions did not prove easy. Getting these deep sea fish to feed required the development of a diet which takes into consideration composition as well as physical properties such as moisture content and even shape. Closely observing fish behaviour was required to get the fish to feed. The average acclimation period for wild fish was found to be close to a year. It was fortunate that in cold water, the rate of loss of fish condition was quite slow, reducing the impact of starvation on stock survival.
A significant breakthrough took place four years into the project when, using both ecography and biopsy, it was ascertained that a number of females were undergoing maturation or vitelogenesis. During the following months, a steady increase in oocyte diameters were recorded which confirmed that egg maturation was really taking place.
Months later, the fish started to ovulate and eggs were obtained. The company has since developed the knowledge to manipulate and change the spawning season through a variety of technologies which have been recently published. Furthermore, the company has also succeeded in maturing fish which have arrived in their facility as sub-adults weighing one to two kilograms. Over the last three years, the fish have spawned around 1.5 million eggs per season. The current F1 fish produced by the company will form the basis of the next generation of completely domesticated fish.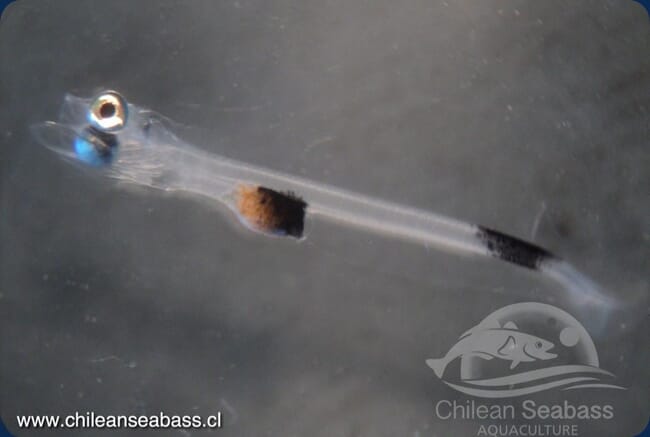 "Obtaining viable eggs spawned in captivity marked the start of the second stage of the project. It was again a venture into new territory," explains Reyes.

The company then turned its focus on developing hatchery processes such as egg fertilisation, incubation, hatching and rearing larvae by weaning them from live food to a dry diet. Initial work on egg incubation and larval rearing was carried out at facilities belonging to Fundacion Chile. In order to move forward, however, Seabass Chile realised it needed its own home. The company subsequently moved into a facility just on the other side of Puerto Montt, where they designed and developed a self-contained small-scale research hatchery that incorporates everything from broodstock tanks all the way to a nursery for receiving juveniles. The hatchery is based on a RAS system that provides security in case of power or equipment failure, while reducing dependency on pumped water.
The RAS system has proved invaluable in the past two years, which saw the region's hottest summers on record, with daily temperatures exceeding 30oC. Despite such adverse conditions for a cold water species, the system was able to maintain internal temperatures as low as 5oC and the company carried on their planned activities of spawning, egg incubation and larval rearing at full capacity.
Survival rates of hatched eggs, plus growth rate parameters, have showed significant improvement since the early days. Consequently, the company now has a solid group of F1 juveniles swimming and growing while feeding on dry diets in their nursery.
"We are very satisfied with the progress made to date with respect to the domestication of a broodstock from completely wild fish," reflects Reyes. "Over the years, these fish have progressively demonstrated an improved reproductive performance, a fact which provides us with assurances and the enthusiasm to move ahead with this challenging project. The juveniles we have produced are growing at a faster rate than our models have predicted. Future perspectives for farming this fish definitely provide an attractive investment opportunity." Using moist feeds the company has already achieved an FCR of 1.8, which is rather promising as well.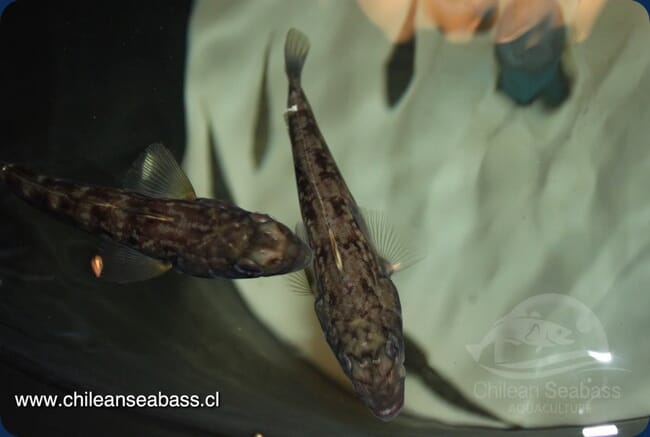 For Chile, diversification into new fish farming sectors is vital due to the cyclical crisis affecting salmon production. This new sector should be based on high-value native species produced under environmentally-sound and controlled conditions. Chilean seabass is the perfect candidate to start this revolution.

Dr Gidon sees the potential as well. "I can´t see any major bio-technical issue that will prevent the large-scale production of this fish. I strongly believe in its potential as a high-value alternative for local salmon producers."
Reyes has now developed a comprehensive business and production model for both the hatchery and the farming of Chilean Seabass using RAS. The basic model incorporates all physical, husbandry and nutritional requirement at each life stage of the fish using data generated from detailed monitoring records since the project began.
Reyes explains that to realise the full potential of the sector: "One of our current objectives is not only to publish and report about our current achievements, but also to communicate our enthusiasm to potential investors who are interested in taking advantage of this opportunity to produce Chilean seabass on a commercial scale."
Interested investors can contact the company directly to discuss opportunities for this new and exciting sector. With a little luck and some good funding, we might soon find these delectable fish on the shelves of our favourite supermarket, wherever we are in the world.