The group's 2018 Q4 report, published today, reveals that the Faroese firm harvested 12,234 tonnes of salmon for an operational EBIT of DKK 16.98 per kilo, down from DKK 23.14 in the same quarter of 2017, due to the lower prices achieved for their fish.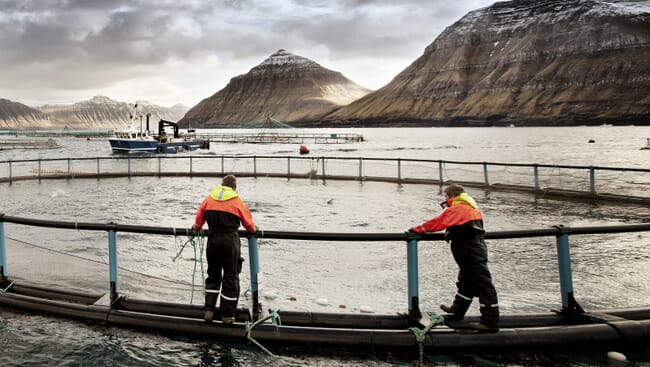 Commenting on the result, CEO Regin Jacobsen said: "Difficult market conditions and limited market access for a period resulted in a weaker than expected result in the farming segment for the fourth quarter. We are pleased, however, to experience more activity in the VAP segment, due to increased contracts for our VAP products.
"2018 was an eventful year with different challenges, but all things considered we are satisfied with the operation and the results for 2018. A lot of effort has also been put on our expansion activities in 2018, and we have now started operation in our new harvesting plant in Suðuroy. In 2019, we plan to further expand our farming operation in Suðuroy."
Total harvested volumes for 2018 were 44,591 tonnes gutted weight (54,615 tgw). 1,500 tonnes of harvest were moved to 2019, and consequently expected harvest volumes for 2019 have been increased from 53,000 to 54,500 tonnes.
The report suggests that the revenue in the farming segment was negatively affected by a combination of circumstances.
"As the market strategy for sales in 2018 was primarily focused on fresh whole salmon to the high-end spot market, volumes to the VAP segment were exceptionally low throughout 2018. Consequently, Bakkafrost was temporarily vulnerable and limited in flexibility to mitigate the following disruptions: Bakkafrost's harvesting plant in Glyvrar was banned access to the Russian market in Q4 2018 and had a disruption in delivery to other high-end markets from the new harvest plant in Suðuroy, due to delay in issuance of certificates to these markets," it states.
However, the report adds: "The market disruptions are more or less solved as volumes to VAP contracts now have increased, the certificates to the harvest factory in Suðuroy are in place and access to the Russian market is expected shortly."
Bakkafrost expects to release 13.5 million smolts in 2019, compared with 12.5 million smolts in 2018 and 9.9 million smolts in 2017, showing the group's ambitions to grow.