The agreement, which has been backed by the BC provincial government, local First Nations, Marine Harvest Canada and Cermaq Canada, could see all 17 farm sites in the archipelago being closed down between 2019 and 2023. Some will be immediately decommissioned; some will remain in operations for various terms (two to four years). By the end of 2022, 10 farms will have ceased operations. The remaining seven farms will cease operations, unless First Nations-industry agreements and valid Fisheries and Oceans Canada (DFO) licences are in place by 2023.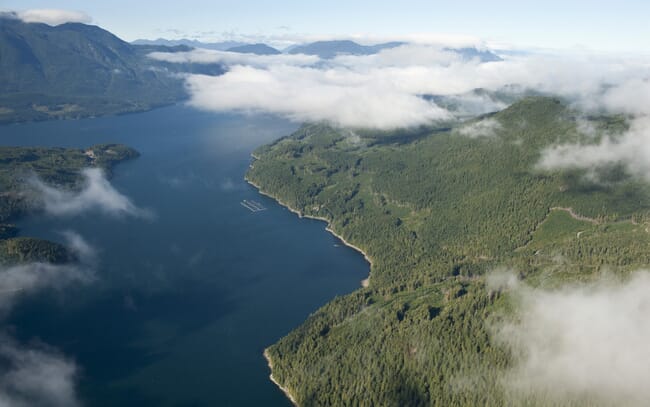 David Kiemele, managing director of Cermaq Canada, said: "We would like to thank the Broughton LOU [letter of understanding] steering committee for their openness to dialogue and we are pleased to move forward, together, in a way which will help to protect and enhance wild salmon populations and ensure the continued sustainable and responsible production of farmed salmon for generations to come. We are also committed to participating in the creation of the Indigenous monitoring and inspection program which establishes transparent oversight of our operations."
Diane Morrison, managing director of Marine Harvest Canada, said: "We approached these discussions seeking solutions that would both address the concerns of the First Nations and maintain our commitment to the well-being of our employees, support businesses and stakeholders. Going forward, we see the implementation of the recommendations as a positive step toward building mutual goodwill, trust, and respect as we work to earn First Nations consent of our operations in their Territories."
Marine Harvest Canada has 12 of the 17 sites in the area and produces 12,000 tonnes of salmon a year from them. The company has operated in the area for 30 years and was quick to reassure its employees that "there are no changes to employment anticipated at this time" and, that it will seek to maintain its production volumes by looking at alternative sites.
A statement from the company asserts: "To meet the planned transition and maintain the company's annual harvest volume over time, Marine Harvest Canada will need to apply for, and have approved, a number of license and tenure amendments to shift production from sites that will be decommissioned to other sites. Marine Harvest Canada also intends to seek out new salmon farming sites where there is First Nations interest and consent."
The company also announced plans to look into developing "an ocean-based containment pilot project" in cooperation with interested First Nation, provincial and federal governments.