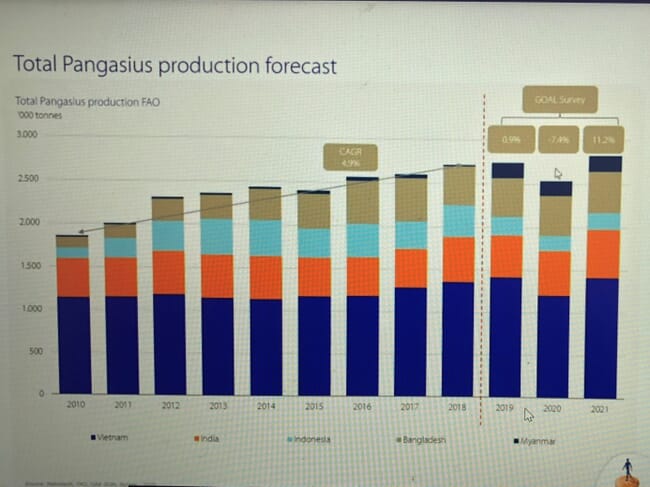 Speaking at the GOAL 2020 conference this week, Rabobank's senior seafood analyst noted that they among the areas in aquaculture with the greatest potential for growth in the coming years.
"This is where most of the growth will be in volume and in value in the globally all across the world – we saw what is happening in places like Bangladesh and Brazil and many others – this is a sector we need to analyse in more detail and hope to build more information to capture the plethora of the dynamics," he said.
His comments followed a breakdown of the latest figures – based on the latest producer survey of the Global Aquaculture Alliance (GAA) – of a number of key finfish species, including pangasius.
While Nikolik concedes that there are "data issues" surrounding pangasius aquaculture, and that Vietnam is now referring to it as the "striped catfish" rather than the pangasius, he added that the survey results still give valuable insights into the sector.
"The forecast is that 2020 will see a drop for Vietnam but then it will recover [in 2021] back to 2019 levels – a very good 1.4 million tonnes, with the sector really focusing on [exports to] China now," said Nikolik.
"India's doing well – growing, but perhaps surprisingly slowly. Indonesia is difficult data to interpret – it looks like in the past they grew but now the survey data suggest a lower level," he added.
He flagged up Bangladesh as a country where aquaculture, of a variety of species, was growing at a highly impressive rate.
"Bangladesh had good growth [as they did in shrimp production] and we see this country doing very well, with a 17 percent growth in pangasius and continuing to grow," he noted.
"Also Myanmar – there are some data issues here I believe – but the survey results suggest that the production of pangasius is much higher than suggested by FAO, so something for FAO to have a look at to see if they can improve the data," Nikolik said.
All together, according to estimates based on the GAA survey, around 2.7 million tonnes of pangasius will be produced globally (excluding China) in 2020. After an average annual growth rate of around 5 percent since 2010, this fell to 1 percent in 2019, and has been followed by a 7 percent decrease in 2020, but the GAA survey suggests an 11 percent increase in 2021.
China was excluded, explained Nikolik, as they don't report pangasius production figures to the FAO, but GAA's survey data suggests that China's total will push global production to over 3 million tonnes in 2020 and that the country is set for a "pretty significant growth in pangasius production in 2021".
"So I would say, based on these numbers, that with Vietnam focusing on China and China growing production, this is going to be a very competitive market once we get to 2021," Nikolik reflected.
He added that the survey didn't take into account production of Chinese and Indonesian catfish species, due to lack of response from farmers of these, but that they account for around a million additional tonnes of catfish each – meaning that the total global catfish sector surpassed five million tonnes during 2020.