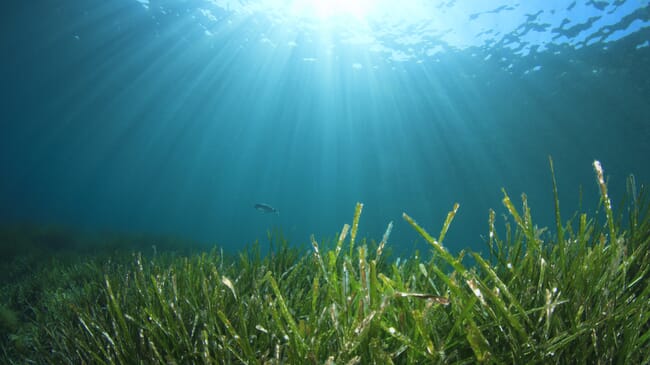 The laboratory at the UK's National Marine Aquarium is being unveiled on 8 June 2020 - World Oceans Day.
The three-year LIFE Recreation ReMEDIES project aims to protect vital seagrass meadows located in special areas of conservation (SACs) around the UK's coasts by providing environmentally friendly moorings, voluntary boating codes, targeted training and habitat restoration. As part of the project, the Ocean Conservation Trust will be cultivating up to 25,000 plants a year in the new laboratory, to help restore up to four hectares of lost seagrass meadows.
The laboratory will be open for public viewing once the National Marine Aquarium reopens later this summer in accordance with guidance from the UK government on easing lockdown. Visitors will get to see the plant cultivation in action whilst learning more about the importance of seagrass.
Seagrass is one of the ocean's most important habitats, providing a nursery ground for many commercial fish stocks and acting as a haven for many marine animals including rare seahorses, stalked jellyfish and rare seaweeds. It also stabilises sediments and prevents coastal erosion, as well as having the capacity to absorb at least as much carbon per hectare as UK forests – making it an important ally in the fight against climate change. But today, seagrass is considered critically endangered and is an EU Red Listed habitat due to the damage regularly caused to the slow-growing beds from boaters, walkers and fishermen. The meadows are threatened by anchoring, mooring and launching of recreational boats, as well as trampling from walkers and bait collectors.
Seagrass covers about 0.2 percent of the ocean floor, occurring in shallow coastal water where it can receive sunlight. It covers roughly the same area as corals but seagrasses are estimated to store around 10 percent of the world's carbon each year. It does this by burying the carbon created by other living things. As long as the habitat remains in place, the carbon offset continues year after year, decade after decade.
Mark Parry, seagrass ecologist, said: "At the Ocean Conservation Trust, we've been working towards the protection and restoration of vital seagrass meadows for many years. With this in mind, it's hugely exciting to be playing such an important role in the LIFE Recreation ReMEDIES with the opening of our seagrass cultivation laboratory at the aquarium and, as a consequence, helping to restore huge areas of lost seagrass around the UK, which is so vital to the ocean as a whole; so many forms of marine life, the environment; climate change and regional coastal communities."