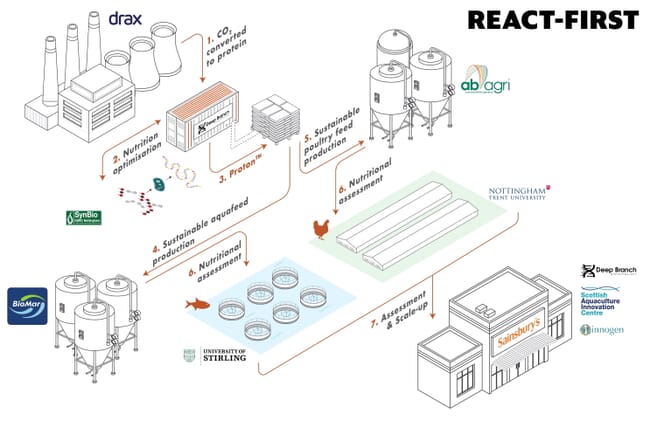 REACT-FIRST bills itself as the UK's first-ever scalable route to the sustainable generation of protein capturing the carbon dioxide from bio-energy generation. It launches with financial support from the government in the form of £3 million funding from Innovate UK.
It is led by carbon recycling biotechnology company Deep Branch, which has pioneered a process that uses microbes to convert carbon dioxide from industrial emissions into high-value proteins.
The project is being undertaken by consortium of ten industry and academic partners, including BioMar, the Scottish Aquaculture Innovation Centre (SAIC) and Stirling's Institute of Aquaculture.
BioMar is involved in production of trial feeds and testing of the high potential raw material Proton, focusing on sustainability, performance, digestibility and other parameters essential for fish health and growth.
Paddy Campbell, VP salmon at BioMar Group, explains: "Aquaculture is expected to double production by 2050 however to achieve this we need feeds with minimal environmental impact. The REACT-FIRST project is the first step towards the commercial development of a new potentially game-changing protein source, Proton; using new technology to capture waste CO2 and creating high-value sustainable protein suitable for the aquaculture industry.
"At BioMar we are constantly seeking innovative raw materials that don't compete with human food production and nutrients from by-products that minimise waste. We are excited to be part of this project to see how Proton will perform in aquaculture feed.
Scientists from the University of Stirling's Institute of Aquaculture are tasked with investigating the feasibility of microbial single-cell protein (SCP) as a substitute for marine and terrestrial meal in salmon aquafeeds. The institute's Dr Mónica Betancor is leading the study, and explains: "The project aims to evaluate and validate a SCP produced from industrial emissions of CO2, with an amino acid profile tailored to meet the end-user requirements of the aquafeed industry, and also support and improve the sustainability and development of UK aquaculture by contributing to UK food security.
"Aquaculture is the fastest growing food sector, with the UK salmon industry expected to increase significantly. Such growth can only be achieved in a sustainable manner by replacing the traditionally used marine ingredients in aquafeeds – fish meal and fish oil – for more sustainable options. The main alternative to fish meal in aquafeeds is vegetable meal, however, this has its constraints, and single-cell protein is an excellent alternative as it is nutritionally optimised to meet the demands of aquaculture. Our work in the REACT-FIRST project will determine its feasibility as a substitute for other protein sources in the feeds for farmed salmon."
(Infographic): Led by Deep Branch and utilising the unique resources available to each of the project partners, REACT-FIRST provides both technological and commercial innovation for aquaculture and poultry production.
(jpeg file): Peter Rowe, CEO of Deep Branch, which is leading the new ground-breaking carbon recycling project, REACT-FIRST.