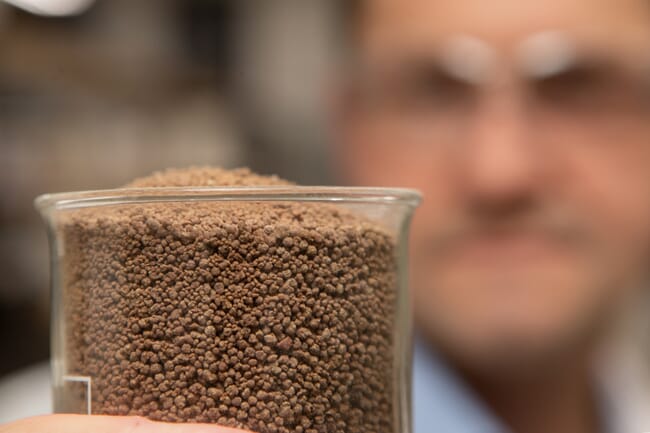 The FDA's Center for Veterinary Medicine has granted the protein GRAS status for use in salmonid feeds at up to 18 percent of the diet. In the US FeedKind will be listed under its common name, "dried fermentation biomass" and the ruling means aquaculture companies in the US now have access to a non-GMO alternative to fishmeal.
Allan LeBlanc, VP and aquaculture lead at Calysta, said in a press release: "With so many exciting developments in US aquaculture, we are thrilled to be able to access this market. FeedKind protein is a perfect fit for the trout industry and the burgeoning recirculating aquaculture systems (RAS) industry for Atlantic salmon.
"FeedKind is an exceptional alternative to other sources of protein, and is free from heavy metals, pesticides and microplastics, ensuring animals are only fed the nutrients they need. Because it can be produced year-round using no arable land and without using any plant or animal ingredients, it truly is a protein without limits."
Herman Sloot, vice-president of commercial development added: "US GRAS status was a key achievement for us, so we are very pleased with the official notice. This brings the US closer in line with existing approvals in other markets throughout the world, such as the EU, and enables us to expand the market opportunity for this revolutionary product.
"GRAS status also means the world has an effective and nutritious option added to its toolbox as it comes to grips with the need to produce more food while protecting biodiversity for current and future generations. FeedKind has a far lower carbon footprint than conventional sources of animal protein and can help pet food and animal feed producers achieve their carbon reduction targets."
GRAS status comes after Calysta successfully switched on its first commercial-scale facility via Calysseo, its joint venture with animal feed giant Adisseo, providing 20,000 tonnes of protein for the Asian aquaculture market. Calysseo has already announced its intentions to expand its production footprint in the Kingdom of Saudi Arabia