The role – which is open for applications until 29 July – will involve providing field and office-based fish health consultancy to a variety of stakeholders in the aquaculture value chain and offers a salary of £32,000 - £45,000, depending on experience.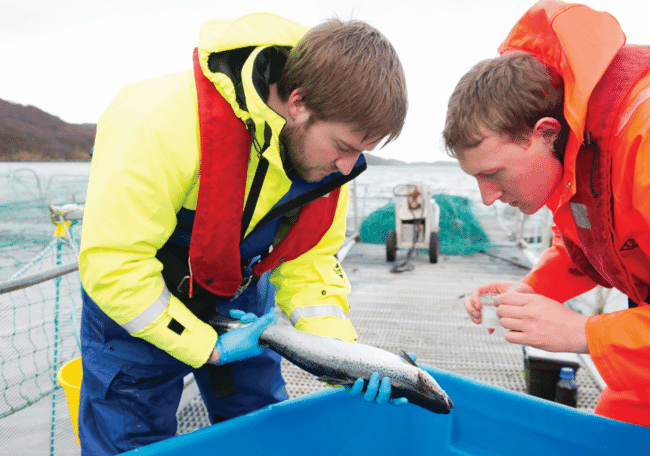 Fish Vet Group (FVG) is part of Benchmark's animal health division and represents the world's largest provider of dedicated evidence-based veterinary services, diagnostic technologies and environmental monitoring to the aquaculture sector. In addition to its Inverness headquarters, FVG has operations in Ireland, Chile, Norway and Thailand.
Key responsibilities
Site visits to aquaculture producers in the Scottish salmon and trout industries, either in a prescribing veterinary surgeon or health advisor capacity.
Clinical examination of fish, diagnostic sampling, biosecurity assessment, basic field epidemiology and providing strategic advice to fish farmers.
Provision of fish health and welfare training courses to a range of audiences, from producers to retailers, government agencies and educational institutions.
Project-based work including retrospective review of disease or performance issues on farms, involvement in clinical trials and research collaborations with industry and academic partners.
The successful applicant will report to FVG's head of clinical services, Angela Ashby, and will have no line reports.
Qualifications and experience
Applicants should hold a veterinary degree, preferably recognised in the UK (registerable as MRCVS) and post-graduate experience or a qualification in fish health and welfare is strongly desirable.
Applicants who do not hold a UK-recognised veterinary degree may be considered if they have demonstrable considerable previous experience in a salmonid aquaculture health role.
Previous experience working with recirculating aquaculture systems (RAS) is strongly desirable.
Ability to use Microsoft Office (Powerpoint, Word, Excel) is essential and ability/experience using databases/informatics in production animal health strongly desirable.
Personal attributes/characteristics
Although support and development will be given as required, this role will involve periods of time working independently and applicants need to be resourceful individuals capable of working at their own initiative.
The role will involve managing large veterinary accounts and strong interpersonal skills are essential.
Able to communicate effectively with the practice veterinary and diagnostic team, including during periods of independent working, so strong basic organisational skills are required.
A strong communicator, able to explain often complex disease situations to different groups and be comfortable working in a farm environment.
Confident to perform occasional public speaking.
Flexibility to travel to isolated regions of Scotland, with several days at a time spent travelling and/or travel outside of normal business hours in some instances. In addition, the role involves frequent travel on boats, planes and occasionally physically demanding conditions.
Applications
To apply or for more information please contact: vicki.warland@bmkholdings.com