Summarising the reasons behind establishing Great British Prawns, the groundbreaking new addition to the UK's aquaculture sector, Dougie Allen reflects that his motivation derived "purely and simply from a desire to be at the forefront of a more intelligent approach to growing food – taking the good out of traditional farming but at the same time applying an engineering eye to it."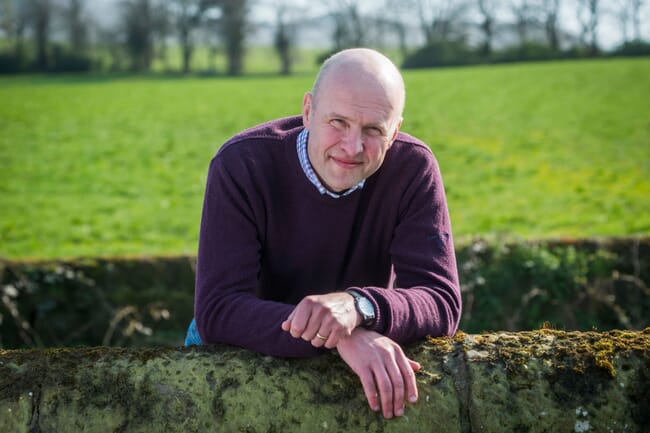 Allen, whose CV includes work for a liquid-storage engineering business, was raised on a livestock farm in Devon and studied sustainable aquaculture at St Andrews. After 20 years in the Royal Scots Dragoon Guards, in 2013 he began to look for ways to combine these three strands – in the process deciding to collaborate with others and develop a pioneering system for producing Pacific whiteleg shrimp, better known as king prawns by most UK consumers.
"After I finished the course at St Andrews we worked out how we could find a way to modestly engineer a solution that could be utilised to grow king prawns in this country," says Allen, whose company, Great British Prawns (GBP), is due to harvest its first crop of Litopenaeus vannamei from a site in rural Scotland later in the summer.
Despite the fact that vannamei are the most widely farmed crustacean species in the world, Allen felt there was scope in the UK market for king prawns that weren't imported frozen into Britain from countries as far afield as Thailand and Ecuador – especially if he was able to produce them fresh for restaurants within a few hours of harvest.
"It's about farming more intelligently and not importing over vast distances a food which could increasingly be grown here, while at the same time recycling any number of wastes that can enable that to happen," he says.
Allen, who combines plenty of realism with his idealism, also felt that turning to vannamei might help to attract investors.
"Species selection is really important, particularly in the eye of the investor. Because prawns are fast-growing, it makes them very attractive from a commercial perspective," he reflects. "They're also hugely popular – they're the most widely consumed crustacean in the world and a very diverse culinary ingredient," he adds.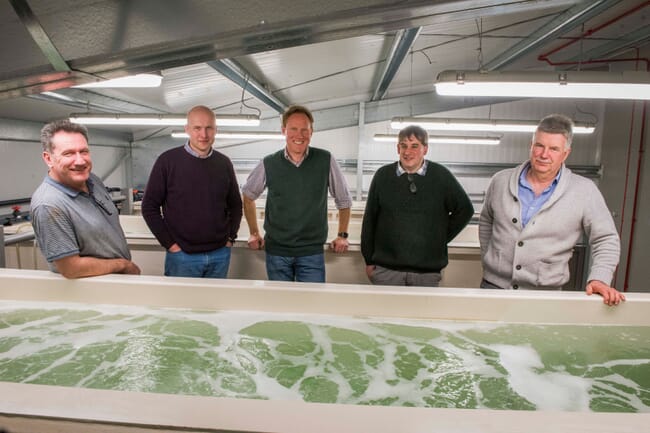 While the GBP team are confident the idea is a good one, Allen admits that it's not been easy to reach the cusp of commercial production. "It's taken a lot of hard work and reducing hair follicles," he quips, "as well as bringing together the right team."
Indeed Allen, true to his military background, is quick to praise the "extraordinary team of people" working for the company. These include a number of experienced aquaculture hands, including Andrew Whiston, who has spent more than a quarter of a century as an aquaculture engineer, working in both aquaria and the industry; Brian Floyd, a veteran of salmon and sea bream production; and a farm manager, Abbie Chulin, who brings considerable shrimp farming experience and hatchery expertise from Belize.
The company currently employs six people at the farm itself – many of whom are graduates in aquaculture from institutions including St Andrews, Stirling and Plymouth and are, according to Allen, relishing being part of such a groundbreaking project.
"It's a vibrant and dynamic team of young people, with a mix of experiences, who are now able to build on their degrees," he observes.
And he believes that the pioneering nature of the project appeals to many marine-science graduates who want to work in Scotland but aren't enthused by the prospect of many of the entry-level roles in more mainstream parts of the aquaculture sector.
"As a prawn producer we're not serviced by an established support network in this country – be it genetics, feed, waste or energy – it's all there for us to almost write a new script, which is really exciting. It's very hard work, fairly stressful, but at the end of the day, it's great fun," he reflects.
Allen's first foray into shrimp production took the form of a pilot project in Fife, where a unique production system evolved.
"With the trial unit we proved to ourselves that we can do this, and we've since taken what was a very basic concept and refined it for the new site, while at the same time working ferociously hard to try and find people who'd be willing to support us," says Allen.
And raising the necessary capital has been one of his major challenges. "At the end of the day it comes down to family and friends, one's own pocket and anyone else you can inspire to join in," he says.
It's a tactic that has clearly worked: GBP's first commercial facility, a new build which adjoins a dairy farm in Stirlingshire, is now up and running. The key requirements for the site were easy access to his target markets – in this case mainly restaurants in Glasgow and Edinburgh – and a source of affordable power.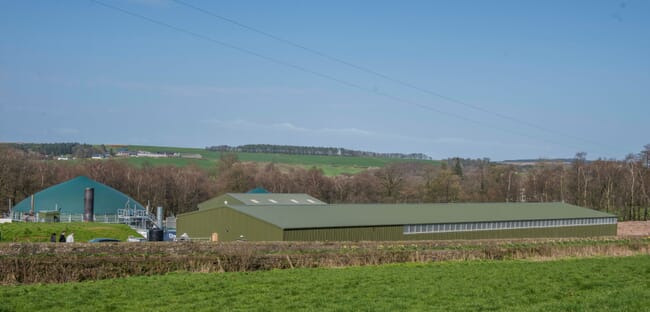 "We needed cheap electricity, we needed cheap heat, which inevitably means you're going off-grid, and we then needed to find the right landlord, one who's prepared to take a risk on a new business right next door to them on a long-term basis," says Allen.
The current site, near Balfron, appealed as it ticked all these boxes, not least because the farm adjoining the prawn site has its own anaerobic digestion (AD) plant, largely fuelled by farm waste, which both reduces GBP's bills and helps to boost the company's environmental credentials.
"Here was an AD plant that was effectively providing electricity to the grid, and had spare heat not being utilised. All we're doing is recycling what was already available and at the same time drawing electricity too," he explains.
It's taken five years for the dream to become a commercial reality but, despite his concept now being operational, he says that he's still learning all the time – not least due to the unique nature of the system.
"Effectively we're starting a new sector of an industry that doesn't exist in this country and therefore there are quite a lot of challenges – the simple things like sourcing equipment for the species we're wanting to farm, importation of broodstock from parts of the world that this country hasn't routinely accessed," he says.
"When you turn up at a UK international airport and you say you're taking in a consignment of king prawns they look at you rather strangely – they've probably dealt with tropical fish for aquaria, but we're doing something different. We've been really, really helped by the contacts we've managed to establish in CEFAS, Marine Scotland… what's really encouraging is the support we're getting from any number of people who are keen to help us succeed," he notes.
And, as well as the lack of established supply chains for European shrimp producers, he also has to contend with the fact that their production system is unique, meaning that there are few – if any – fellow producers he can compare notes with.
"While we're aware of what other indoor shrimp farmers are doing, our farm has largely evolved independently, based on the experience we gained from our pilot system," Allen reflects.
Although Allen is not yet prepared to give away any "state secrets" regarding the detail of how the farm runs, he says that he aims to produce 50 tonnes of vannamei a year and has plans to harvest the prawns when they reach 23-25g. Harvesting will take place every week to ensure they can continuously supply fresh prawns year-round.
"RAS brings us into the realms of continuous production, we're not dependent on traditional farming cycles," he explains.
He's currently producing prawns from broodstock sourced from a number of suppliers, based mainly in the US, before hatching their eggs in Scotland. However, Allen is now looking to become more self-sufficient.
"We've built a hatchery so we don't rely on broodstock from abroad on a regular basis, not least because it is expensive to import," he says.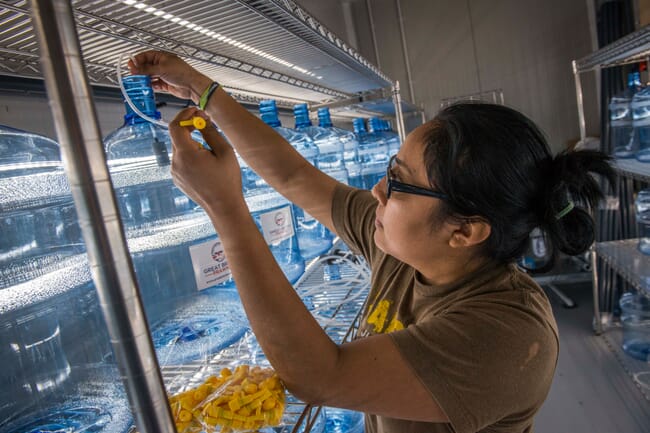 Progress
GBP only broke ground at the new site 10 months ago, and are happy to be nearing their first commercial harvest at the facility.
"There was nothing there a year ago," Allen points out. But he also admits that, despite rapid progress in some departments, there is still some fine-tuning required.
"We're operational, but not yet in settled operational mode. Like any start-up it takes time to train people, it takes time to get all the procedures sorted out – there's no manual for RAS prawn farming, particularly of the type we're trying to achieve here," he reflects.
However, the team's hard-won experience should mean that they're well placed to look into expansion. Indeed, now that the Balfron site is up and running, Allen has ambitions to set up at least one other farm.
"We've enough broodstock to service our first two farms," says Allen "and, in the longer term, our ambition is to have a national presence should the Balfron venture prove a success."
Rolling out his concept largely depends on the state of the market for what is, essentially, a fairly niche product. But, according to the former soldier, the situation is promising. "We've had tremendous support, especially from restaurant industry," he says.
This, Allen suspects, is helped by the eating trends embraced by millennials. "We're catering for a generation which is looking for their food to be fresh, clean and authentic – without a trail of destruction," Allen notes.
Sustainability credentials
Given GBP's ambition to appeal to a generation raised to respect the environment and animal welfare, his views on eyestalk ablation – which is widely practised by traditional shrimp farmers for breeding, but has been the focus of widespread animal-welfare concerns – are very clear.
"We all have to find a way of not ablating – we're putting our own efforts into breeding our shrimp responsibly," he emphasises.
Feed is another area where Allen is keen to stress GBP's sustainability credentials, although he doesn't want to reveal who's formulating the shrimp diets at this stage.
"We need to provide the right feed at the right time – we need live feed for the maturation process for example – but we're a sustainable aquatech company and we use very little fishmeal, and the fishmeal we do use is made from by-products from the fish-processing sector," he explains.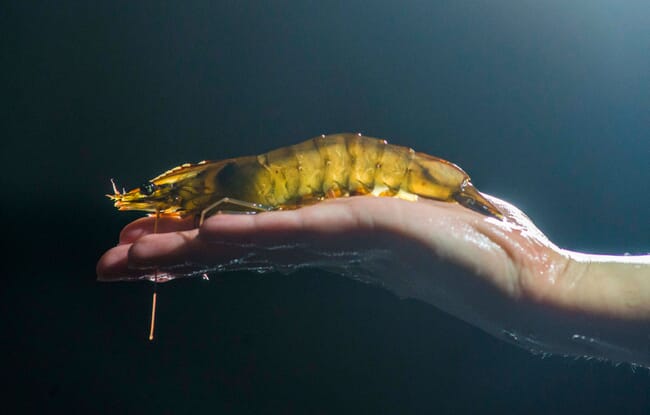 Industry reaction
Allen has not yet noticed any reaction from Scotland's established aquaculture sector or from many shrimp producers in other parts of the world, but he isn't overly concerned that the UK market – particularly for fresh prawns – is likely to become too crowded.
"Most of our interest has come through proactive sales and marketing – we've been inundated with requests from restaurants, from up and down the country, and from abroad as well, for fresh prawns," he explains.
"We now have the ability to grow food in this country for ourselves that was previously only imported from abroad. The food industry in Scotland is so proud of its own produce, but it's been impossible to find a homegrown king prawn on the menu… until now," he concludes.