The wording of the ASC's salmon standard previously meant that salmon parr grown in sea lochs before being released into marine pens at smoltification could not be ASC certified. This discounted the possibility of a large proportion of the Scottish salmon sector from gaining certification.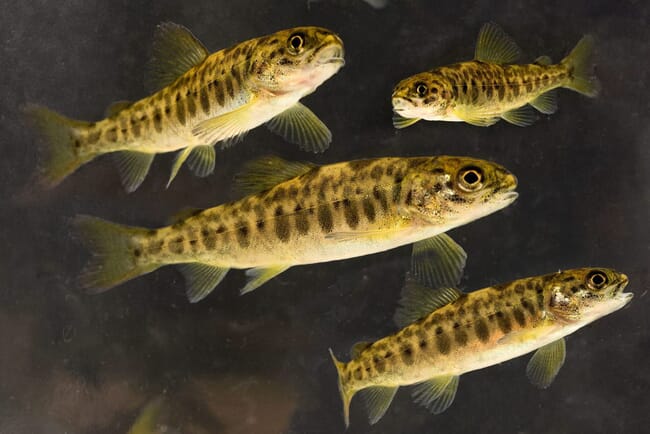 However, the ASC has said today that changes in its salmon and freshwater trout standards "will resolve inconsistencies between the two standards", meaning that ASC certified salmon farms will be able to use smolt from freshwater cage culture, if the production has been certified responsible against the requirements of the freshwater trout standard. With the updates, smolt production for all ASC certified salmon farms will now require an on-site audit for the first time.
According to the ASC, the "new provisions will reduce the impact of freshwater smolt production for those places eligible for such certification, but does not allow smolt production in lakes when salmon is not a native species or where it is against the law.
"Furthermore, the requirements limit production of smolt so that ASC certified facilities do not exceed a lake's carrying capacity. Requirements on escapes have also been strengthened, and importantly, producers will now be required to develop genetic baselines and studies of local wild salmon to safeguard the population and to assess future impacts."
"The revision will allow more salmon producers to embrace responsible production by meeting the stringent requirements of the ASC standards, including on-site audits for fresh water smolt production and indicators that will protect the local areas where the smolts are produced by setting production levels that aid conservation, prevent escapes, and protect water quality," said Chris Ninnes, CEO of ASC. "The benefits of the ASC programme – to the environment, communities, farmers and the industry— and the transparency and accountability that comes with it, are now available to a wider range of farmers."
Improvements in sea lice treatments required
The other key change in the standard is that farms meeting the new salmon standard will now have to meet a weighted number of medicinal treatments (WNMT). The new requirements on treatments will include a global target that all farms must work towards by meeting specific levels of reductions every year, with initial certification requiring farms meet an evidence-based regional entry level. A farm's performance will take into account not only how many treatments it is using, but whether those treatments are targeted.
"When the ASC salmon standard was originally drafted there was very little information on how often salmon were treated to remove sea lice, but since then the ASC programme has collected a great deal of performance information from certified farms," said Ninnes. "Thanks to this data, as well as that from governments around the world and from the Global Salmon Initiative, we have been able to fine tune these requirements so they are more evidence based. The salmon standard remains robust, requiring farms to meet best practices in their geographic area, and then if necessary to keep on improving until they meet our global level of best practice. The end result is that more farms are engaged and incentivised to improve their performance and that stakeholders and governments have more information about which farms are actively working to safeguard the environment