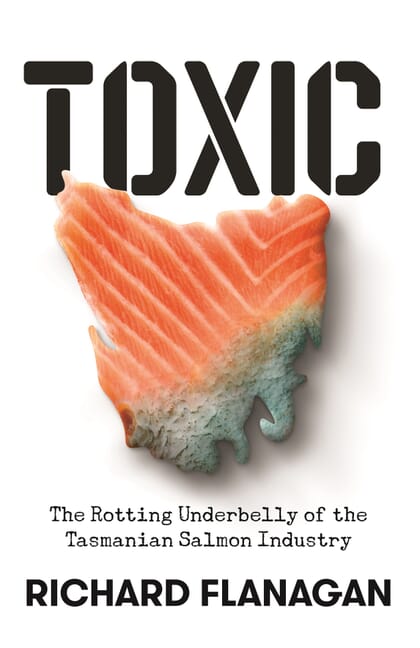 Titled Toxic: The Rotting Underbelly of the Tasmanian Salmon Industry, the latest offering from the Booker Prize-winning author calls his native island's salmon aquaculture sector "one big lie" which relies on a "triumph of marketing" to retain the support of regulators and consumers.
Flanagan, who won the Booker for The Narrow Road to the Deep North and is known for his passionate environmentalism, produces a range of allegations against the salmon sector - relating to feed ingredients, pollution and political skullduggery.
These include the use of poultry by-products in feed, as well as the addition of ethoxyquin - which he says is potentially carcinogenic - to stabilise the feed.
"Richard Flanagan's exposé of the salmon farming industry in Tasmania is chilling. In the way that Rachel Carson took on the pesticide industry in her ground-breaking book Silent Spring, Flanagan tears open an industry that is as secretive as its practices are destructive and its product disturbing," writes Penguin, the book's publisher.
"From the burning forests of the Amazon to the petrochemicals you aren't told about to the endangered species being pushed to extinction you don't know about; from synthetically pink-dyed flesh to seal bombs . . . If you care about what you eat, if you care about the environment, this is a book you need to read," the publisher continues.
Tasmania currently has three salmon producing companies – Huon, Petuna and Tassal – who are represented by the Tasmanian Salmonid Growers Association (TSGA). A spokeperson for the association told the Hobart Mercury: "Richard Flanagan is primarily celebrated for his works of fiction".
"Tasmanian salmon is a global leader, independently accredited by organisations like the Aquaculture Stewardship Council, Best Aquaculture Practices and the RSPCA.
"The TSGA welcomes robust discussion — our industry is always striving to do better for the environment and our communities, and feedback is an important part of that — but the debate must take in all sides and consider science-based evidence."