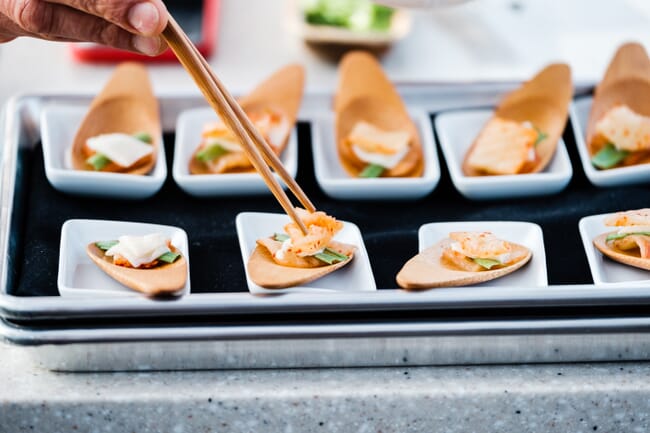 The expanded collaborations include independent memorandums of understanding with Mitsubishi Corporation in Japan, Pulmuone Co in South Korea, and Thai Union in Thailand.

"These partnerships will support BlueNalu's planned introduction of cell-cultured seafood in a number of APAC nations over the coming years, by fostering market insights, understanding regulatory requirements, and developing go-to-market strategies," said the startup in a press release.
"BlueNalu's strategic alliances with these industry giants are designed to focus on three key areas of collaboration: facilitating comprehensive market research to understand consumer preferences, emerging trends, and evolving market dynamics; identifying and understanding the regulatory requirements unique to each market to expedite the process of gaining approvals and certifications necessary for the distribution of BlueNalu's products; and developing market entry, distribution, and supply chain management strategies to introduce BlueNalu's products to consumers, restaurants, and retailers across the APAC region," it added.
BlueNalu's first product under development is the high-value toro portion of bluefin tuna, which is highly sought after in Asia, where over 80 percent of the estimated global supply is consumed. Bluefin tuna is available in very limited supply, can be extremely variable in its quality and sensory attributes, and has faced steep declines in fish stocks due to issues like overfishing and illegal, unregulated and unreported (IUU) fishing.

Lou Cooperhouse, president and CEO of BlueNalu, shared his excitement about these strengthened partnerships, stating: "We are honoured to deepen our collaborations with Mitsubishi Corporation, Pulmuone Co Ltd and Thai Union, visionary partners who share our commitment to driving innovation and shaping the future of the seafood industry. These extended partnerships in the APAC region underscore our dedication to working collaboratively with local experts in each region that we target, and our ultimate goal to provide our customers with healthy and trusted seafood options that have superior product benefits and align with evolving market conditions."
The renewed collaborations, which began with Pulmuone in 2020 and with Mitsubishi Corporation and Thai Union in 2021, represent a shared interest in the commercialisation of cell-cultured seafood in Asia and a commitment to sustainable seafood solutions in order to meet rising demand.
Current seafood production from wild-caught and farm-raised sources cannot keep pace with demand, according to the United Nations, which projects a supply chain gap representing 28 million tonnes of new seafood production will be needed by 2030. In addition, the global seafood supply is challenged by overfishing, climate change, and environmental contamination like microplastics and nuclear waste. BlueNalu's cell-cultured seafood is designed as a third solution that can help meet growing demand in a safe and sustainable way.