FIFO, which is sometimes referred to as the feeder fish dependency ratio (FFDR), is calculated using the inclusion levels of marine meals and marine oils in the feed recipe, multiplied by the feed conversion ratio, then divided by their corresponding contribution factors. BioMar's yearly sustainability report, which was released today, reveals that this ratio fell from 1.05 in 2015, to 0.93 last year.
"Since we only consider the feed (and supply to multiple species) we set the FCR to 1.0," Vidar Gundersen, BioMar's Global Sustainability Director, explains to The Fish Site. "We have in 2016 also used a lot of fishmeal and fish oil [from] trimmings which deducts in the ratio calculation."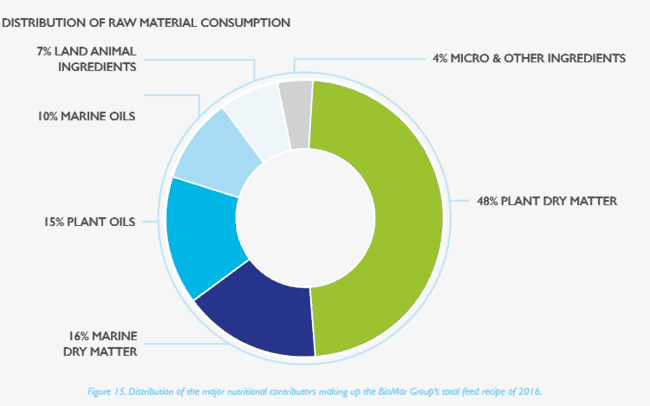 Indeed, the report shows that 44% of the 84,728 tonnes of fish oils used in its feeds last year came from fish processing trimmings. It also includes updates on the company's research into using alternatives to fish oil and fishmeal – including plant proteins and marine ingredients like microalgae – in their feeds. It was access to increasing volumes of alternative raw materials – the report states – as well as high prices of fish oil and fishmeal in 2016, which made it possible to formulate price competitive, high performance feeds with a low FIFO ratio.
The report also showcases a few of these success stories, including the feed firm's partnership with Aker BioMarine in the sustainable harvesting of krill, and its investment – alongside TerraVia and Bunge – in the production of the algal oil product AlgaPrime, which is high in the long chain omgega-3 DHA.
Carlos Diaz, CEO of BioMar Group, states that the company will continue its search for innovative and sustainable solutions to issues facing the industry.
"Although it is unlikely that BioMar will achieve such a good FIFO ratio every year due to ever changing market conditions, this is a major milestone and shows that we are progressing towards an industry where sustainable and high performance alternatives to fish oil and fishmeal are accessible and becoming commercially viable," he said.