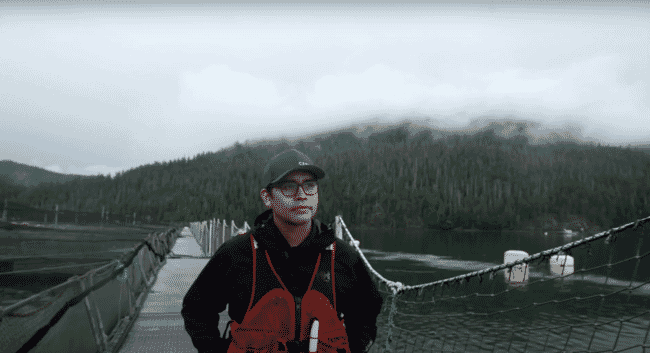 So concludes an independent report, which was published today. Called Raising Opportunity: how farm-raised salmon can lead BC's post-covid recovery, it was published by RIAS Inc, an independent economics consulting firm.
The report concludes that, if Ottawa and Victoria are able to provide a predicable policy approach, salmon farmers in BC are poised to help lead Canada's blue economy and recovery from Covid-19 by directly investing $1.4 billion in innovation, new technology and infrastructure between now and 2050 - $113 million by 2021, an additional $684 million by 2030, and the remaining $618 million thereafter.
These investments, in total, will stimulate $44 billion in cumulative economic output for the province over the next 30 years and create nearly 10,000 new jobs in coastal communities on Vancouver Island, mainland, and the Sunshine Coast.
"Like many First Nations in BC, the Tlowitsis are eager to grow our community and develop a lasting economy from our traditional territory," Chief John Smith of the Tlowitsis First Nation said. "Developing salmon farms in Clio Channel is a cornerstone for our Nation, another farm would be even better, and I wish this partnership happened earlier."
Depending on the magnitude of a potential second wave of Covid-19, Canada is expecting a $343.2 billion deficit with the economy expected to contract at least 6.8 percent, with job losses hitting the young in particular. In 2020, BC is expecting the largest deficit in history – $12.5 billion.
"Many of the regions where salmon farming operations play a significant role in supporting local vendors are in the northern and western regions of Vancouver Island that have been experiencing declines in employment," said George Hanson, president of Vancouver Island Economic Alliance (VIEA).
VIEA supported the overall report development and offered insight into the pandemic's impacts on Vancouver Island's economy.
Report findings are clear that private sector investment will be critical in supporting the economic recovery of British Columbia, especially rural coastal Vancouver Island.
"This industry has tremendous potential to generate economic activity, jobs, investment, and regional growth as a key part of BC's return to health and prosperity," said Doug Blair, president of RIAS.
The report not only highlights how BC salmon farmers can contribute to BC's healthy economic recovery, but also includes contributions to BC's social development objectives, strengthening food security systems, and BC's environmental objectives.
"The results of this report are very significant for the salmon farming community and for the province," says John Paul Fraser, executive director of the BC Salmon Farmers Association, which sponsored the report. "It means more jobs and higher economic benefits in BC, which are especially needed now, as our province deals with unprecedented economic hardships."