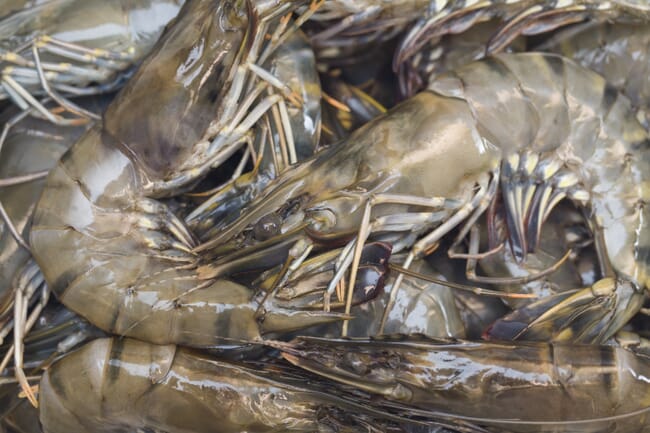 In financial year 2021-22, according to the figures from the Khulna Fish Inspection and Quality Control (KFIQC), this region exported 24,104 tonnes of tiger shrimp (P. monodon) and giant river prawns (M. rosenbergii), valued at US $307 million.

However, in financial year 2022-23, the export income from Khulna declined by US $87.8 million as only 19,904 tonnes of shrimp, worth US $219 million, were exported from the region – a decline of 28 percent in value terms.

There has been a steady decline in shrimp exports since 2014, other than in the fiscal year of 2021-22, following the relaxation of Covid-19 lockdowns in EU countries.
Exporters fetched $532.9 million by shipping frozen and live fish abroad in FY 2021-22, posting growth of 12 percent year-on-year from $477 million the previous year, according to data from the Export Promotion Bureau (EPB) of Bangladesh.
Shrimp accounts for most of the total exports of the fisheries sector. According to the data from the ministry, 74,042 tons of frozen and live fish were exported in the 2021-2022 financial year, of which 30,571 tons were shrimp.
In other words, out of the total export earnings of US $532.94 million of FY21-22, shrimp alone earned US $407.25 million. As a result, the EPB had set US $500 million export target for frozen shrimp alone. However, by the end of the financial year 2022-23, shrimp exports were 39 percent behind the EBP's target – a drop of 26.27 percent from the previous year.
Shrimp exports from Khulna, Bangladesh in the last five years (credit: Khulna FIQC)
| | | |
| --- | --- | --- |
| Fiscal Year | Exports in tonnes | Earnings in US$ |
| 2022-2023 | 19,908 | 219 million |
| 2021-2022 | 24,108 | 307 million |
| 2020-2021 | 23,367 | 242 million |
| 2019-2020 | 23,068 | 266 million |
| 2018-2019 | 24,413 | 271 million |
Shrimp production plays a vital role in the Khulna region's economy, but the industry has faced many challenges in recent years, such as the global recession resulting in a drastic fall in shrimp prices, a reputation loss due to shrimp adulteration by dishonest suppliers (who have been known to inject a jelly-like substance into the shrimp to make them heavier), and consecutive natural disasters in last couple of years in Sitrang, Bulbul and Amphan, is a major setback for farmers, resulting in a significant decline in exports.

Various local issues, including severe scarcity of quality shrimp fry, poor farm management and lack of structural development, disease outbreaks (such as whitespot and AHPND), natural calamities like cyclone, drought and floods, price hikes in shrimp fry and falling shrimp prices in the market, have also put pressure on shrimp farmers and led to reduced production.

Additionally, a decline in shrimp farming enclosures due to limited access to salt water and a lack of credit facilities have further impacted farmers' productivity.
Furthermore, the increasing popularity of vannamei shrimp in the European and American markets has diverted attention from the country's monodon exports, exacerbating the situation. Shrimp farmers are finding it challenging to turn a profit, considering the rising costs of post-larvae, feed, labour and transportation.

One of the directors of BFFEA, MA Hasan Panna, emphasises the importance of supporting shrimp farmers and providing financial aid if necessary, as the shrimp farming industry is a significant part of the southern Bangladeshi economy.
Khulna District fisheries officer, Joydeb Paul, suggests coordinated action by different departments – including the Water Development Board, Fisheries Department and local administrations – to address the challenges faced by shrimp farmers.
To enhance shrimp production and export, the fisheries department is training farmers in modern shrimp cultivation methods to reduce production costs and increase outputs.
There have been many schemes undertaken by the government, national or international NGOs over the years. Unfortunately, the course of Bangladesh's shrimp industry hasn't changed. Since 2014, shrimp production has been decreasing by about 6-8 percent yearly. Are farmers doing the same thing in the exact same way while expecting different results?
*A different version of this article was originally published by Seafood Network Bangladesh (SNB), Bangladesh's first dedicated web portal to promote and support the growth of country's seafood and aquaculture sector globally.