Bangladesh blockchain project shows promise
A project to implement a blockchain traceability system for a new fast-growing variety of carp farmed in Bangladesh has been declared a success.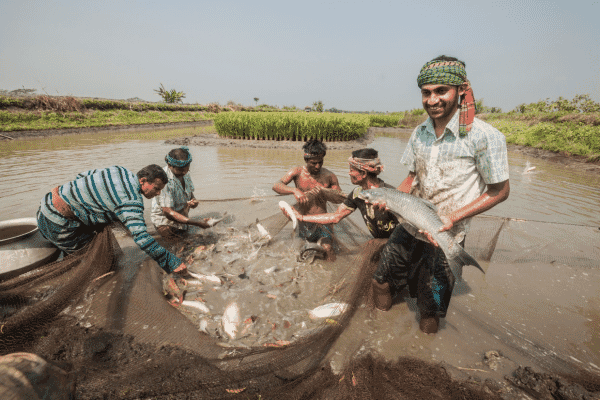 The project, which was undertaken by ByteAlly Software, in partnership with Bangladesh Aquaculture Activity (BAA), aims to create a traceable environment by gathering market-relevant data from all aquaculture supply chain participants using mobile and web applications.

According to the Chennai-based firm, blockchain technology can instill consumers' trust in the aquaculture value chain by capturing necessary market-relevant data. Traceability information reveals the provenance of food and helps consumers and retailers avoid inferior quality products.
ByteAlly has performed extensive fieldwork in gathering initial business requirements and analysing the existing infrastructure. A company representative has personally visited 30 farming facilities to learn about the day-to-day activities, while collaboration with BAA experts has helped them assess the aquaculture value chain.
The direct beneficiary of this project will be the smallholder farms who will build trust with other market actors by leveraging clean data and therefore optimising supply. ByteAlly conducted impact training sessions for the non-digital players in the supply chain. Data-entry to the app is possible for three levels- broodstock providers, nurseries, and grow-out farms. The software firm also developed training manuals for all three categories of participants, including live support for farmers.

ByteAlly presented critical insights at a recent webinar on aquaculture value-chain transparency, held in August 2021, with forward market players attending the event. Logistics stakeholders, small organizations, and IT solution providers also participated in the event.
Attendees were keen to learn how to incentivise farmers to enter valid data on the platform and authenticate the data entered, so a Blockchain for Food Traceability Forum was formed to gather insights from the industry.
"At ByteAlly, we have invested in building an ERP [Enterprise resource planning software] that can be configured and handed over as easy-to-use mobile apps to farmers that will upload data to blockchain systems. Such aiding tools are critical and make blockchain projects shorter and cheaper. Making traceability initiatives affordable is in the best interest of all the stakeholders involved," said Karthikeyan Mani, CEO of ByteAlly Software.
The project has successfully onboarded 50 stakeholders. These farmers can now upload data via web and mobile applications. Data from the pilot project will be valuable in determining the following phases and how they can be further improved and leveraged.
BAA expects to reach 1,000 smallholder farmers and other market actors in 2-3 years. Based on the success of this carp variety, BAA and ByteAlly will market the solution to other carp and seafood varieties in Bangladesh, with a potential reach of 10,000 farms in a 3-5 year period.
"I dream that every aquaculture farmer in Bangladesh receives the correct value for their hard work. I firmly believe that blockchain technology can help us realise that dream," said Imtiaj Haque, senior market system specialist at Bangladesh Aquaculture Activity.