Kiscadale Engineering / Arran Workboats Ltd has been commissioned to build six new work boats for SSC, which will be delivered to SSC sites from Lewis to Mull between April and September this year.
Over the past two years, SSC has taken delivery of nine boats from Arran Workboats Ltd, located on the island's Whiting Bay, representing a significant investment in the company's operational infrastructure. These vessels are now central to the company's fleet and are used for essential tasks such as transportation around the sites.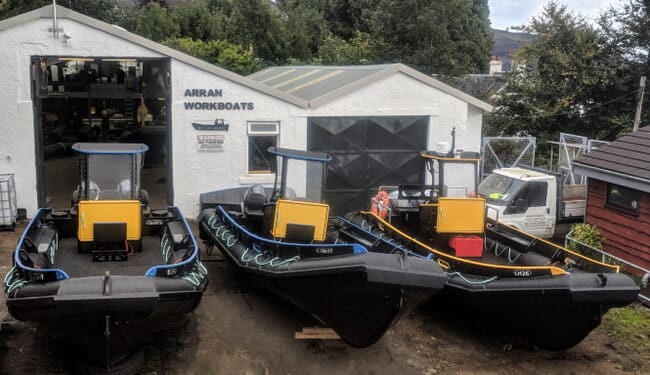 The Isle of Arran has played a long-term role in SSC's operations and its Lamlash Bay site, one of the first fish farms in Scotland, was established over 30 years ago. SSC employs 600 people across 60 sites on the west coast of Scotland and the Hebrides and is committed to supporting local suppliers and investing in Arran and the other rural communities in which they are based.
Historically a general plastic and stainless-steel fabricator, Kiscadale Engineering has evolved in recent years to become a leading marine fabricator on Arran, helping to provide secure employment on the island. The business is run by husband and wife team Iain and Sandra Monteith.
Craig Anderson, chief executive of The Scottish Salmon Company, said: "We are committed to using local suppliers from the communities in which we live and work wherever possible. Kiscadale Engineering is a quality local business who will supply us with best in class equipment, and our close working relationship allows us to work together to design improvements in the vessels and incorporate new technology."
Ian Monteith, of Arran Workboats Ltd, said: "Multiple orders like this helps secure employment and provide training for local young people, this contract has allowed us to create one new role and also supports four workers who are under 30. SSC demand a very high standard for their boats and we have a well-trained workforce dedicated to building the best boats of their class.
"Manufacturing businesses like this help the local economy in many ways. With the logistics of Island trading we are fortunate to work with Arran Haulage who bring in our raw materials and deliver the completed boats all over Scotland. The cycle is completed by Arran Haulage delivering 100 percent of our plastic waste to the state-of-the-art recycling centre at Inchinan.
"We are delighted to be awarded this second contract for The Scottish Salmon Company and appreciate their policy of supporting local businesses throughout the west coast of Scotland."