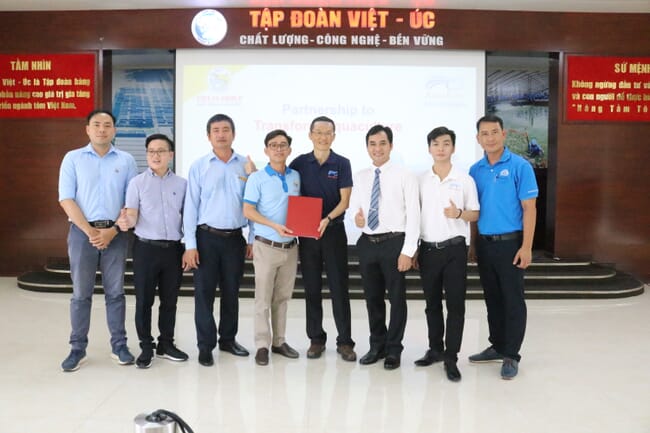 Under the partnership, Viet-Uc will deploy AquaEasy's AI systems, i-feeders and ShrimpTalk in over 1,000 shrimp ponds.

The companies would like the partnership, to be a "role model for the shrimp farmers in Vietnam applying smart solutions to increase productivity, profitability, and sustainability of shrimp farming industry".
The Vietnamese shrimp industry is dominated by thousands of small family-run farms. According to AquaEasy, it's often a challenge for these farmers to demonstrate environmental sustainability through eco-certification or ratings programmes because the current tools used to collect data, assess farm sustainability, and identify areas for improvement are often not well suited for small farms.
Nguyen Cong Can, deputy managing director of Viet-Uc Group, said in a press release: "The partnership with AquaEasy is a commitment from Viet-Uc to help shrimp farmers in Vietnam by applying new technologies. It helps shrimp famers save more time and make more money with less risk. The use of technology is critical to success in shrimp farming".
A spin-out from Bosch's innovation hub grow, AquaEasy aims to reduce manual labour and eliminate subjective assessments while improving yield, productivity and environmental sustainability. The startup's systems provide accurate, real-time data with alerts and recommendations displayed through a mobile app. Its technology is currently commercially deployed in Indonesia, Singapore and Vietnam and, according to the company, it increases shrimp farmers' productivity by 30 percent.
"AquaEasy smart solution is a holistic technology that can monitor water quality and shrimp pond management with complete solutions ranging from sensors, software and services. It enables shrimps to talk to farmers - when they are hungry, stressed and their needs – this allows for increased profitability and sustainable aquaculture to reduce risks and costs," said Vo Hoang Vu, sales manager.