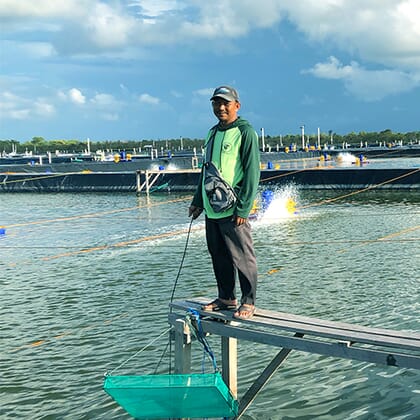 Since 2020, AquaEasy – which is part of the Bosch Group – has been collaborating with Qian Hu in achieving an efficient and sustaining shrimp farming system at its farm in Choa Chu Kang. Through cloud connection and AI, the collected data is analysed in real-time to provide insights and recommendations on water quality management, feeding optimisation and harvest prediction, while Qian Hu uses its proprietary patented hydropure filtration system and nanobubble technology to enhance water quality.
The AquaEasy AI solution has also been successfully deployed at many shrimp farms in Indonesia and Vietnam.
"We are excited to be partnering with AquaEasy for the long haul. As with AquaEasy, Qian Hu too believes in innovative solutions that would transform our enterprise and industry. Through this investment, we are putting our money where our mouth is," said Yap Kok Cheng, CEO of Qian Hu, in a press release.
"Since 2017, aquaculture has been a growing core business of our group. By using our hydropure and nanobubble technologies, we developed a recirculated aquaculture system for super-intensive shrimp farming which achieves higher output compared to traditional shrimp farming methods. With AquaEasy, our aquaculture processes can achieve higher productivity and profitability with its revolutionary intelligent feeding systems using internet of things technology. We hope that our collaboration with AquaEasy will take Qian Hu's aquaculture strategy to a whole new level," Yap added.
Ivan Tay, head of AI at AquaEasy, said: "AquaEasy's mission is to lead the way by revolutionising the aquaculture industry in Asia. We deliver the best AI technology and digitalisation to farmers and stakeholders enabling traceability and sustainability. Our customers in Singapore, Indonesia and Vietnam are benefiting from increased productivity and profitability with our AI solutions. Qian Hu is a partner sharing AquaEasy's values and a leader in its domain with a complementary portfolio. We are looking forward to deliver the best technology solutions to farmers to boost their farming and to feed the planet sustainably."
AquaEasy plans to use the proceeds for capital expenditure and other operating expenses. Qian Hu and AquaEasy also intend to look for opportunities to use AquaEasy's AI solutions and services within the aquaculture industry and collaborate in the development of AI solutions in new market areas, particularly in the following areas:
1. Research and development
Develop and expand AquaEasy's AI solutions and product offerings in both Qian Hu's existing and new market areas encompassing other aquatic species such as fish including the ornamental category, as well as recirculated aquaculture systems in aquaponics.
2. Commercial go-to market and deployment
Integrate AquaEasy's AI solutions into Qian Hu's aquaculture systems as well as market AquaEasy's smart aquaculture technology to Qian Hu's customers globally.
3. Platform
The parties will develop a platform, using AquaEasy's cloud-based IoT capabilities, to digitalise the aquaculture supply chain so that it will be more efficient and cost optimised. The platform provides real time and transparency, thereby enabling traceability and sustainability of local produce.
"This partnership will enhance the capability of the growing Asia's aquaculture industry with cutting edge AI and IoT-technologies, transforming a traditional aquaculture industry into one that is smart, predictable and sustainable," Yap said.
Background
Incorporated in 1998, Qian Hu is an integrated ornamental fish service provider – providing a spectrum of services involving distribution of well over 1,000 species and varieties of ornamental fish from all around the world, as well as the manufacturing and distribution of a wide range of aquarium accessories, including pet foods and medications.
In January 2017, the group announced that it had set up a subsidiary, Qian Hu Aquaculture (Hainan) to farm antibiotic-free edible fish, such as groupers, in Hainan Province, China. In November 2017, the group incorporated another company – Tian Tian Fisheries (Hainan) Co., Ltd –, which deals in the export of edible fish and seafood from Hainan to Southeast Asia, and the import of other edible fish and seafood from the rest of the world into China. Its two farms occupy a combined land area of 10,000 square metres and have more than 200 tanks to rear a host of edible fish and seafood.