A simple tool to safeguard aquaculture supply chains
A new approach to assessing the relative sustainability of different aquaculture systems has been launched by the Sustainable Fisheries Partnership (SFP) today.
The initiative is being spearheaded by the publication of 35 profiles for farmed shrimp, salmon and pangasius across 10 countries. Hosted on the public database FishSource, they are written at a regional scale, allowing corporate buyers to assess specific production regions and better understand risks in their procurement strategies. SFP will encourage partners to source from production regions that demonstrate greater levels of responsibility and support improvements in poorer performing regions.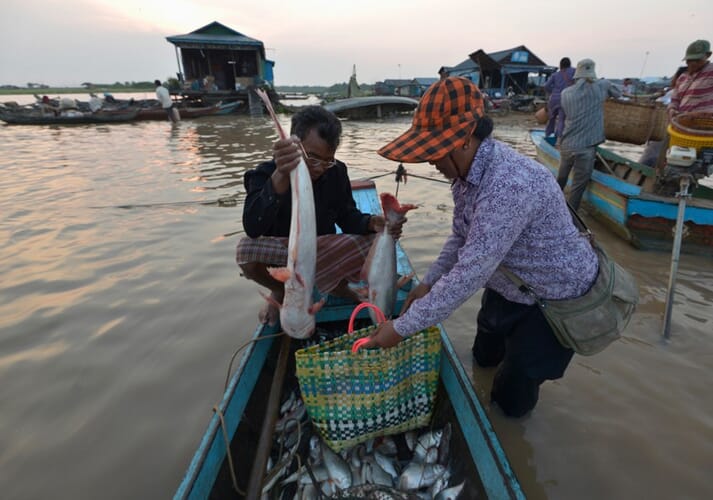 It has received backing from a number of key retailers and Bob Fields, founder of Global Protein Solutions and former senior seafood buyer and sustainability lead for Walmart Inc/Sam's Club said: "As someone who spent decades buying aquaculture products I can tell you that this is exactly what I want. A simple tool to understand risks affecting my supply chain."
There is currently no formal, accepted definition for what constitutes "sustainable" aquaculture, with many buyers and suppliers focused on "responsible" aquaculture within the context of farm-based certifications. While recognising the benefits of farm certification in addressing some risks and improving practices at specific sites and within specific supply chains, this approach fails to address systemic management issues.
"In SFP's view, sustainably managed aquaculture requires best practices at the farm level, production zone level and national policy level. The new methodology and profiles on FishSource offer a broad vision for sustainably managed aquaculture," said SFP CEO Jim Cannon. "SFP is inviting partners and industry to join us in adopting this ambitious new approach for aquaculture."
Areas of assessment
SFP's aquaculture framework, developed with the input of external experts, assesses aquaculture governance across five areas:
National and regional regulatory frameworks based on zonal management.
Organised producers using and enforcing a code of good practice.
Resource management systems adequate to protect habitat and water quality.
Robust monitoring and reporting to demonstrate effective mitigation of shared disease risk.
Ensuring transparency and responsible sourcing of marine ingredients used in feed.
SFP plans to continue developing and adding profiles to the database. Each profile provides a snapshot of the current management practices being applied to aquaculture production in a region based on publicly available information. The detailed sections of a profile include a summary of the industry's key characteristics, analysis of the management of that industry (including a detailed assessment of the profiled industry and recommendations for improvement), a summary of any aquaculture improvement projects operating within the profiled industry, and certifications.
Joe Prosho, Fisheries and Aquaculture Manager for UK supermarket Morrisons said: "We've used FishSource for years to help stay informed about the fisheries we source from, and now we'll be able to use it for some of our aquaculture sources as well. It's a natural next step for the platform, and it's great to see SFP taking it."
Emily Kunen, Global Responsible Sourcing Leader of Seafood for Nestle, said: "With Nestle's ongoing commitment to responsible sourcing of seafood, being able to learn as much as we can about the farmed seafood that we source is critically important to us. SFP's FishSource tool is giving us some much-needed clarity on how aquaculture is being managed and potential risks in our supply chains."