The World Health Organization (WHO) warns the misuse of antimicrobial medicines and new resistance mechanisms are "making the latest generation of antibiotics virtually ineffective", while at the 2013 G8 Summit, scientific ministers issued a statement calling antimicrobial resistance (AMR) "a major health security challenge of the twenty first century."
Antibiotic use is an integral part of intensive animal agriculture and aquaculture. Increased public concern about antibiotic resistance and the need to preserve the ever-diminishing arsenal of antimicrobials that work in humans for as long as possible, has brought about increased scrutiny of the use of antibiotics in animal agriculture – especially for prophylactic and growth enhancing purposes.
The mechanisms by which antimicrobial resistant bacteria, initially derived from food-producing animals, contribute to the emergent and increasing threat of antibiotic resistance in people are complex and varied. The main routes bacteria can take to move from animals to humans include via food or other animal product contamination, occupational exposure for farm workers and fish keepers, abattoir workers, veterinary surgeons and health workers. Bacteria can also transmit through environmental contamination like manure containing resistant bacteria, resistance genes, and antibiotic residues, along with recreational pursuits like swimming and fishing. The prevention of build up of resistant bacteria in waterways as a result of fish farming practices, terrestrial agriculture run-off or sewage outflow surrounding fish farms is a major concern for the aquaculture industry.
Despite difficulties of measuring the exact contribution of animal agriculture and aquaculture to the overall development of antimicrobial resistance, a consensus is emerging around the need for everyone to use these powerful drugs carefully and responsibly, especially those deemed critically important for human health by the WHO.
With the explosive growth in production and demand for farmed seafood, how can the aquaculture industry lead the charge for responsible use of antibiotics without compromising food safety, the environment and human health, as well as animal health, welfare and productivity?
Current Use in Aquaculture
The type and amount of use of antibiotics in aquaculture depends on farming practices, different local and national regulations and government enforcement ability. Some countries have recently introduced stricter regulations in response to the global threat of antimicrobial resistance and consumer concerns about residues in their food. The majority of aquaculture production, however, takes place in countries with "permissive regulations" and limited environmental monitoring. The overall use therefore varies widely between countries according to estimates by Defoirdt et al., (2011) who found antibiotic use ranging from 1 g per metric ton of production in Norway to 700 g per metric ton in Vietnam.
Much of the debate about antibiotic resistance focuses on two specific issues; firstly the practice of delivering antibiotics in small sub therapeutic doses in feed as a means to enhance the growth or prevent disease in fish and animals. In Europe, this kind of non-therapeutic use of antibiotics was banned in 2006 in an effort to curb over-use and reserve antibiotics for medicinal use only.
While prophylactic use of antibiotics is rare in aquaculture, metaphylactic use – the practice of treating an entire population of fish orally in toto even if only a small percentage of the animals are affected – is commonplace. In these cases, the sick fish will usually not eat the medicine so the effect is really to protect the healthy ones until the sick fish die and the infection subsides. As a result, the infection is rarely completely cleared. Furthermore, this form of oral treatment lends itself to sub-therapeutic doses which can enable selecting for resistance in bacteria.
Secondly, the specific need to curb the use of antibiotics categorised by the WHO as critically important for human health. While only a few antibiotics are approved for aquaculture and exact data on use is hard to come by (see below) at least two critically important antibiotics – tetracyclines and oxolinic acid, a third generation quinolone – are in regular use in Chile and Europe respectively to control some specific diseases and bacterial infections. The Aquaculture Stewardship Council (ASC) has made the use of critical antibiotics an issue of non-compliance for their certification, which could help push the development of alternative treatments and vaccines.
Bad Data
Data gathering systems and procedures for administration of antibiotics to animals also vary from country to country. In the US, the Food and Drug Administration (FDA) must make publicly available annual summaries of antimicrobial drug sales, but these are not categorised by species, making meaningful analysis of use difficult.
In the UK, antibiotics can only be administered to animals under a veterinary prescription and the vet is legally obligated to record use. There is, however, no centralised collation of these data, in contrast to, for example, the Danish VETSTAT system. In Norway, veterinarians, fish farmers and feed producers are legally obligated to report antibiotics use and prescriptions to a government agency.
This data is made publicly available showing a 99 per cent reduction in antibiotic use in the Norwegian salmon industry since the early 1980's.
Improving the way the use of antibiotics in food animals is reported is urgently needed to enable meaningful comparisons between species, countries and over time, and to demonstrate any reduction or change in use. In the absence of strong regulations, experiences from Germany, the Netherlands and Denmark suggest that voluntary action at producer and local levels can not only improve the reporting and understanding of antimicrobial use in animals, but also help to drive and direct change at a national level. This represents an opportunity for industry leadership for aquaculture in countries where the government is still not implementing strict regulations.
The Certification Approach
Another market-based approach to address these issues is provided by farm level certification schemes. While only five per cent of farmed seafood is currently certified, their market share is growing and consumer awareness about these schemes is on the increase. A positive development is that the three largest certification schemes all address antibiotic use within their frameworks for responsible aquaculture.
In a research report by the Sustainable Fisheries Partnership comparing the certification standards for tilapia administered by the ASC, GlobalGAP and Global Aquaculture Alliance's Best Aquaculture Practices (GAA-BAP), they found that all of them emphasised practices and protocols to reduce the probability of risk events. In addition to requiring farms to implement comprehensive fish health management plans, the certification schemes also demand an active role of veterinarians through prescription of medicines and regular visits. Furthermore, a basic requirement across all schemes for tilapia include requirements against the use of growth promotion and prophylactic use of drugs and antibiotics.
The Path of Least Resistance
The certification schemes are doing a good job at raising awareness within the aquatic veterinary community about "the use of medically important antimicrobial drugs in food-animal production, and the public health risks associated with antibiotic resistance." At a joint aquaculture and agriculture industry roundtable discussion in Oxford, UK in May 2014, participants including vets, food scientists, farmers and representatives of the food and animal health industries, agreed that the development of a 'replace, reduce, refine' strategy could help drive the responsible use of antibiotics in food-producing animals.
Such an approach can guide action at company level as well as direct national policy by:
• Replacing antibiotics use where they are currently the first line of attack, primarily through comprehensive disease prevention strategies and practices. This is a similar approach to what is required by the major aquaculture certification standards. The development of bacterial vaccines can play a major role in replacing the need for antibiotics. This has been demonstrated through a steep decline in antibiotic use in salmon production in Norway, UK and Ireland after, for example, the introduction of the furunculosis vaccines.
• Reducing the use of antibiotics that are commonly deployed – especially those critically important to human health – by for example, better use of diagnostic and screening tools and standardised methods of measuring the use of antibiotics. Furthermore, use might be reduced through increased veterinary oversight and by addressing the dubious provenance and suspect purity of antibiotics available in certain markets.
• Refining the use of antibiotics to ensure intelligent and effective deployment (e.g. where they are needed to treat sick animals), including optimising recommendations on dosage, duration and routes of administration, as well as ensuring correct drug selection in light of concerns about antimicrobial resistance. There are only a few antibiotics licensed for use in aquaculture production. This presents an increased risk of inadvertent overuse lead to overuse of those few selecting for even more rapid resistance.
The certification standards have set aquaculture on a positive course, but unless the mainstream industry substantially changes its practice in the next few years, it is likely that governments – in response to public concern – will introduce regulative restrictions on antimicrobial use. It is also probable that if strict reductions in antimicrobial use were enforced without also introducing changes to standard farming practices, there could be severe consequences for the industry, fish and consumers, including increased disease and reduced productivity. The opportunity now is therefore for aquaculture practitioners, the industry and veterinarians to define and achieve more responsible antibiotic use at the farm level.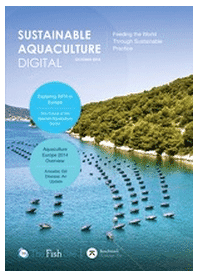 This article is taken from the October 2014 Sustainable Aquaculture Digital. Read more here.