Algae- and insect-fed trout hit French shelves
Trout fed on diets containing algal oil and insect meal are now on sale at French supermarket Auchan.
The fish are being marketed as both more nutritious and more sustainably-produced, having "achieved a significant boost of the nutritional value from the algal oils", while the insect meal has replaced the forage fish that makes up the highest percentage of the global fishmeal trade.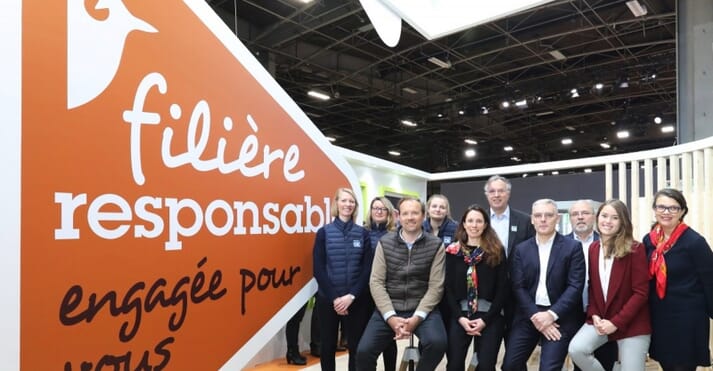 Olivier Vandebeulque, head of seafood at Auchan, was fundamental in bringing together the feed producer (Skretting), fish farmer Truite Service, insect meal producer InnovaFeed and algal oil provider Veramaris.

The product was launched at the Paris International Agricultural Show.
Vandebeulque said: "At Auchan, we believe in sustainable seafood. We are encouraged to see a shift in the value chain pioneered by Veramaris and Skretting and believe that our customers will see the value. Trout is just the first step for us, and we look forward to extending our collaborative value chain approach to further species such as shrimp, salmon, bream and bass."
The launch comes just days after Skretting and Veramaris announced they had supported Supermarché Match to launch trout fed with algal oil.
Elodie Petit, marketing manager at Skretting France, said: "The decision by Auchan to introduce trout fed on our unique and technologically advanced diet is a real testament to the quality of the product. We know that French consumers don't want to compromise and demand their seafood to be as tasty as it is nutritious and sustainable, which has been proven by the 12 percent category growth at Supermarché Match following their launch of algal-fed salmon. We are pleased to be able to support this growth with sustainable, quality feeds."
Gaëlle Husser, global business development director at Veramaris, said: "Veramaris' algal oil may be a small part of aqua diets, yet it has a major impact on the nutritional value and environmental profile of farmed fish. With the well-known benefits of eating a diet rich in omega-3, our algal oil enables fish producers to raise the levels of both EPA and DHA Omega-3 with no additional contribution from wild forage fish. Working closely with feed producer Skretting, we are playing a small yet important part in making sustainably nutritious trout and salmon available to consumers."
The first batch of trout are due to hit the shelves of Auchan in March 2020.