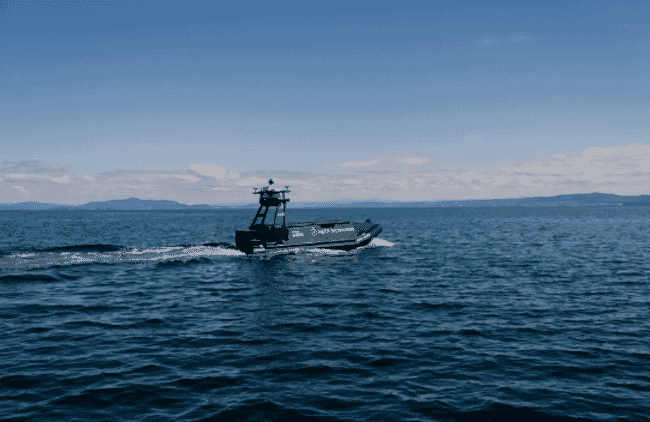 The Mariner uncrewed surface vehicle (USV), was produced by Maritime Robotics, and handed over to Aker BioMarine earlier this month.

The six-metre vehicle is equipped with a range of sensor integrations and will be used both in the search for krill, and to gather data for research and population mapping. By the end of the year, the vessel will be stationed in Antarctica.
"This is a big day for us, as we have worked for a long time to put such a solution in place. The USV will undoubtedly give a boost to the fishing industry. And with the help of big data, it will make it easier to secure and stabilize the availability of our raw material. It will simply help make fishing 'smarter'. The USV will also assist our vessels to navigate more efficiently, which will reduce our CO2 footprint," said Matts Johansen, CEO of Aker BioMarine, in a press release.
"We chose Maritime Robotics because of their technical competence and experience, and their USV provides a reliable and flexible platform," he continued.
A new horizon
This is the first time this type of USV has been used in a Norwegian fishery. it was built to withstand the extreme conditions in Antarctica, with both harsh climates and long distances to travel.
"In order to adapt this USV with Aker BioMarine's need, we had to develop several functions such as advanced alerts, defrosting, and situational understanding systems. It also has twice the operating time as a standard Mariner," said Eirik Moholt, product owner of the Mariner USV class in Maritime Robotics.
Moholt has played a central role in the development and production of the USV as well as training the crew that will utilise the vessel in krill fishing.
"All control systems, security systems, and maintenance routines are adapted for unmanned operations. Aker BioMarine has a unique operational capability that comes forward in their investment and focus for a greener fishing industry by using USVs in their operations," he continued.
Big data can make fishing more accurate

The USV will be part of the company's data-driven search for krill. Simply explained, information such as weather data and satellite images provide the crew aboard the fishing boats with indications of where there might be krill and the USV will then be sent out to check.
"If the USV confirms that there is in fact krill at the site, we will send fishing boats out. This allows us to save time searching for krill with the fishing boat and most importantly, it helps us avoid unnecessary emissions from large fishing boats," said Frank Grebstad, SVP vessels operations.

The USV is a continuation of the work the company has put in over the last few years to optimize its fishing operations. Among other things, Aker BioMarine has slowly tested the concept of using the fleet's sensors to reduce search days.
"We have used our supply ship, the Antarctic Provider, as a drone on a few occasions. Like the USV, the Antarctic Provider is equipped with various sensor integrations that have been used to investigate krill occurrence in other, nearby fishing fields. This has both resulted in a more stable catch in addition to reducing search days. It has become a 'proof of concept,' for the company," explained Grebstad.
"By having a drone available for searching all year round, we will be able to benefit from this on an entirely different scale. During the past three years, we had an average of 60 search days. With the USV, we will have an overview of a considerably larger search area. This will give us the opportunity to make more strategic choices of fishing areas, which in turn is expected to reduce the number of search days," added Webjørn Barstad, EVP offshore supply chain.
Establishing a drone fleet

The USV will complement Sailbuoy, an unmanned, solar-powered sailing vessel, which Aker Biomarine launched in 2020. According to the company, the Sailbuoy has since gathered detailed data on the krill biomass in Antarctica.
"While the Sailbuoy is best suited for searches over large distances, often far from the krill fleet, the USV will be most efficient at short distances and for more detailed searches," said Barstad.