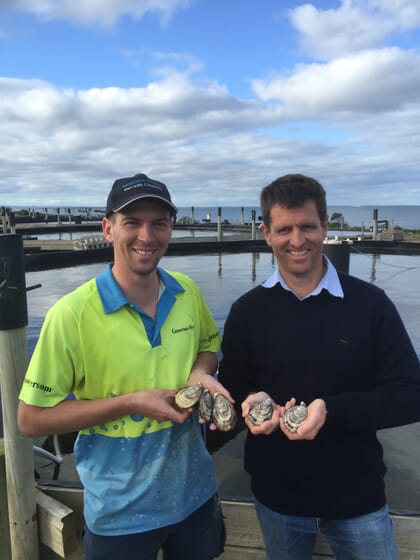 Yumbah, which initially focused on abalone farming, now has an extensive portfolio that includes mussels and oysters too.
Yumbah chief executive, David Wood, says bringing Cameron of Tasmania into the Yumbah portfolio is a natural progression for the two companies, who already have a pioneering joint venture oyster spat hatchery at Port Lincoln, on South Australia's Eyre Peninsula.
"Acquiring a like-minded, established and scalable business like Cameron's, with whom we already have a strong working relationship, further represents Yumbah's ambition to be Australia's leading shellfish aquaculture company," he said in a press release.
The move follows Yumbah's acquisition of the Victoria-based mussel grower, Bay Sea Farms, earlier this year.
"With these two acquisitions paired, we're positioned for future growth, and we see a very positive future for Australian shellfish farming," said Wood.
Cameron of Tasmania operates on the island's east coast and, since it began in 1971, has weathered more difficulties than most. Just in the last decade, the business has rebounded from the destructive 2013 Dunalley bushfires and, three years later, Pacific oyster mortality syndrome (POMS), which wiped out $1.5 million of the company's juvenile oysters in just one day.
POMS led Cameron and Yumbah to embark on their joint venture, the Yumbah Hatchery in Port Lincoln, designed to meet the consequent critical demand of the South Australian oyster spat market. Since then, the two companies have developed a reliable supply of oyster spat that has helped to revive the South Australian oyster industry.
Cameron's general manager, Ben Cameron, said the decision to join forces with Yumbah was based on a proven working history and the opportunities the onshore abalone-focused Yumbah could bring to his family business.
"Yumbah's an innovator, as we've seen with its drive for vertical integration and commitment to research and development, so it's exciting to be able come together with Yumbah on a larger scale and continue to bolster the shellfish farming industry," he said.
Cameron will take a seat on the Yumbah board and remain general manager of the business that will still carry his family name.