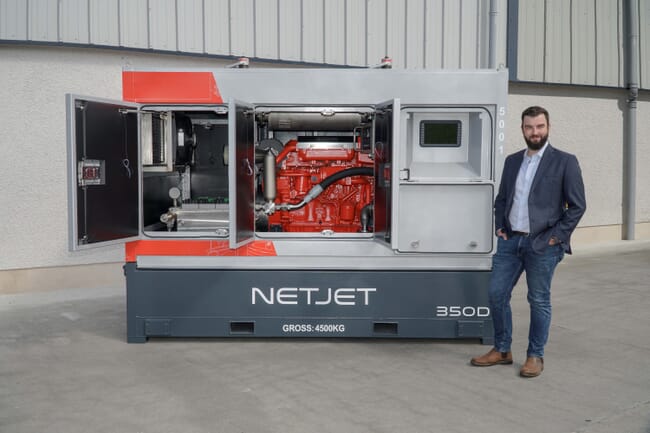 North-east Scotland based engineering specialists, Brimmond, have launched their latest technology, NetJet which sees them become the first company in the UK to offer a full 360o manufacture, rental and support package for high-pressure net cleaning pumps for the offshore aquaculture sector.

Brimmond, which specialises in the design, manufacture, rental and repair of lifting, mechanical and hydraulic equipment, has invested £450,000 in developing the pump units in-house. The firm's engineering team designed, specified and manufactured the units, following the identification of a gap in the aquaculture market for a rental option for net cleaning pumps.
Nets are usually cleaned around every five days in the summer to preserve water quality and protect the fish. With over 200 offshore finfish sites in the UK, operating an estimated 2,200 nets, this is potentially an arduous and time-consuming task. While the technology exists to speed up the operation, the six-figure purchase price represents a considerable – and for many, unattainable – outlay.
The Brimmond rental service plugs this gap, and is further bolstered by a fleet of specialist vans to maintain a stock of spares which can be rapidly deployed to provide clients with technical support and maintenance.
Managing director of Brimmond, Tom Murdoch said in a press release: "Official figures reveal that salmon accounts for 96 percent of Scotland's aquaculture value, and Scottish salmon is the UK's largest food export. The Scottish government have stated their aim that the aquaculture sector should double in gross value added (GVA) by 2030.
"However, we appreciate that not every business has the budget required to purchase equipment that will enable them to enter this lucrative market – the NetJet is our solution to this challenge. Renting the equipment enables smaller businesses to clean aquaculture nets as quickly and efficiently as possible, without the high Capex costs of buying the equipment outright."
Brimmond will be on the Scottish Pavilion, stand D-334, at AquaNor in Trondheim from 22 – 24 August.