A more subtle approach to offshore aquaculture production
At a time when an increasing number of industrial offshore aquaculture designs are being installed in Norway and China, one engineer believes that there's a lower cost, but more cunning, alternative to the vast steel structures that are currently being produced.
Given the eye-watering costs and industrial scale of these systems – not to mention the fact that many have yet to prove their worth from a fish welfare perspective, let alone in terms of recouping their construction and operating costs – there are still plenty of proponents for adapting and improving on existing net pen systems.
One of the most promising new entrants in the field is John Fitzgerald, founder and CEO of Impact-9, who is in the process of developing a net pen system that – while truly original – is much more familiar to, and affordable for, many of the current crop of marine fish farmers. Although still in the developmental stage, it has attracted the attention of fish farmers and equipment manufacturers around the world.
Offshore mooring experience
Despite being relatively new to aquaculture Fitzgerald brings a wealth of offshore experience with him, having immersed himself in the marine renewables sector, where his speciality was developing mooring systems for wave energy devices in relatively shallow, exposed locations.
"It was during the time of the development licence initiative in Norway, where it became apparent that aquaculture was going offshore. Huge systems like the Ocean Farm 1 were being developed and launched, but – to me – it looked like these systems had a similar set of problems to wave energy technology. I thought this presented an opening for me," he tells The Fish Site.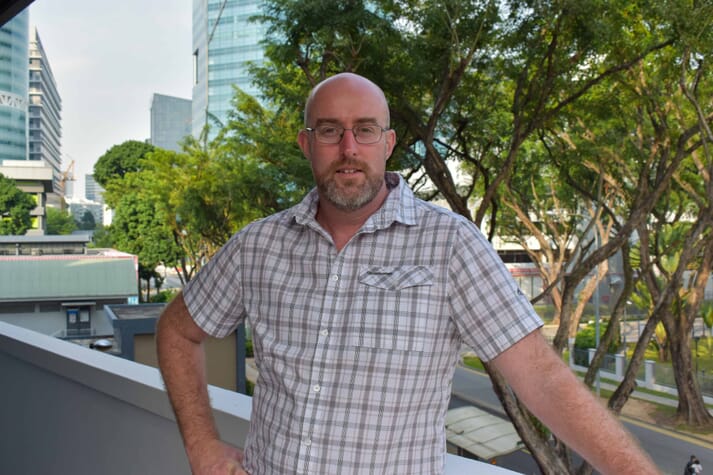 "Parallels include the need to position and operate large volume structures off exposed coastlines within an economically-constrained envelope. I had spent much of my career solving this problem with two guiding principles: firstly, by designing wave-compliant structures that contained flexible elements – to reduce peak loads and costs. The second was the value of allowing structures to be easily disconnected and towed inshore using smaller vessels. This eliminates expensive maintenance and operations offshore, especially diver operations, and offshore lifts," he continues.

As his preliminary design began to take shape Fitzgerald landed some backing, via protoatlantic.eu, to access testing at University College Cork. This helped him to develop the system and secure some IP for the key elements of his design – a submersible net collar, elastically stabilised around a centrally moored (and remotely disconnectable) hub.
He was also, following a workshop organised by BIM, taken on to the second cohort of Hatch, an experience that took him to Bergen, Singapore and Hawaii and provided both funding and mentoring.
"Joining Hatch meant that I went from being an industry outsider in summer 2019, to having discussed my ideas with the most influential global aquaculture actors by the beginning of 2020 – this was simply invaluable," Dr Fitzgerald reflects.
The system that he developed was inspired more by conventional net pens than the steel behemoths that were being designed in Norway.
"The emerging solutions in Norway seem determined to take existing flexible elements out of pen designs as they move offshore, perhaps because flexible HDPE structures have no precedent within oil and gas sector norms. They also assume that the economic model can sustain oil and gas style infrastructure, and I think that these are fundamental mistakes, if global competitiveness is your objective," he argues.
"You must accept why most net pens have already evolved to use flexible collar structures over all other solutions. My many years in marine engineering taught me that the flexibility of a system is one of the most important ways to relieve peak loading and this is particularly important in relatively shallow offshore locations, such as occur off Scotland," Fitzgerald explains.
"Flexible plastic pipes, as used in conventional cages are a simple but elegant solution to offshore conditions and I decided to double down on flexibility. Overlaid on that was the need to incorporate how farmers interact with the structure," continues Fitzgerald, whose design aims to facilitate operations on the pens, while minimising the need for interactions with large offshore service vessels.
Yet, while his design shares many of the principles inherent to conventional systems, it has turned one element on its head, he decided to invert the collar so that it's no longer vulnerable to the heavy loads produced by rough seas on the water surface.
The collar can also be adjusted in order to change the shape of the net – allowing operations such as crowding, treatment, harvesting, net cleaning, net changing and waste removal – all with much less dependence on divers. It also provides a simple means of sinking the net below the surface to keep the fish below the favoured range of sea lice, algae and jellyfish.
"What's more, this approach can be used to incorporate a variety of top-side design options depending on species and operator preferences. These range from no topside structure, to a snorkel tube to the surface, or – most promising for offshore embodiments – a safe and solid operating platform with a moonpool, directly over the containment," he explains.
Fitzgerald's ultimate aim is to realise a design that includes an integrated feeding system which would negate the need for feed barges on sites that use his design.
However, as he explains, there is also scope to incorporate his net design in more conventional pen groupings that are still fed from a single, centralised barge and he suspects that this is likely to be favoured by the initial customers who trial the technology. Indeed, he explains that some farmers might initially prefer to trial different elements of the design – depending on their requirements, their location and their financial resources.
He hopes his design will be affordable to even some of the smaller salmon producing companies. And he also thinks it will be particularly well suited to comparatively shallow offshore areas, which are more common off the west coasts of Scotland and Ireland.
"I think my design could open up new areas for aquaculture, but different markets have different requirements. In Ireland, where the licencing system is at a standstill, and many of the producers are quite small there's scope to open up legacy licences that are no longer in use because they proved too challenging with conventional equipment," he reflects.
"Scotland is probably the cradle of what I'm doing – there's a good capacity for growth and the licencing system is functioning," he adds.
A positive response
Fitzgerald has also had positive feedback from Norwegian farmers.
"In Norway the geography is very different but farmers I've spoken to who are based in the fjords are more interested in the lice defence aspects, as well as the possibility of incorporating a means of collecting waste from the pens. I'm still at the early stages of developing the waste collection aspect but there are a couple of designs I'm currently considering," he explains.
He also feels that farmers are responsive to a design that is more familiar to their existing net pen structures.
"The rush to bring in designs from the oil and gas sector following the development licence initiative was noted by many farmers in Norway, and some of them felt that the designs didn't have enough input from the aquaculture side of things. They also weren't attractive from a price perspective. I think they feel somewhat disenfranchised," he adds.
Fitzgerald is currently undertaking a cost metrics study – the results of which will allow him to calculate the price per cubic metre and compare this to other offshore designs.

His ideas have generated interest from farmers in several countries, and Fitzgerald actively maintains contact with a number of well-known aquaculture hardware manufacturers, including GaelForce and AKVA, as well as other corporates aspiring to integrate farm systems.
"I need the idea to be mature enough to get the backing of an OEM [original equipment manufacturer], as ultimately I'd like to adopt a collaborative approach with one of these companies," Fitzgerald observes. "It is a delicate balancing act, resourcing industry-disrupting ideas – but it does need industrial horsepower and customers will want commercial warranties for hardware used in their operations"
And to move on to the next phase of the project's development he currently has his sights set on raising in the region of £700,000 – a sum that would allow sea trials of the novel elements of the design as well as a detailed specification for a demonstrator pen to be trialled at sea with a customer.
He's looking for a mixture of public funding and angel investments, with likely candidates including the Irish seafood development board (BIM) and the UK government's Seafood Innovation Fund, but notes that – thanks to the COVID-19 pandemic – this is likely to be delayed by a few months.
In the meantime he is on the look-out out for any new opportunities to accelerate developments, especially in the USA, where recent political decisions suggest that offshore aquaculture opportunities are on the cusp of opening up.
"If an American team takes up the baton for these ideas it could happen very fast, so I have my radar open for that," he says.