Bradán Beo Teoranta has entered into agreements to acquire a feed barge from AKVA Group and cage nets from Mørenot Aquaculture for their farm in Kilkieran Bay, in a deal that has been financed by a loan from Export Credit Norway – a government-owned company that provides loan financing to companies that acquire goods and services from Norwegian exporters.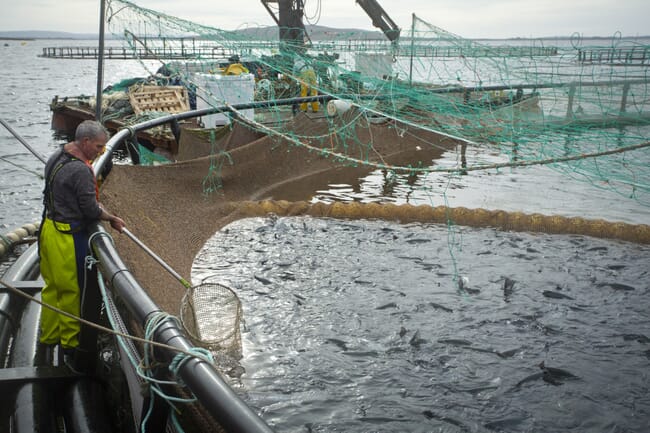 "Our job is to help Norwegian companies succeed abroad, and we are delighted to provide financing for export of fish farming equipment to Ireland. Through offering competitive export financing, we can help make Norwegian companies' more competitive when they bid for contracts abroad," says Kaare Haahjem.
Liam Roche, from Bradán Beo Teoranta – which produces between 2,500 and 3,000 tonnes of salmon per year – explains that the company has acquired equipment from Norwegian suppliers before, but without the support of export financing.
"It was the head of AKVA Group's UK operation that presented export financing as an alternative to us. As Export Credit Norway can offer favourable terms, it helped us realise our projects. We have several projects in the pipeline and we would definitely consider using export financing again," says Roche.
This is the first time that Export Credit Norway has financed a project in Ireland.
"We have previously visited the country and held discussions about financing fishing vessels, but not specifically for fish farming. However, we are very pleased that AKVA Group introduced Bradán Beo Teoranta to export financing. Today, we are in dialogue with several Irish companies about various projects, so it looks like Bradán Beo Teoranta has helped open other Irish companies' eyes to export financing," says Haahjem.
Export Credit Norway's loan to Bradán Beo Teoranta has 4.5 year maturity. GIEK is guarantor for 90% of the loan, with Bank of Ireland for the remaining 10%.
"For Akva Group it is actually the company's Scottish business that has sold and delivered the feed barge, but given that Norwegian content accounts for minimum 30 percent of the total supplier contract, the project qualifies for financing from Export Credit Norway. We encourage other non-Norway based companies to explore this type of project financing," Haahjem concludes.