The facility, which will be producing Schizochytrium strains of algae, aims to supply the aquafeed industry with oil rich in the long chain omega-3s EPA and DHA.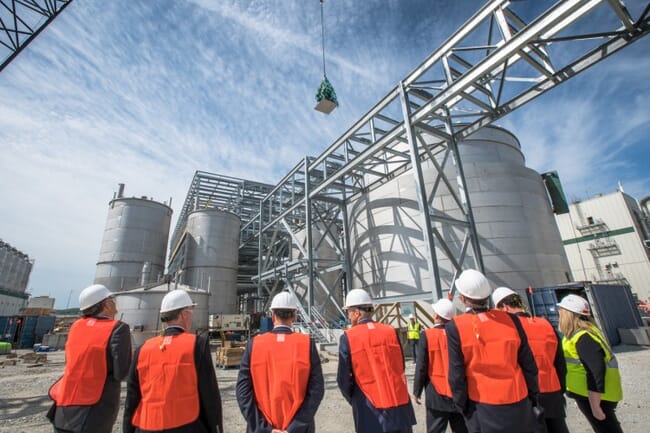 The facility's production capacity, according to a statement issued by Veramaris today, is equivalent to 1.2 million tonnes of the wild-caught forage fish that currently provide the bulk of omega-3s in the diets of farmed salmon. This, they argue, will meet around 15 percent of the entire salmon farming industry's annual demand for EPA and DHA – providing a significant contribution to conserving ocean biodiversity and reducing pressure on capture fisheries.
The facility, which is being run as a joint venture between Evonik and DSM, will – according to Veramaris – "enable salmon farmers to become net fish producers (FFDR < 1), while reversing the decade-long decline of EPA & DHA omega-3 levels in salmon".

The zero-waste facility was completed in May - ahead of schedule, on budget and with zero-accidents. The company now plans to ramp up for full production. The intellectual property behind the production technology, the algae strain Schizochytrium ssp. and the downstream processes are all strongly protected by patents.
Veramaris' algal oil contains twice as much EPA and DHA as fish oil, so could help to reverse the decline in omega-3 levels in farmed salmon, and support the salmon brand-promise for healthy nutrition. Consumer research conducted by Veramaris suggests that omega-3 fatty acids are very important to salmon consumers in countries including the US, UK and France. Having high levels of omega-3s in their diets is also beneficial to the health and robustness of the salmon themselves.
Veramaris celebrated the opening of its new facility in the presence of Nebraska Governor Pete Ricketts, local authorities, the CEOs of DSM and Evonik, guests and staff.
"In Veramaris, we have combined the competencies of two strong partners to make an innovative contribution to the healthy nutrition of the world's growing population, without putting any further burden on our oceans," says Christian Kullmann, chairman of the executive board of Evonik.
Feike Sijbesma, CEO/Chairman of DSM added: "I am pleased that together with Evonik we have reached a key milestone in turning the tide: through Veramaris, we are able to reduce the aquaculture industry's reliance on the world's finite fish oil resources for these vital omega-3 fatty acids. This fits perfectly with our purpose-led performance driven strategy, focused on addressing the world's biggest challenges while simultaneously creating economic, environmental and societal value for all our stakeholders."