Dr Anderson, who is the director of the Institute for Sustainable Food Systems & Food and Resource Economics at the University of Florida, presented results from a survey of current and future global shrimp production at GAA's 2018 GOAL conference in Guayaquil, Ecuador. With responses from every major supplier country, the survey offers a unique, first-hand perspective of the projected supply and demand of farmed shrimp around the world.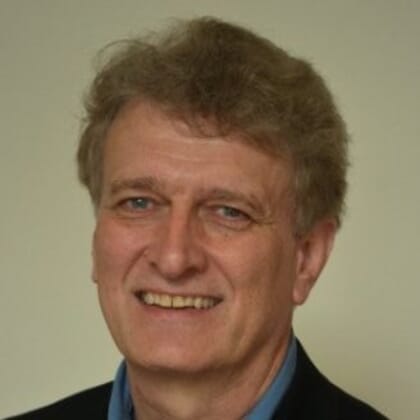 Global production
Despite price volatility and high production costs, the responses from this survey suggest a global increase in shrimp production of about 5.7% per annum, resulting in an increase of 18% by 2020 compared to 2017 values. The shrimp industry, despite its advances in technology and increase in production in recent years, is still "data challenged" according to Dr Anderson. Surveys like this one that he and his colleagues, Dr Diego Valderrama (George Mason University) and Dr Darryl Joy (Editor Emeritus, Global Aquaculture Alliance), conduct each year are important contributions to the efforts for increased collaboration and data-sharing across the shrimp industry. This projected increase doesn't come without some demands of the industry, however. According to Dr Anderson, considerable efforts need to be made to take some of the risks out of the shrimp farming business, along with the development of market solutions to limit price volatility.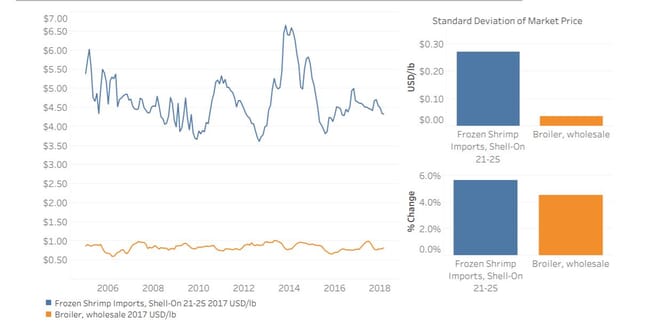 The major producing regions for shrimp aquaculture – namely, Southeast Asia, China, India, the Americas, and the Middle East/North Africa – all predict some level of increase in production through 2020 compared to their current production numbers. Southeast Asia, India, the Americas, and the Middle East/North Africa are all expecting an increase in production ranging from 6.0 – 19.4% by 2020 compared to 2015. When broken down even further, the countries with the highest growth expectations by 2020 are (in no particular order): Ecuador, Honduras, Panama and Saudi Arabia.
Whiteleg shrimp (Litopenaeus vannamei) makes up 77% of total shrimp production from aquaculture, with species like giant tiger shrimp (Penaeus monodon) and giant river prawn (Macrobrachium rosenbergii) making up most of the rest of farmed shrimp volumes. However, these species make up very little of the world's landings of wild-caught shrimp. Despite L. vannamei's absence in wild-caught landing, it's sheer volume of production from aquaculture brings it to make up 42% of the total world shrimp production (capture fisheries and aquaculture combined). Generally, landing volumes for wild-caught shrimp have either remained stagnant or declined over the last 30 years.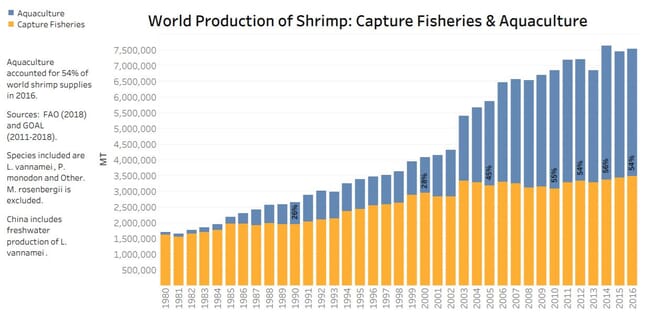 Imports and price volatility
The United States has increased its shrimp imports by almost 40% from 2013 to 2018, specifically from India and Indonesia (together accounting for 56% of imports in 2018), while imports from Thailand have decreased by a drastic 73% from 2010 to 2018. Europe is generally increasing shrimp imports too, but not as dramatically as those projected for the US in the coming years.
The "price volatility [of shrimp] is a problem," Dr Anderson claimed, observing that the industry needs to decrease its risk, possibly through better disease management. "If we really want to develop the market…we need a consistent supply at a consistent quality," he added.
Essentially, according to Dr Anderson, the price shocks the industry faces need to be mitigated as production increases and intensifies to keep up with future demand. Interestingly, in the US, the demand is largely for bigger shrimp, while most of the world is still producing relatively small shrimp. The trend towards smaller shrimp production around the world could be due, in part, to efforts to harvest shrimp at earlier stages to prevent or reduce the risk of disease.
Industry challenges
Dr Anderson concluded by summarizing the three main issues and challenges that the shrimp industry considers itself to be facing today: disease, international market prices and production costs – particularly the cost of feed. These are this year's top three constraints to industry growth on a global level, but the growing shrimp industry is up for the challenge. Already constituting 54% of global supply in 2016, Dr Anderson predicts that "aquaculture shrimp could represent about 60% of global supply" if production follows the projected increase through 2020.
The shrimp aquaculture industry has plenty of challenges to growth and productivity in its future. However, with new technological developments and increasing innovation from lab to farm, he thinks the industry can meet the challenge.